THE
DOLLYROTS
–
NIGHT
OWLS
(WICKED
COOL
RECORDS,
2023)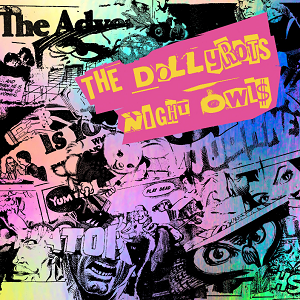 THE DOLLYROTS – NIGHT OWLS (WICKED COOL RECORDS, 2023) 
A zany rollercoaster through the realm of bubblegum Punk!!!
Genre: Punk, Pop Punk
Rating: 8,5/10
October is coming. Autumn. The bastard is out to get you. Leaves falling, days getting shorter, colours fading and all that gloomy stuff. Then again, why the heck is still 30 degrees Celsius out there? Well, it's gonna get a lot cooler any minute now, I tell you. And darker. And suddenly, inexplicably emotional. Lucky you, the good doctor is about to write you a prescription for all the seasonal illnesses that are coming your way: two listening sessions per day of the new, upcoming album from my favourite rock 'n roll couple of all times, The Dollyrots. Night Owls will be released on October 13th for Little Steven's Wicked Cool Records, simply the best garage rock label out there since 2005, mark my words. Faithful to the band's zany musical aesthetic Night Owls takes their signature brand of pop-punk insanity and cranks it up to eleven. The album, a gleeful mix of three-chord punk riffs and melodies so catchy they'll dig a tunnel into your brain the size of a Manhattan's subway line, kicks off with "5+5", an energy driven melodic punk anthem. - I love you when you're not so perfect - sings Kelly Ogden and I'm instantly in love with the song and her eternal teenager voice. Just the time to let the track fade and "I Just Wanna Play Dead" blasts thru my speakers bringing me back to my high school days. How many times I wish I said I wanna play dead in bed with you to that redhead in second row with the lovely pigtails? Too many to count. Regrets, regrets. Luckily there's no time for melancholy: Night Owl lets you hitch a ride on Sugar Rush with Vanellope von Schweetz, and it's not gonna be your grandmother's dance party, my scary little mongrels. Unless your grandmother happens to be a mosh pit veteran with a penchant for pyrotechnics and a love for inflatable killer whales. Their trademark mix of high school vibes and bubblegum punk infuse the whole album, and it's quite difficult to stop banging your head. Hey, can your mom come out and play? Oh yes, keep serving me those good teenage vibes please! The lyrical flavour stays upbeat but there's room even for an inspired ballad, "Trees Sway", and a beautiful cover of Kirsty MacColl's "A New England" that closes the album and serves as a great showcase for Kelly's awesome vocals. What did you say? I can't hear you, my dearest. Oh, right. My personal picks! Well, not an easy task. The whole work is packed with fun and decibels. That said, I can't help but root for the "Alligator": love the marching progression and the sheer energy. Then again, "Irish Good Bye" is something quite unique. A fast incursion into Brit Pop territory by our fabulous duo. Special mention for "When We're Sober"; well, maybe not. Reminds me of way too many relationships I've had. Not funny. You know what? Let Autumn come, we're not scared. Grab a copy of Night Owls and a humongous stack of assorted snack and be ready to party your way from here to Christmas.
-- TRACKLIST: 
1) 5+5 
2) I Just Wanna Play Dead
3) Night Owl
4) Hot Mom With The Skinny Pants On
5) When We're Sober
6) Hey Girl
7) The Vow
8) Trees Sway
9) Tonight With You
10) Can't Tell You Why
11) Alligator
12) Irish Goodbye
13) A New England
- Line-up: 
Kelly Ogden - Bass, Vocals
Luis Cabeza - Guitar, Vocals 
Simon Hancock - Touring Drummer
WEB: https://www.facebook.com/thedollyrots
ARTICLE BY: Karl Eisenmann