THE
DEAD
DAISIES
–
RADIANCE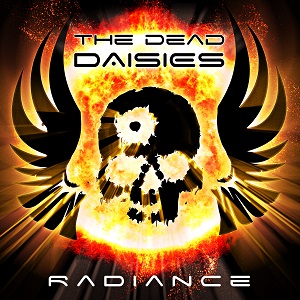 THE DEAD DAISIES – RADIANCE (The Dead Daisies PTY Ltd. /SPV/STEAMHAMMER, 2022)
A solid masterpiece of Classic Rock!!! 
Genre: Hard Rock, Classic Rock
Rating: 8,5/10
What do you get when you change a recipe that works by adding a personal touch? Well, it depends: if you're mommy's boy experimenting in your kitchen with exotic cheese and spinach-flavoured macaroni we ain't expecting anything but an aching stomach and a semi-ravaged kitchen. But what if you are a seasoned chef? Something better happens, of course. Wait a cotton pickin' minute. Why am I always talking about food, lately? I don't know. My life is taking a sinister turn. I'm scared. We'd better get to the point. So, to get out of metaphor, when The Dead Daisies in late 2019 welcomed onboard legendary bassist and singer Glenn Hughes, adding that aforementioned classy touch, the outcome was easily predictable. Holy Ground, released on January 2021, enthralled both the public and those wild bunch of ravenous beasts that go by the name of "Critics". Now, when you manage to land an excellent blow, the main problem is what's next to come. Will you be able to live up to your own fame or are you going to let down your fans, the "Critics" and your grandma in one single shot? Frightening perspective, innit? But you know what? The Daisies didn't cower. They doubled down and big instead. Radiance, released on 30th September 2022 for The Dead Daisies PTY Ltd./SPV, is a remarkable classic rock album that adds new energy and fabulous groove to the supergroup's history. I liked very much the inclusion of Mr. Hughes in the band. His unmistakeable voice, beside being a staple of rock 'n' roll since the late 60s (Hey. They didn't call you The Voice of Rock for nothing, ya know?), sits wonderfully in the mix with the Dead Daisies' trademark sound. Hipnotize Yourself, the second track from the new album, with its simple and killing riff is a perfect showcase for Hughes' vocals. He leaves his mark also with some powerful basslines: Kiss the Sun, distorted and high-octane fueled, or the incredibly heavy title-track, just to mention a couple. Lots of great cuts, quite hard to single out a favourite one. Not Human gives no quarter to the listener, sporting a tight riff on an open sounding general vibe. No rock album without a a great ballad: Roll On, an epic celebration of individuality on a minor chord. But if I must express a preference that would go to Born to Fly, with its haunting vocals and its straigh-in-the-face riff that steamrolls its way to the very end and, of course, Courageous that screams seventies all over. You know...my heart is always there. To be honest there are no episodes that will turn the history of Rock upside down, but then again who really needs 'em? Radiance is a solid masterpiece of Classic Rock, ushered into this year of our Lord 2022 by our favourite supergroup led by the soulful and resonant voice of a living legend. 

- TRACKLIST: 
01. Face Your Fear
02. Hypnotize Yourself
03. Shine On
04. Radiance
05. Born to Fly
06. Kiss The Sun
07. Courageous
08. Cascade
09. Not Human
10. Roll On
- Line-up:
Glenn Hughes - Bass, Vocals
Doug Aldrich - Guitars
Brian Tichy - Drums
David Lowy - Guitars
Web: https://www.facebook.com/TheDeadDaisies
Article by: Karl Eisenmann