IN
THE
WOODS...
-
DIVERSUM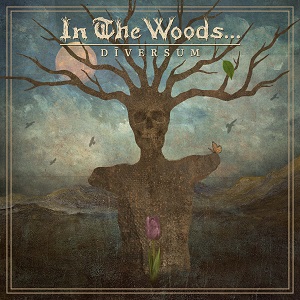 IN THE WOODS... - DIVERSUM  (Soulseller Records, 2022)
"...avant-garde, progressive, black & metal...another epic masterpiece!!!..."


Genre: Avant-garde/Progressive/Black Metal
Rating: 9,5/10
Christmas is more or less a month away, but I really think that I have already received the best gift. Who gave it to me? ...Simple...The Music Gods who made "DIVERSUM" arrive in my player...An album in my opinion wonderful and bordering on perfection. The Norwegian band has managed to bring all the necessary elements into play to make this new work as direct as it is articulate and sophisticated. To understand the beauty and complexity of this work, imagine mixing the progressive epic dynamism of bands like Enslaved and Arcturus with intense Amorphis-style clean/growl vocal interweavings and with a dose of catchy melancholy that might bring to mind the more inspired Katatonia...these are the main elements that IN THE WOODS uses to create a sound that is as personal and recognizable as it is concretely difficult to categorize. In fact, this album needs repeated listening more than ever, as behind each new passage one is able to grasp the hidden compositional refinements. Alongside a massive general melodic approach there is a hidden world of tight rhythms and compositional twists that unfold in progressions that sound simple but in fact are not simple. The executive proof of the musicians is impeccable and above all stands out the performance of vocalist Bernt Fjellestad, who has a voice that astonishes for its variety of nuances and tones and that untangles itself with mastery and elegance in the tangle of clean vocal lines and growling: a vocal versatility that is a prestigious added value.The songs are medium-long but never tiring, the song-writing is fresh and dynamic and we are faced with an extremely layered musical work of a grandiose carat. Going to the tracklist we can say that talking about the individual songs is quite difficult, because they are all little gems with crystal-clear technical compositional and performing qualities, and you will surely have already understood from what you have read so far that there are no fillers in this album: it is an album to be enjoyed in all its compactness, from beginning to end, without skipping any track... a sonic journey that will give you unique atmospheres, feelings and emotions. If I had to mention the best tracks on the album, or those I highly recommend listening to, I would say without a shadow of a doubt 'We Sinful Converge', 'The Malevolent God', 'A Wonderful Crisis' and 'Master of None'; in these tracks, which form the backbone of the album, you will find all the elements that characterize the sound and song-writing of DIVERSUM: enveloping acoustic arpeggios, linear and engaging solos, an exciting vocal interpretation in all its declinations between 'clean', 'scream' and 'growl', solid rhythms with a structure that is never too complicated but always effective, and all enhanced to the fullest by the evocative melodies of the choruses that, with their drama, sumptuousness and melancholy, represent the album's real strong point. Nordic restlessness, darkness, fierceness and epicness blend perfectly in this album in which no pause and no note sounds out of place, between epic/prog digressions and a few black/death outbursts: it really is complicated for me to go digging for even the slightest flaw. With this work the Norwegians have really found the square on everything, proving to be very complete musicians in the full of their artistic maturity. The advice, as you may have already guessed, is to make this album yours as soon as possible; little else to add, now that the album has been released is just time to devote to a careful listening.
Welcome back IN THE WOODS...one hundred of these albums!!! Congratulations. 
LINE-UP: 
Anders Kobro - Drums
Bernt Sørensen - Rhythm & Lead Guitars
Nils Olav Drivdal - Bass, Keyboards
Bernt Fjellestad - Vocals
Kåre André Sletteberg - Rhythm & Lead Guitars, Acoustic Guitars, Keyboards
Alf Erik Sørensen - Session Keyboards
TRACKLIST:

1. The Coward's Way
2. Moments
3. We Sinful Converge
4. The Malevolent God
5. A Wonderful Crisis
6. Humanity
7. Master of None
8. Your Dark 
Web: https://www.facebook.com/inthewoodsomnio
Article by: Mike Matty