BLACK
PAISLEY
-
HUMAN
NATURE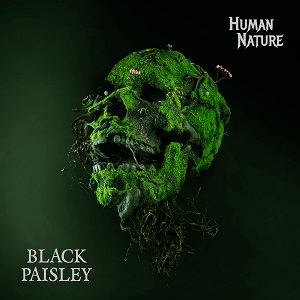 BLACK PAISLEY - HUMAN NATURE (Black Paisley AB, 2022)
Start making room for "HUMAN NATURE" in your record collection because once you listen to it you'll love it!
Strongly recommended for fans of bands like WHITESNAKE, THE DEAD DAISIES, SCORPIONS, EUROPE, GREAT WHITE

Genre: Hard Rock/New Wave of Classic Rock
Rating: 9/10
We were waiting for BLACK PAISLEY, to see what they would be able to churn out after the masterpiece album "Rambler" released two years ago (reviewed on MELODY LANE). Well the four Swedes have done it again, churning out another fantastic album that goes beyond all expectations. Human Nature while proposing a traditional and non-innovative Classic Hard Rock, has all the credentials to become an authentic milestone in the genre, as it has all the hallmarks of great albums: excellent technique , great arrangements, catchy but never trite choruses, refined guitar solos and a crystal clear and powerful production which manages to enhance each instrument in its singularity, as well as the band as a whole. The album consists of twelve tracks and it must be emphasized that absolutely none can be defined as weak and in fact we can say, with conviction, that it is an album without fillers and, to be honest, it is really difficult to talk about some song in particular because they all deserve to be mentioned. It is a must to mention the beginning of the album which is stunning, with the fantastic opening pairing 'Set Me on Fire', 'In The Night', two tracks of pulsating and gritty hard rock, simply perfect, with super addictive refrains, two authentic top pieces that shine like sabers in the sun, ready to cut the last resistance of any detractors ... ... 'Promises' and 'Worlds Turning', with their cadenced and rhythmic gait and with the excellent work of Mr. Santunione on guitar, reveal Blues influences and they both would fit good on a JOE BONAMASSA's album… the triptych 'Mojo', 'Crazy' and the title track 'Human Nature' represent the melodic peak of the album; these three songs have refrains that will stick in your head and that you will find yourself humming for a very long time; too bad only the album comes out in the fall because such fresh, explosive and dragging tracks would have deserved passages on summer radio broadcasts: these are songs that put you in a good mood, to be listened to in the sunshine!
The album closes beautifully with the powerful and rocking 'Set Me Free' which brings to mind the street atmosphere of SLASH's SNAKEPIT thanks to a rocky rhythm section, a warm and touching voice and a guitar that smells of Blues.The only thing that honestly puzzles me a bit is the choice of the cover image, which I find distant and unrepresentative of the sound and atmosphere of the album...it could also be a misleading double-edged sword from a marketing point of view, but this is just a personal opinion... 
Little else to say, BLACK PAISLEY confirm themselves as a band with lots of ideas, charisma, over-the-top technique, and a taste for melody that few possess, and HUMAN NATURE is the sum of it all: an excellently crafted album with a sound that's immediate and touching, spontaneous and melodic: one of those albums that can be easily appreciated by all lovers of good Rock and that, thanks to a varied, elegant and catchy song-writing will keep you attached to the speakers of your stereo from the first to the last song without wanting to skip a single track. A must-have in the disco of every lover of this kind of sound. Damn what a trouble these BLACK PAISLEY !... In the end you can't help but speak of them in enthusiastic terms, despite the fact that, after all, they don't invent anything new. Congratulations!
TRACKLIST
1. Set Me on Fire
2. In The Night
3. Not Alone
4. Promises
5. Silent Asylum
6. Mojo
7. Human Nature
8. Don't Call Me A Liar
9. Hard Times
10. Worlds Turning
11. Crazy 12. Set Me Free 
LINE UP:
Stefan Blomqvist – Lead Vocals & Guitar
Franco Santunione – Lead Guitar
Jan Emanuelsson – Bass
Robert Karaszi – Drums & Percussion
Web: https://www.facebook.com/blackpaisleys
Article: Mike Matty