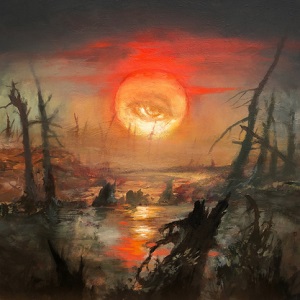 BLACKLIST - AFTERWORLD (Profound Lore Records, 2022)
"...captivating and distinctive sound...Powerful and dark anthems... "
Genre: Post Punk/Dark Rock/ColdWave
Rating: 8/10
After a long hiatus Post Punkers BLACKLIST return with their second album, and we can immediately say that the New York Dark Rock veterans have not failed to live up to expectations. Ten tracks for forty-six minutes of music that swings convincingly between Post Punk, Coldwave and Dark Rock.  AFTERWORLD is a successful work, with tracks that are indeed not particularly complex from a structural point of view but have a strong personality and manage to capture the listener's attention from the beginning to the end. In the album you will find characteristic guitar riffs, sometimes straight and easily recognizable other times more complex and hypnotic, catchy refrains that are never obvious or banal, very interesting phrasing and rhythms of bass and drums that contribute to give dynamism and unpredictability to the songs and then Strachan's melodic, deep and sensual voice, simply perfect for this style of music  and for the dark and introspective atmospheres that BLACKLIST want to create. The album's setlist is solid and well-structured and after the opening FIRES OF BLACK NOVEMBER, a kind of short psychedelic ballad characterized by an eerie arpeggio and lysergic vocals, the album gets off to a great start with a couple of simply killer tracks: THE FINAL RESISTANCE and NIGHTBOUND are absolutely perfect tracks that immediately give us the distinct feeling that we are on the right track, and the rest of the set list will only confirm this. Other tracks that deserve to be mentioned and that stand out within the tracklist are definitely PATHFINDER, with a truly remarkable drumming reminiscent of the sound of early Killing Joke, SCARLET HORIZON whose piercing refrain gets into your head and never wants to come out, and then the beautiful tracks placed at the close of the album, namely IN SHADOW LIGHT and LOVERS IN MOURNING, which exude great personality and perfectly sum up all the qualities of this album that will undoubtedly make happy all lovers of bands like Joy Division, The Cure, Sisters of Mercy or Lords Of The New Church. Frankly, the only fault I can find with this record is that a couple of tracks are a little less convincing and do not hold a candle to the rest of the tracklist, especially in terms of engagement. The tracks in question are BEHIND THE VEIL OF THE LIVING WORLD and A STRANGER IN THIS CENTURY; in both of these tracks the pace slows down, and the atmosphere becomes reflective, ethereal almost solemn but while they are far from being predictable or uninspired tracks, they lack that spark, that extra flicker that could have made them truly special and up to the standard of the rest of the tracklist. The album's sound production is flawless, the cleanliness and clarity of the performances are privileged, making each instrument crystal clear, inescapable, and clearly distinguishable, and the truly great achievement is to have created a homogeneous sound., which is reflected with cohesion in all the tracks, and which manages to emphasize the album's melancholic and decadent mood throughout its duration. AFTERWORLD is an elegant and magnetic record that grows with listening, a true portrait of a mature band confident in its abilities and able to dose its strengths; a bunch of musicians certain to have 'something' to say and that have enough class to turn that 'something' into excellent songs.
Sure, it almost certainly won't be the album of the year, but to pass it up would be really foolish.
Highly recommended. Congratulations!
Line-Up:
Joshua Strachan: Vocals, Guitar, Synthesizer, Saxophone
Ryan Rayhill: Bass
Glenn Maryansky: Electronic and Acoustic Drums
James Minor: Guitar
Chad Dziewior: Guitar
Tracklist:
01. Fires Of Black November
02. The Final Resistance
03. Nightbound
04. No Good Answers
05. Behind The Veil Of The Living World
06. Pathfinder
07. Scarlet Horizon
08. A Stranger In This Century
09. In Shadow Light
10. Lovers In Mourning


-  Web: https://www.facebook.com/blacklistmusic
- Article by: Mike Matty