BAND
OF
SPICE
-
HOW
WE
PLAY
THE
GAME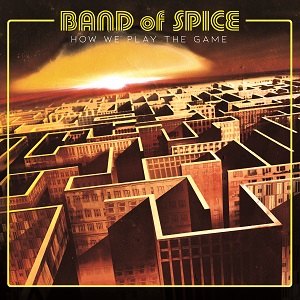 BAND OF SPICE - HOW WE PLAY THE GAME  (SCARLET RECORDS, 2022)
"...Bringin' back the 70's into hard rock! ..."


Genre: Hard Rock/Stoner/Doom
Rating: 7,5/10
We are here faced with a work of fine workmanship containing 9 tracks worthy of synthesizing the best features of different genres such as Hard Rock, Stoner and Doom.
The stratospheric personality of SPICE, legendary Swedish guitarist and singer, characterizes the whole work and the result is a solid album,ultra-compact sounding, gritty but at the same time refined in the enormous power it expresses.
The album features songs with a rather classic songwriting, often featuring direct and catchy refrains and melodies, gritty riffs and well-crafted solos, all creating a sound carpet on which SPICE's voice dances with great ease. And it is the experienced Swedish singer's voice, now a true trademark, that makes the difference, with its raucous, scratchy timbre that manages to fit perfectly into the mood of each song, lending expressiveness and atmosphere.
The song-writing of the album is of good workmanship, nothing experimental or too innovative but each song contains interesting ideas and the overall level of all songs is firmly placed well above the threshold of sufficiency.
The opening four tracks are pure dynamite, from GONE INSANE to BELOW THE SUN via DEMONIZED and MY GAME...lovers of SPIRITUAL BEGGARS and DOWN branded Stoner/Rock will surely find bread for their teeth! CONTROL is a truly addictive thrash attitude track while DESCENDING sounds like an authentic tribute to BLACK SABBATH's golden era. OFFSIDE, endowed with a lightning-fast riff, is a track that will be appreciated by lovers of NWOBHM and JUDAS PRIEST while A SONG FOR YOU will please lovers of 70s HARD ROCK and THIN LIZZY, although perhaps we would have expected something more from the closing track, more could have been dared.
In conclusion HOW WE PLAY THE GAME is a good album, which flows great and can be appreciated effortlessly; certainly it is a record that will not revolutionize the world of HARD ROCK and will not be remembered for compositional originality but it is an honest record, made with heart,sweat and a lot of passion, which will intrigue both the hard core of SPICE fans and the lovers of Hard Rock in all its shades. Once again ...WELL DONE SPICE!!!
Line-Up:
Spice - vocals, guitar
Alexander Sekulovski - bass
Bob Ruben - drums
Tracklist:
   Gone Insane
   Demonized
   My Game
   Below the Sun 
   Control 
   Descending
   Offside
   Little Casino
   A Song for You
Web: https://www.facebook.com/profile.php?id=100063781922822
Article by: Mike Matty