MAGNUM
-
THE
MONSTER
ROARS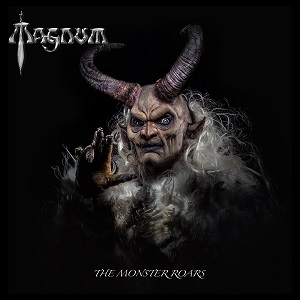 MAGNUM - THE MONSTER ROARS  (Steamhammer/SPV, 2022)  
A late Christmas gift from Birmingham with power!!!

Genre: Hard rock with metal, progressive and AOR influences
Rating: 8,5/10
Christmas time is over. Way over. It's over and I really didn't see it coming this time. Oh dear, I'm getting too old for this crap. Fact is I've always loved the Christmas spirit: you know, that perfect blend of consumerism, cheesy joyous atmosphere, great & unrealistic expectations about the upcoming brand new year, and food. Lots of food. Ludicrous amounts of food. Lord almighty how much I ate this Christmas! My toilet seat is about to sue me for gross misdemeanor. Can't think of anything grossest, after all. Now, I don't know about you, my dear fiendish gnomes, but when the malt liquor has dried up just like your bank account and you're left with a hazy remembrance of having sent in the heat of the moment a portrait of your butt via whatsapp to your boss I tend to feel a little empty and worthless. I need something to cheer me up. Something to bring me back to that magical moment in time in which all your worries are suspended, like vanished into thin air waiting to ambush you with renewed savagery coming January. Something traditional yet revolutionary, something that reminds me of times past but firmly rooted into present days, something that's been with me for long and yet is able to thrill me just like the first time. Where's a candyman when you need one? Oh, right. The pandemic. Try to find one on a saturday afternoon if you can. What if... Wait! What if Magnum would come up with a new record? They reformed in 2001 and signed with SPV Steamhammer, after a hiatus of, like, 6 years. They had a few line-up changes and licensed a masterpiece like Princess Alice and The Broken Arrow (2007) and a great live album (Escape from The Shadow Garden - Live 2014).  Their last work, The Serpent Rings, recorded with the new bassist mr. David Ward from Texas just one year ago, kicked ass and left me wanting for more. Well, what do you know? Christmas will come twice this year. Magnum new album, The Monster Roars, is scheduled to be released this friday, January 14th, always courtesy of the good guys down at SPV/Steamhammer, Hanover! You'll be hit right in the face by the epic title-track, powerful yet strangely soothing just like a winter blizzard. The new rhythmic section is a blast with the aforementioned Ward on bass and mr. Lee Morris on drums, and they take no prisoners even in ballads like "Remember" (jeez how I love that piano work, mr. Rick Benton!) and "Can't Buy Yourself a Heaven". Be aware, the monster is not the only one who's roaring here: Bob Catley's vocals are awesome, just put on "All you believe in", "The Present not The Past" or "Walk the Silent Hours" and get ready to be delighted, folks. The general flavour is epic and narrative but the energy flows in every cut, and you won't be left dry if you're looking for true rock anthems. Get that bloody volume knob to eleven and listen to "The Day After The Night Before", I want you to raise your hands and give it up for mr. Tony Clarkin on guitar who's gonna make your rockin' day for sure! And now, the moment you've been all waiting for: the doctor's personal recommendations. "I Won't Let you Down" really touched my strings, with lyrics that speak right to the heart of an old geezer like me and a captivating melody sustained by an earth-shaking drumming. I must praise again Benton for his amazing work on "Your Blood is Violence", groovy as heck, and "No Stepping Stone", masterfully arranged: my skinny arse couldn't help itself from shaking to the irresistible rhythms crafted by our lads from Birmingham. So, my little evil elves, listen to the good doctor: get yourself a late season gift and buy The Monster Roars, the perfect antidote for post-holidays blues! 
TRACKLIST: 
1) The Monster Roars
2) Remember
3) All you Believe In
4) I Won't Let you Down
5) The Present not The Past
6) No Steppin' Stones
7) That Freedom Word
8) Your Blood is Violence
9) Walk the Silent Hours
10) The Day After The Night Before
11) Come Holy Men
12) Can't Buy Yourself Heaven
Line-Up:
Tony Clarkin – Guitar
Bob Catley – Vocals
Rick Benton – Keyboards
Dennis Ward – Bass 
Lee Morris – Drums
WEB: https://www.facebook.com/magnumbandpage
Article by: Karl Eisenmann (https://www.facebook.com/karl.eisenmann)