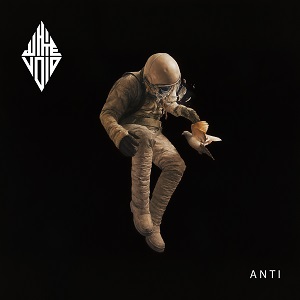 WHITE VOID - ANTI (NUCLEAR BLAST, 2021)
"... in the space between Occult Rock...Hard/Prog Rock and Darkwave. A perfect balance between old and modern..."
Genre: Eclectic Hard Rock/Alternative Hard Rock
Rating: 8,5/10
After the wonderful impression that the first two singles had given me, I was very curious to hear the full length of WHITE VOID and I have to say that expectations were absolutely not betrayed. " ANTI" is an interesting album, innovative and unconventional, rich in many nuances that make it really difficult to catalog and also to be reviewed. Lars Are Nedland, founder of WHITE VOID and long-time member of the cult institutions Borknagar and Solefald, has really created something original and 'fresh' that deserves, in my opinion, the utmost attention: an explosive mixture of totally different components but that mixed together work in a fantastic and very convincing way.GHOST-style vintage-rock atmospheres, sudden and unexpected melodic digressions of voice and keyboards reminiscent of ARCTURUS and BOKNAGAR, tasty and exciting bluesy / 70's guitar solos, Prog contaminations, captivating and radiofonic choruses that are sung by an icy and sinister voice that sings about the absence of meaning of the universe and about the absence of direction and meaning of life: this is ANTI, this is WHITE VOID. We are faced with an instrumentally flawless and suggestively dark album that with a new and different musical approach sweeps away any musical conformism: it draws heavily from 70's hard rock as regards the use of the guitar and some carpets of keyboards, but it harks back to New Wave and Coldwave for its use of vocal melodies and choruses that are both captivating and disturbing ... engaging and chilling. Lars Nedland and bandmates, without making any revolution but dealing with the subject with a song-writing of the highest level and with a performance of absolute perfection, have given life to a small schizophrenic masterpiece that goes beyond musical genres and that could become a point of reference , a classic, from here on ... As I said at the beginning of this review, it's a difficult album to review and I don't want to go down to talk  about every single song... There are no filler songs, there are no lapses in taste, there are no missteps ... eight songs written and played perfectly, from the 'radio-friendly' THIS APOCALYPSE IS FOR YOU to the 'proggy' THE FUCKING VIOLENCE OF LOVE,  each song could be a single and a potential hit. This is the classic album made and conceived in the best way by expert musicians  who know where they come from, know what they want and know where they want to go. Nothing is left to chance, this is evident and everything is studied in detail: just listen and watch the first three wonderful videos/singles (Do. Not. Sleep, This Apocalypse is for You, The Shovel and the Cross) to understand what I'm talking about. Their great ability is to be able to create pleasant but at the same time unnerving sound atmospheres, without using  pointless virtuosities but just the right chords and impactful riffs that are calibrated in the right way and that are always supported by a rocky drums and a pulsating bass that are surgical in their gait and textures and that guarantee a solid base on which the crystalline guitar of Marum and Lars Nedland's sublime voices move with ease (Speaking of 'sublime vocal lines' ... listen carefully to Where You Go, You'll Bring Nothing ... perhaps the creative pinnacle of the album). The concept of ANTI is based on the philosophy of CAMUS, on the sense of the Absurd and on how to re-interpret our life in the light of the Absurd that dominates our existence. It is truly appreciable how NEDLAND has managed to treat such deep  thoughts and reflections in an elegant but light and accessible way, using catchy and easily memorable melodies that almost touch Pop ... in fact, the striking contrast between words and music is evident and titles like 'There is No Freedom but the End', 'Where You Go ... You'll Bring Nothing' and 'All Chains Rust, all Men Die' give a good idea of the themes that are explored in the album.This album has the tragic charm of road accidents: all are afraid and don't want to look but in the end they can't help it ... This is what happens with ANTI: to get in it takes time and patience, but if you pay the right attention, you will find yourself, like me, singing with extreme lightness verses that speak of resignation, alienation and disillusionment, with a background of hypnotic sounds and obsessive rhythms as cold and precise as stabs... Who knows, maybe the good Lars Are Nedland is giving us the wisest advice: perhaps the best way to face and exorcise the fear of suffering and the pain for the absurdity of the human condition is to sing about it.
Love it or hate it, in any case a very original, particular and courageous record, full of twists and turns, which focuses more on the atmosphere than on aggression and which requires time and will to be fully understood. If it is not listened to with the right mindset it could leave you disappointed.
As far as we are concerned...we liked it very much: a great debut! Congratulations.
- Tracklist:
1. Do. Not. Sleep.
2. There is No Freedom but the End
3. Where You Go, You'll Bring Nothing
4. The Shovel and the Cross
5. This Apocalypse is for You
6. All Chains Rust, all Men Die
7. The Fucking Violence of Love
8. The Air was Thick with Smoke
- WHITE VOID is: 
Lars Nedland- Vocals and Keys
Tobias Solbakk - Drums
Vegard Kummen - Bass
Eivind Marum - Guitar
Web: Facebook: https://www.facebook.com/whitevoidofficial
Article by: Mike Matty