WITHERFALL
-
CURSE
OF
AUTUMN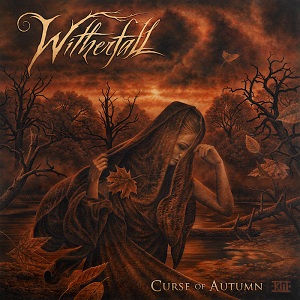 WITHERFALL - CURSE OF AUTUMN ( CENTURY MEDIA RECORDS, 2021)
 The dark melodic heavy metal juggernaut from Los Angeles are blazing new trails and weaving new tales on spectacular new album!!!
"...Among the best bands currently in circulation and a record that points straight to the "Album of the Year". Hats off!..."
Genre: Heavy/Progressive Power Metal
Rating: 9/10
Here is one of those records that still gives us hope, and that still makes us believe in Art and Music…CURSE OF AUTUMN is a pearl of rare beauty, one of those records that puts us at peace with the world.So…,regardless of this review, the advice is: do it yours as soon as it is available, press the PLAY button and let yourself be carried away by the new WITHERFALL masterpiece ... Trust me, you will not be disappointed!Reviewing an album like this is really difficult, because if one lets oneself be carried away by music and emotions, in the end there will be only a few dozen lines overflowing with compliments but which would not make understand the greatness of this album.But I'll try ... After the wonderful A Prelude To Sorrow we were all curious to know what surprises WITHERFALL would have in store, and here we are in front of CURSE OF AUTUMN, eleven tracks of sublime Progressive Metal rich in Thrash, Power and Dark contaminations, an explosive mixture that leaves you speechless and breathless from the first to the last note. Inside this record there are references to a lot of Metal from the past but blended together, with  skill and wisdom, so to give WITHERFALL its own, original and distinct personality.Imagine having as ingredients the most inspired and technical Prog of DREAM THEATER, the epicness of SAVATAGE and the dark atmospheres of NEVERMORE and OPETH and you will begin to get an idea on what wonderful musical recipe you are working on. Talking about guitars we are on  gorgeous levels, with Jake Dreyer committed to creating refined and tasteful riffs, emotional acoustic passages (treated in the minimal details) and who gives his best in the solo parts, in which the neoclassical vein takes over between outbursts and suggestive phrasings with a style halfway between John Petrucci and the good old Yngwie Malmsteen ...Joseph Michael gives us another masterful interpretation, able to be engaging, touching and moving, at the same time, according to the mood of the song…His voice has a versatility really worthy of note: a thrilling performance, both technically and expressively.The rhythm section does not need any introduction, Anthony Crawford and Marco Minnemann guarantee an whimsical and multiform rhythm, always dynamic and elegant and perfectly at the service of the songs, a sound carpet of an excellent class  that's never reduced to mere virtuosity as an end in itself; two authentic masters of the instrument, two authentic axes hidden in the sleeve of WITHERFALL!It is difficult to quote one song over the other, the quality is very high throughout the length of the disc. However, I allow myself to underline some highlights in the setlist… THE LAST SCAR, AS I LIE AWAKE and ANOTHER FACE are three powerful and devastating Power / Heavy rides, full of articulated arrangements, with engaging and almost 'sing-along' refrains that are the strength of these songs ... THE UNYIELDING GRIP OF EACH PASSING DAY is a simply fantastic instrumental piece, an excellent proof by all the musicians with the Malmsteen specter hovering above Jake Dreyer's guitars ... THE RIVER is a splendid track focused on a guitar and vocal arpeggio, characterized by an emotional crescendo that comes to life from a magnificent guitar solo and supported by the performance of the voice of Joseph Michael that climbs to heights unattainable for the mere mortals ... THE OTHER SIDE OF FEAR is a 'heavy metal ride' with another memorable refrain and with a spectacular riffing and groove, sumptuous drum parts and with a streak of aggression in the voice of Joseph Michael that in the end flows almost into growling: a stellar song!Last but absolutely not least the two Prog gems, TEMPEST and the epic … AND THEY ALL BLEW AWAY, the two longest tracks within the tracklist  for duration, more than eight minutes the first one even more than fifteen minutes the second, that represent  the creative peak of the album...On both tracks, featuring a supporting theme of rare beauty and a stratospheric rhythm section you will find intricate passages, acoustic interludes perfectly blended to the rest of the song, memorable solos, melodies in constant change, and the voice of Joseph Michael who, with his dramatic and theatrical timbre and his piercing trebles, touches the sublime: listening to the ending of TEMPEST you will understand what I'm talking about. He really deserves to be included in the list of singers of reference for this genre and perhaps even beyond... There is little more to add, CURSE OF AUTUMN is an album full of pathos and atmospheres evocative and exciting, played great , product perfectly, rich in feeling and technique. What else to desire? Among the best bands currently in circulation and a record that points straight to the "Album of the Year". Hats off!
 - TRACKLIST:
1. Deliver Us Into The Arms Of Eternal Silence (00:50)
2. The Last Scar (04:56)
3. As I Lie Awake (05:33)
4. Another Face (05:34)
5. Tempest (08:17)
6. Curse Of Autumn (01:26)
7. The Unyielding Grip Of Each Passing Day (02:44)
8. The Other Side Of Fear (04:38)
9. The River (03:11)
10. ... And They All Blew Away (15:24)
11. Long Time (Acoustic Version) (03:35) 
-Line-Up:
Joseph Michael - Vocals/Keyboards
Jake Dreyer - Acoustic and Electric Guitars
Anthony Crawford - Bass
Marco Minnemann - Drums
Alex Nasla - Live Keyboards
- WEB: https://www.facebook.com/witherfall
- Article by: MIKE MATTY