CALIGONAUT
- 
MAGNIFIED
AS
GIANTS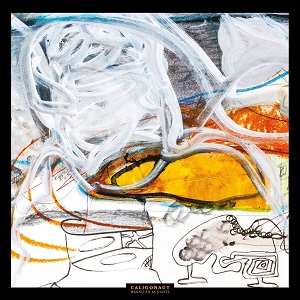 CALIGONAUT -  MAGNIFIED AS GIANTS (APOLLON RECORDS PROG, 2021)
Magnified as Giants contains four songs within a classic prog rock landscape inspired by the guitar and bass work of King Crimson, Pink Floyd, Genesis and Rush but blended with the more modern sounds of Tool and Opeth.
Genre: Prog Rock
Rating: 8/10
Another very interesting Prog Rock album comes to us from Norway. I'm talking to you about CALIGONAUT. Caligonaut is a project by artist Ole Michael Bjørndal, mostly-known guitarist for his work with Oak, Airbag and Bjørn Riis Band, who has composed the music, written the lyrics and also performs lead vocals. The other performers on the record are all well-known musicians from the Norwegian Prog scene in fact they are all members of bands like Wobbler, Airbag, Oak, Pymlico and Meer, and there's also a special guest appearance by Norwegian church organ legend Iver Kleive. Given this premise you will have already understood that we are not faced with 'radio-friendly' music to sing in the car or to whistle in the shower, but like any 'great' Prog album you will have to deal with complex musical plots, multiform harmonies, dark  disturbing interludes alternating to sweeter and more dreamy moments.
if you are a lover of Prog Rock in general... this is a record that should not be underestimated; if you are open-minded patient listener, who go in search of original, composite and not 'easy-listening to' atmospheres... this is a record to be taken into serious consideration ...
For all the others the advice is: stop reading here and move on.
Four tracks for fifty minutes of music, that says a lot about what awaits us once we push the play button on the player. Four songs ranging from six minutes of the title track to the twenty minutes of LIGHTER THAN AIR: a succession of melodies, tempo changes, acoustic arpeggios, electric riffs , fantastic guitar solos and captivating melodic ideas scattered all over the place.
Fifty minutes of music to enjoy step by step , note by note ... And I guarantee you that for the duration of the whole album you will never find a drop in style, a banal moment or predictable song-writing.  Of course in some passages and in the use of sounds and effects the influence of the 'great masters' of the genre such as KING CRIMSON, GENESIS and PINK FLOYD is quite distinct, but trust me it's not absolutely detrimental to the whole…and then, after all, we are talking about a debut album ... some small flaws had to be found!
It is really difficult to stop and talk about the single tracks, they are long, articulated, and offer various food for thought, in my opinion, impossible to report in a simple review. In each song you will find intricate and enveloping guitar melodies, exciting acoustic interludes (sometimes a bit sinister) that never disconnect from the rest and perfectly fitting with the mood of the songs; sublime celestial backing vocals and the bass always in great evidence, defined and pulsating, with a sound that is very reminiscent of John Wetton's bass during his time in KING CRIMSON. Mellotron and Hammond organ weave wonderful and enveloping textures on which the 'FRIPP-inspired' guitar and the vocal lines dance wonderfully, alternating sweet moments with others decidedly darker and disturbing.
The only song with a reduced playing time, or at least "normal" for traditional rock albums, is the title track Magnified as Giants, an ethereal and dreamlike ballad, with an acoustic structure, full of persuasive harmonies and melodic cues. This acoustic pause, this moment of rest, introduces us to the majestic finale, the epic LIGHTER THAN AIR, almost 20 minutes of sublime Prog Rock, a song that summarizes all the characteristics of this album and in which the voice of Ole Michael Bjørndal plays a fundamental role. As a matter of fact the timbre of the voice is not particularly characterizing, it is not absolutely a voice that can be defined as 'memorable', but is absolutely expressive and suitable for these songs and it manages to fully convey the 'emotional flow' that flows through the lyrics. The use of vocal lines, in my opinion, is very well planned in this album, because in the midst of this sea of ​​music, in the midst of these very long instrumental parts continuously evolving, all the voices, the choruses and the verses are full of melodies 'instantly' recognizable that act as a compass and serve to help find your way and orientation in the midst of the wonderful sound storm we encountered.
Conclusions...You love it or you hate it, but in any case a very original record with its own peculiar style, gifted, difficult and courageous. The music is tough, with few reference points to rely on, inevitably taking on the heavy but absolutely legitimate 'Progressive' label. It is completely superfluous to underline that to fully appreciate a record like this it really needs a lot of listening, in the intrepid attempt to assimilate each of its small facets. But one step at a time, listen after listen, the value of MAGNIFIED AS GIANTS changes, growing dramatically and gradually starting to creep into our eardrums as well as our hearts, and we are sure that it will be one of the most interesting Progressive releases of this year even if we are only in February.
If you love the bands mentioned in this review and the Prog of the seventies in general this record is a great addition to your collection. If you are not used to certain sounds or to this kind of Rock you will not change your mind listening to this record. In any case congratulations guys!
-       TRACKLIST:

Emperor 
Hushed
Magnified as Giants
Lighter than Air
-     -  PERFORMERS:

Ole Michael Bjørndal: Lead vocals, electric guitars, acoustic guitar
(tuned in new standard tuning), 12-string guitars
Kristian Karl Hultgren (Wobbler): Bass guitars
Andreas W. S. Prestmo (Wobbler): Backing vocals
Lars Fredrik Frøislie (Wobbler): Hammond organ,
Mellotron, grand piano, synths and keyboards
Iver Kleive: Church organ on Hushed
Arild Brøter (Pymlico): Drums and percussion on
Hushed and Lighter than Air
Henrik Fossum (Airbag): Drums on Emperor
Åsa Ree (Meer and Wobbler): Violin and backing vocals
on Emperor and Hushed
Stephan Hvinden (Pymlico and Oak): Rhythm guitars on Hushed
      WEB: https://www.facebook.com/Caligonaut
      ARTICLE BY: MIKE MATTY