BLACK
DIAMONDS
-
NO-TELL
HOTEL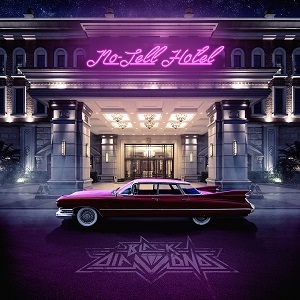 BLACK DIAMONDS  -  NO-TELL HOTEL  (METALAPOLIS RECORDS, 2021)
"...just pure Rock'n Roll with a colorful mood and a lot of fun. If you like acts like MÖTLEY CRÜE, POISON or old BON JOVI you will love this album..."
Genre: Glam/Street/Hard Rock
Rating: 8/10
BLACK DIAMONDS, these four rockers who grown up to the sound of Poison, Bon Jovi, Skid Row and Motley Crue confirm the good things done  with their previous albums and on this fourth full-length, titled NO-TELL HOTEL,  they managed to mix all the ingredients in an impeccable way, with the right doses, to create a perfect Hard Rock recipe: catchy songs, anthemic refrains, powerful sounds, tight solos, a fantastic cover and the right attitude. To cut it short, this time there are all the credentials to definitely break through, the only regret is that a couple of songs in the track-list, not very incisive and a bit redundant,  prevent us from giving top marks to this genuine and raw release.  Anyway…
The opener and title track NO-TELL HOTEL and the subsequent EVIL TWIN are unmissable killer songs for all lovers of this genre, they remind us that these street animals  are children of the 80s, bastard sons of RATT and L.A. GUNS, while LONESOME ROAD and SATURDAY cannot  fail to remind us of the bubbly party rock of Steel Panther and Poison of the golden days, with stadium refrains that will make fans happy during the live shows. Now you might expect a small pause, a slight slowdown,  and instead our rockers push the accelerator to the maximum and with FOREVER WILD they churn out a little fast , pissed-off and engaging  Street/Sleaze gem, absolutely one of the best songs on the album!
In an album like this, a couple of exciting and tear-jerking power ballads cannot be missing, and here is the romantic ANYTIME, classic structure and rather predictable song-writing but with simply wonderful melodies and a great guitar solo and the engaging and captivating HAND IN HAND with the acoustic guitar in the background to sew a sound carpet on which enticing and catchy choirs dance wonderfully; a 'radio-friendly' piece to bet on!
MY FATE and REACHING FOR THE STAR are two other highlights of the album that sound fast, dirty and sweaty with a sound halfway between  the modern Scandinavian New Glam and the sleaze rock of the filthiest Faster Pussycat, both tracks with melodic choirs to support the scratchy acid voice of MICH, whose timbre could be a mix between Stephen Pearcy from Ratt and Steve Summers from Pretty Boy Floyd. Top songs!
TURN TO DUST is really a beautiful enthralling song, almost a tribute to the 80s, in particular to BON JOVI, stopped riff, pulsating bass, ultra-attractive background vocals and a 'sing along' chorus that immediately sticks into your head from the first listen and no longer comes out.
In my opinion, the only defect of this album is that it is a bit too long. It should have been a ten tracks album. There are a couple of songs that make the album lose energy, and I refer to THE ISLAND, too predictable and a bit boring in the arrangements, and OUTLAW a song that's a little out of place and yes… ok the joking idea…but honestly it's not a great ending…TURN TO DUST would have been the perfect and appropriate ending for an album of this kind. Maybe these two tracks could have been used as b-sides in some single or as bonus tracks for the Japanese market, in any case, personally, I would not have included them in the final tracklist.  But it's a little defect that's is absolutely justifiable ... In the end…
If you love Street, Glam and Sleaze… do not miss these bad boys and their new album.
If you want to get closer to this kind of music, to the bands mentioned in this review or to the New Wave Of Glam Metal around the world… "NO-TELL HOTEL" could be a very good starting point.
If this genre doesn't excite you or you have never been interested in it, surely this album will not make you change your mind.
In any case, good listening!
- TRACKLIST:
 1. No-Tell Hotel
2. Evil Twin
3. Lonesome Road
4. Forever Wild
5. Saturday
6. Anytime
7. The Island
8. My Fate
9. Hand In Hand
10. Reaching For The Stars
11. Turn To Dust
12. Outlaw
- Line-Up:

Mich – vocals
Andi – bass & vocals
Chris – guitar
Manu – drums 
- WEB: https://www.facebook.com/BlackDiamondsRock
- Article by: MIKE MATTY