EN
MINOR
–
WHEN
THE
COLD
TRUTH
HAS
WORN
ITS
MISERABLE
WELCOME
OUT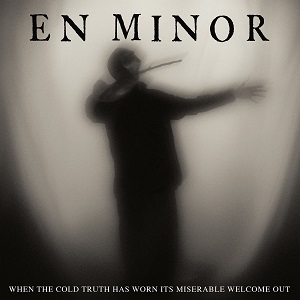 EN MINOR – WHEN THE COLD TRUTH HAS WORN ITS MISERABLE WELCOME OUT  (Season of Mist, 2020)
A manifesto of virtuosity that dares to defy the short attention span of today's public!
Genre: Depressive Rock/Dark Folk
Rating: 8,5/10
I have a confession to make: I have a desk. Not a desktop, a desk. And not just any desk, but one with drawers; a big, wooden colonial desk. I use to sit there and sketch down my thoughts and recollection. Not on a laptop, but on a sheet of 80 grams ivory white paper. With a pen. There, I said it. Told ya I'm a relic, whaddayawant with me? The tons of dung I produce every month mostly end up into one of my desk's drawers, together with a few scraps of intelligible text amongst which  are the concretions you hopefully enjoy reading on MelodyLane now and then. Well, to get to the point (always a challenge for this friendly old geezer of yours) I've had this review tucked right in my desk's bottom drawer for quite a long time. That's because I've been tempted to dismiss this album with a shrug, not my cup of tea, thanks. Lord almighty I was wrong. When The Cold Truth Has Worn Its Miserable Welcome Out (published in September 2020 by the French-born and now worldwide represented Season of Mist) has grown on me like a malaria fever, slow but steadfast. EN Minor make music that requires attention, just like a long time lover it's something you don't want to take for granted. Philip H. Anselmo's band (what a voice. My goodness, what a voice. Tom Waits meets Vin Diesel kind of voice, if you know what I'm sayin') has got the undisputed courage of making music that defies the widespread short span of attention of today's public and aims to reach a spot to call its own and noone else's. Right from the first cut we know what awaits us: Mausoleum is a manifesto of virtuosity and eclectic musical influences, lead by the mesmerizing guitar drones of Stephen Taylor and David Bond and sustained by Jose Gonzalez's percussions and Steve Bernal's cello playing a basso continuo throughout the track. Haunting atmospheres, medieval flavours and cloistral choirs is what you have to expect from this superb piece of craftmanship that is EN Minor's first full lenght LP. Not that it's all there is, mind me. On The Floor and his quasi-orchestral crescendos caresses your ears with echoes from a Led Zeppelin-fueled past that must have been a common background for our guys from New Orleans, LA. Not to mention the original and daring This is Not Your Day, kinda epic in it's pace (kept by the thundering presence of Jimmy Bower on drums and Joiner Dover on bass) but with an overall pop flavour that you really don't expect. But this record has roots that are deeply entwined with American folk tradition. Songs like Warm Sharp Bath Sleep (a multi-layered ballad with a psychedelic twist), Black Mass and, most of all, Disposable for You, depict a barren landscape in which urban cowboys make their way thru concrete canyons on a journey to find what's left of western civilization. Country for the new millennium, the perfect soundtrack for a contemporary Sergio Leone's movie. Anselmo's songwriting is grim and dark, and I frankly love it. Hats Off is the perfect example, in its three-minute of ominous & delirant chant it delivers a simple and lapidary message: you're standing on the spot where he died, and we're grieving. Wipe that smile off your face, fancy pants. And now, time for the doctors' orders. There's a couple of songs you really can't miss. First one is Blue, a mesmerizing and multi-layered track that evokes with its rich sound a dreamlike landscape right out of a symbolist painting. Last but not least, my absolute favourite: Melancholia. A nice and soothing chord progression is fueled forward by cello and keyboards (by the way, Calvin Dover does an hell of a job with the choruses too, giving the whole cut a Pink Floyd-like attitude), managing to get under your skin before you can even realize what's happening. It's time you start considering the dark side of existence, my dear rugrats. When The Cold Truth Has Worn Its Miserable Welcome Out is the perfect companion for such a challenging journey.
- TRACKLIST:
1. Mausoleums 
2. Blue
3. On The Floor
4. Dead Can't Dance
5. Love Needs Love
6. Warm Sharp Bath Sleep
7. Melancholia
8. This Is Not Your Day
9. Black Mass
10. Hats Off
11. Disposable For You
 - LINE-UP:
Philip H Anselmo: Guitar, Vocals
Stephen Taylor: Guitar
Kevin Bond: Guitar
Steve Bernal: Cello
Jimmy Bower: Drums
Calvin Dover: Keyboards, Backing Vocals
Joiner Dover: Bass
Jose Gonzalez: Percussions
Article by:  Karl Eisenmann  (https://www.facebook.com/karl.eisenmann)
WEB: https://www.facebook.com/enminorofficial