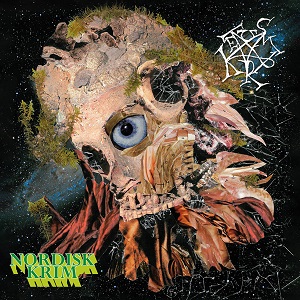 TUSMØRKE - NORDISK KRIM  (Karisma Records, 2021) 
Norwegian Prog Psychedelic Folk Rock band TUSMØRKE is back with NORDISK KRIM, an ambitious  and fascinating double  concept album which will delight fans of  bands  like  VAN DER GRAAF GENERATOR, ATOMIC ROOSTER, GONG and GENTLE GIANT  as well as any real  Vintage  Prog Rock lover!
Genre: Psychedelic/Folk/Dark Prog Rock
Rating: 8/10
We are faced with a majestic and epic double concept album that exceeds 80 minutes in duration, and which has as its main theme ancient forgotten stories, in this particular case…ancient rites and crimes connected to Danish bog bodies. The band's sound can be defined as a Psych/Dark Prog with strong Folk influences. The album is enigmatic and unsettling and it develops through dense, dark and foggy atmospheres that remind us of the great classics of bands like VAN DER GRAAF GENERATOR and ATOMIC ROOSTER; the keyboards create oneiric and surreal melodies that can recall the most acid and experimental PINK FLOYD, while the pulsating bass lines, the linear and rhythmic drums and the articulated use of wind instruments help to strengthen the progressive structural element that can bring to mind bands like JETHRO TULL and GONG. So, it's quite clear that we are not talking about an album with a particularly innovative sound, but it is beyond doubt that the songwriting is definitely inspired and it shows off shoulders sturdy enough to support the weight of the many influences mentioned above.Talking about the track-list and the single songs is a bit difficult and, in my opinion, does not do justice to the album because, as in every 'concept', all the songs contribute to give meaning as a whole, creating a unique atmosphere, that only 'one song',extracted from the context, could not convey. Surely the three long suites MOSS GODDESS, BLACK INCUBATION and MYSTERIES OF THE SACRIFICE are the highlights of the album with their composite architectures which pass transversally from persuasive melodic harmonies to more animated parts, from rarefied and hypnotic moments to others that turn out to be definitely darker and gothic. Other songs worth mentioning are the ghostly ET MOSELIK, the dark instrumental DOGS FLESH and the disturbing MUMIA, where the dramatic and evocative timbre of BENEDIKT MOMRAK's voice recalls the pure genius of PETER HAMMILL. I repeat again, however, that the best way to listen to an album of this kind is all in one breath, without pauses, only in this way you can fully enjoy the value of this work, which is complicated and fascinating, dramatic and melancholic and that even in its lighter moments (AGE OF IRON MAN) is always pervaded by a menacing underlying uneasiness. NORDISK KRIM is a dark and unnerving work, a niche album, which requires more plays to be properly assimilated, but the advice is to try it absolutely, because, nowadays, an album of this kind is more precious than gold and because, through their bog bodies and their ancient stories, the TUSMØRKE will help us delve into our unconscious and they will accompany us in the difficult task of exorcising the restless ghosts that stir within it. Hats off!
- TRACKLIST:
1. Ride the Whimbrel
2. Age of Iron Man
3. Mumia
4. Cauldron Bog
5. Dog's Flesh
6. Moss Goddess
7. Black Incubation
8. Et Moselik
9. Heksejakt
10. (The Marvellous and Murderous) Mysteries of Sacrifice
 - LINE-UP:
- Benedikt "Benediktator" Momrak / bass, vocals
- Kristoffer "Krizla" Momrak / flute, vocals
- Martin "Hlewagastir" Nordrum Kneppen / drums, percussion
- Haugebonden Gode Gullstein / keyboards
- Åsa Ree / violin
- WEB: https://www.facebook.com/Tusmorke
- ARTICLE BY: MIKE MATTY