KICKIN
VALENTINA
-
THE
REVENGE
OF
ROCK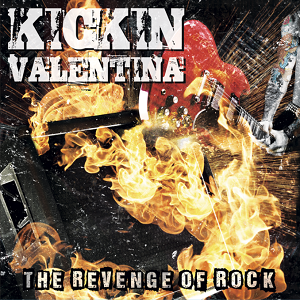 KICKIN VALENTINA - THE REVENGE OF ROCK (Mighty Music , 2021)
An absolute must-have not only for the KICKIN VALENTINA's fans, but for Hard Rock lovers all over the world!!! Top album! 
Genre: Street/Hard Rock 
Rating: 9/10
THE REVENGE OF ROCK is KICKIN VALENTINA's third album and what we can say is simply this: run and buy it! Our review may already end here!
If you are a lover of 80's style Hard Rock, if you are a fan of bands like L.A. Guns, Faster Pussycat and Ratt, there is no reason in the world to lose this album. Direct, sweaty, captivating and engaging THE REVENGE OF ROCK (title could never have been more appropriate) is the classic album that has all the features to make Street, Glam and Sleaze Rock lovers really happy.
As for the track-list it is practically impossible to mention the best songs because THE REVENGE OF ROCK is absolutely an 'all killers no fillers' album, where you can find fast and powerful tracks such as FREAKSHOW, RAT RACE and WAR with a heavy sound and with a 'punky/ grungy' aftertaste and more sunny, radio and sing-along songs like SOMEBODY NEW and the sweet and romantic ballad HEART TATTOO, both with wonderful choruses that will get into your head and , believe me, you won't be able to get them out so easily. At the center of the track-list we find STRANGE and LOOKIN FOR ME, my favorite songs, two authentic gems of Sleaze / Street, dirty and catchy, full of that 'street spontaneity' that recalls the legendary HANOI ROCKS  or TOO FAST FOR LOVE-era MOTLEY CRUE  . A masterpiece can only end with a masterpiece song, and here is the title track, an authentic steamroller, halfway between SKID ROW and TWISTED SISTER, edgy, fast, raw, terribly engaging and effective: a perfect synthesis of the entire album !
KICKIN VALENTINA have successfully passed the third album test, dramatically raising their level in terms of song-writing, quality and sound of their musical proposal. THE REVENGE OF ROCK is indisputably the record of the consecration!
Nine songs for forty minutes of music, you get to the end and you want to immediately press the play button again; no fillers, no compromises... just high wattage music, indomitable guitars and the raucous, scratchy voice of new singer D.K. REVELLE, halfway between Tyla of The Dogs D'amour and Rod Jackson of Slash's Snakepit, in my opinion a perfect voice, a wonderful timbre, which adapts wonderfully to the sound of the band.
Nine unforgettable tracks will make this album stay violently in your heart, where it will remain inexorably for a long time. Absolutely not to be missed, for anyone.
Is rock dead? ... Please ... Stop talking bullshit!
Congratulations Kickin Valentina!
- TRACKLIST:
1. Freak Show
2. Somebody New
3. Rat Race
4. Strange
5. Looking For Me
6. War
7. Heart Tattoo
8. End Of The Road
9. The Revenge Of Rock
- Line-Up:
D.K. Revelle - vocals
Heber Pampillon - guitar
Chris Taylor - bass
Jimmy Berdine - drums
- Web: www.kickinvalentina.com
          www.facebook.com/kickinvalentina
Article by: MIKE MATTY