JOHN
DIVA
&
THE
ROCKETS
OF
LOVE
-
AMERICAN
AMADEUS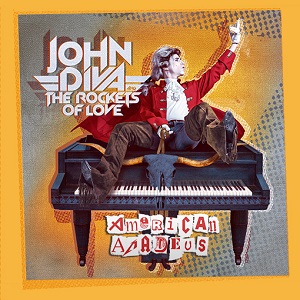 JOHN DIVA & THE ROCKETS OF LOVE - AMERICAN AMADEUS (STEAMHAMMER / SPV, 2021)
If you want a trip back to '80s, grab yourself a copy of American Amadeus: you will not regret it! 
Genre: Glam/Hair Metal
Rating: 7,5/10
A great return for JOHN DIVA & THE ROCKETS OF LOVE that with AMERICAN AMADEUS confirm what they have already done with the great debut MAMA SAID ROCK IS DEAD, churning out another album of fun and irrepressible Hair / Glam Metal, that seems to come directly from the eighties, a real wild and unrestrained 'sound party'.
If you are looking for technology, innovation or the 'fashion sound of the moment' this album is not for you, because the only thing that JOHN DIVA & THE ROCKETS OF LOVE seem to want is to make us have great fun to the sound of GLAM and PARTY ROCK, giving us 12 very enjoyable tracks, which are pleasantly listened to all in one breath. The initial 'hat-trick' is breathtaking: Voodoo, Sex & Vampires, the title track American Amadeus and the wonderful Soldier Of Love are three simply perfect songs, right songs in the right place, irresistible and engaging, the sound is between BON JOVI and the POISON ... there could not be a better start… The party continues with Bling Bling Marilyn, another crackling single and so on with the rest of the songs that flow great with irresistible and rousing choirs that will be a pleasure to sing live. Certainly worth mentioning are Karmageddon, a reflective and epic song with a simply fantastic surprise ending, Wasted (In Babylon) with a pounding drums and a lightning-fast guitar solo, the light-hearted and saucy Weekend For A Lifetime and the anthemic This Is Rock 'n'Roll, a valid piece of Arena Rock, certainly effective and impactful during the live shows, the ideal track to close a concert in style. As already written at the beginning of this review, surely AMERICAN AMADEUS is a product that musically offers few innovations, undoubtedly lacks a pinch of originality and perhaps it is also a bit too long, a couple of tracks, in my opinion, could be deleted from the tracklist (Champagne On Mars, 2 Hearts)… but if you love bands like BON JOVI, POISON, DEF LEPPARD, WHITESNAKE and MOTLEY CRUE, you absolutely can't miss it: it would be unforgivable! The sound and production are fresh and modern, the melodies are amazing, the choruses are contagious and everything is played and packaged with great class and without any emulative spirit. In conclusion, if you love the aforementioned bands and the HARD ROCK of the '80s, you will undoubtedly love  John Diva and the Rockets of Love, because their songs have the style, color, rhythm and lightheartedness of an era made of optimism, vitality and joie de vivre.
Without taking yourself too seriously, but with a great desire to have fun, turn up the volume to the maximum, push the play button and let the party begin!
- Tracklisting: 
01. Voodoo, Sex & Vampires 
02. American Amadeus 
03. Soldier Of Love 
04. Bling Bling Marilyn 
05. Champagne On Mars 
06. Weekend For A Lifetime 
07. Karmageddon 
08. Wasted (In Babylon) 
09. Movin' Back To Paradise 
10. Drip Drip Baby 
11. This Is Rock'n'Roll 
12. 2 Hearts 
- Line-Up:
John Diva – vocals 
Snake Rocket – guitars 
J.J. Love – guitars
Remmie Martin – bass  
Lee Stingray jr. – drums
- Web: https://www.facebook.com/johndiva.rocks
- Article by: Mike Matty