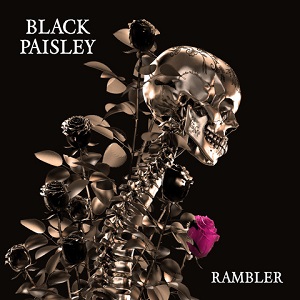 BLACK PAISLEY - RAMBLER (Black Paisley AB, 2020)
New Wave of Classic/Melodic Rock!!! An explosive blend of AOR and Classic Rock highly recommended to fans of bands like Def Leppard, Whitesnake, Journey, Magnum and Europe!...Don't miss this album!!!
Genre: Classic/Melodic Hard Rock/AOR
Rating: 9/10
Third album for the Swedish Melodic Hard Rockers BLACK PAISLEY and more than a new album we can definitely talk about a sort of compilation of potential singles!
The four rockers expertly dose melody, choirs, eighties and irresistible guitar riffs, churning out engaging songs with a sure radio appeal.
Of the eight tracks present here, you have to be really good to find even one out of place; the feeling you get from listening to this album is that you have to deal with a compact set of irresistible songs, perfectly designed and calibrated, and all with that 'mainstream hit' look that constitutes the true essence of AOR / Melodic Rock.
The album starts off great with a fantastic trio, the adrenaline-pumping and enthralling opener DAMNED, followed by WITHOUT US, the first single from RAMBLER, which is nothing but the right song in the right place, practically 'the perfect song' and the very catchy HIGHER LOVE, also equipped with a screaming refrain and with a bluesy-steamroller guitar riff. The fun energetic pace of SAVE THE BEST keeps the rhythm high and introduces us to TIMELESS CHILD, another masterpiece that together with the aforementioned WITHOUT US is a candidate for the best song on the album ... Epic, anthemic and emotional…a killer song!
But RAMBLER never slows down and it doesn't give us time to stop and think, so here is TAKE ME TO THE RIVER, with another ultra-catchy chorus that sticks straight in your head and never comes out of there and that keeps us anchored to other music eras, in a hyper-melodic journey that will delight melancholic lovers of other times ...
The Blues-ballad FALLING, in GARY MOORE / THIN LIZZY style, touching even if the song-writing is a bit obvious, has the task of making us breathe a little before the grand finale GIVE IT UP, with another "sing out loud" refrain and an amazing guitar solo...RAMBLER is a record from another planet, with a series of surprising and phenomenal songs, that will not be affected by current trends or by the passage of time,  a set of commercial successes difficult to find elsewhere, even looking minutely among the numerous releases that punctually flood the market. ALL KILLERS, NO FILLERS ... Unquestionably among the best records of the year!
- LINE-UP:
- Stefan Blomqvist - Lead vocals and guitar
- Franco Santunione - Guitars
- Jan Emanuelsson - Bass
- Robert Karaszi - Drums and Percussion.
Web: https://www.facebook.com/blackpaisleys/
Article by: Mike Matty