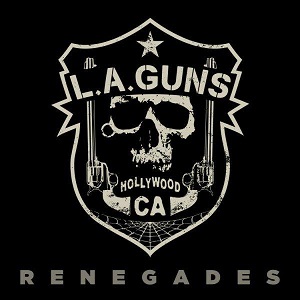 L.A.GUNS - RENEGADES (Golden Robot Records, 2020)
"...homogeneous, organic and characterized by an excellent song-writing...RILEY and the guys give us a little gem, a solid collection of songs..."
Genre: Sleaze/Glam
Rating:8/10
I begin this review just saying that...If you have always been a fan of L.A.GUNS (like me) or if you love Street / Sleaze sounds in general, this is album is for you ... 10 tracks for 40 minutes of music to be enjoyed; RENEGADES has a straightforward, dirty, melodic and captivating sound that grows listen after listen, an album that as soon as you finish listening to it, you immediately want to push the PLAY button again and that says it all. Personally I find this album homogeneous, organic and characterized by an excellent song-writing ... Each instrument blends perfectly with the others without anyone prevailing, the production (STEVE RILEY) is very 'live' and the sound is really powerful and direct without unnecessary technicalities or fashionable modernisms. RILEY and the guys give us a little gem, a solid collection of songs and it is too difficult to choose the best ones;  each RENEGADES song deserves to be mentioned: CRAWL, THE LOST BOYS, ALL THAT YOU ARE… are all characterized by an irresistible groove, pulsating bass in the foreground and choruses that you will hardly stop singing. With WELL OILED MACHINE and the killer final double, RENEGADES and DON'T WANNA KNOW, the four rockers push their foot heavily on the accelerator, giving us three overwhelming, adrenaline and anthemic tracks with lead guitarist Scott Griffin undisputed star.As for the two 'ever-present' ballads we are faced with two structurally different songs: YOU CAN'T WALK AWAY is a classic ballad in the L.A. GUNS style, definitely  emotional, with romantic and tearful  lyrics, as expected, and a very addictive refrain, which live will surely make fans scream out loud as they wave their smartphones to the beat of the music (good times when we waved the lighters!) while WOULD is definitely the hardest song of the whole lot to appreciate at first listen, and it will make the more traditional fans of L.A. GUNS turn up their noses a bit, because it deviates from the classic style of the band, it is a more introspettive, more intimate piece, acoustic guitar and vocals in the foreground and an atmosphere that recalls the slightly darker sound of L.A. GUNS 'Post-grunge' era albums, namely SHRINKING VIOLET and AMERICAN HARDCORE. As for the performances of the individual components we can say that "the godfather" Steve Riley is, as always, the backbone of the band's sound with his rocky and linear style; Kelly Nickels is back and is in great shape, both in terms of songwriting and with his style of playing bass, never banal and incredibly original .. Scott Griffin plays riffs and solos, in my opinion, flawlessly, with great taste, putting himself at the service of the songs and immersing himself perfectly in the 'mood' of each single song, giving emotions without overdoing it and without useless virtuosity, while Kurt Frohlich, behind the microphone (and rhythm guitar), confirms himself as an excellent choice, with his melodic and soft tone that perfectly enhances the contagious vocal melodies that characterize each song on the album; the only small drawback is that maybe in a couple of songs, fast songs, he should have dared a little more, look for the 'scratch' a little more ... but we can't have everything ... and what L.A. GUNS gave us with RENEGADES is absolutely more than enough ...If you are looking for technology, innovations or musical revolutions you can totally ignore this album, RENEGADES is a work written with heart and sweat, well played, well produced and scored by four guys that know exactly what they want to play and where they want to arrive with clear ideas on which path to take: the path of good old Hard Rock.CRAWL, LOST BOYS, ALL THAT YOU ARE, DON'T WANNA KNOW and the title-track RENEGADES are indisputably the best chapters of RENEGADES, 'small masterpieces' for this kind of music, that will be able to give emotions, this is beyond doubt…what we hope for STEVE RILEY and friends is that in the future they will be able to sharpen the blade of their axe in such a way that every single shot can be lethal.
Welcome back!
 - Tracklist
01. Crawl
02. Why Ask Why
03. Well Oiled Machine
04. Lost Boys
05. You Can't Walk Away
06. Witchcraft
07. All That You Are
08. Would
09. Renegades
10. Don't Wanna Know
- Line-up
Kelly Nickels: bass, backing vocals
Steve Riley: drums, percussion, backing vocals
Scotty Griffin: lead guitar, backing vocals
Kurt Frohlich: lead vocals, rhythm guitar
Web: https://www.facebook.com/officiallaguns/
Article by: Mike Matty