JACK
SLAMER
-
KEEP
YOUR
LOVE
LOUD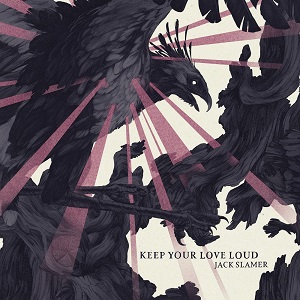 JACK SLAMER -  KEEP YOUR LOVE LOUD  (NUCLEAR BLAST, 2020)
"...a good group that sounds fresh, powerful and free from preconceptions and mental schemes ... how real Rock should be!..."

Genre: Hard/Blues/Vintage Rock
Rating: 7,5/10
Swiss rock band JACK SLAMER interpret the Hard Rock of the Seventies in its purest and most casual form; these guys appear to be a well-established formation, able to give listeners a warm, organic, noisy sound, without copying, as far as possible, monuments and epigones. It's impossible not to be conquered by Florian Ganz's pathos-filled voice, by the groove of the melodies, by the granitic guitars- riffing and by the pulsating bass lines. If with the previous records the risk of being dismissed as the new clones of the great British hard rock bands of the seventies was always around the corner, the greater variety of KEEP YOUR LOVE LOUD, definitely points in JACK SLAMER's favor. The album opens with a breathtaking triptych composed of BROTHER, FAVORITE ENEMY and SUN SOUL HEALING, all sparkling and captivating with catchy choruses and stopped riffs in great evidence, while with LOST and WAR OF WORDS we can admire the skill of JACK SLAMER in mixing melody and the seventies hard blues imprint. Magic Woman is one of the most successful songs… another perfect riff, a refrain that gets into your head and never comes out and a wonderful instrumental interlude, with guitars in great evidence. Unfortunately the three songs that follow represent a tired phase of the album; in my opinion MEMORIES, STUMBLED and OCEAN are not up to par with the rest of the track-list, the songwriting is a bit obvious and repetitive, and above all, the absence of captivating vocal lines makes these three songs redundant and negligible. A real shame because this trio dampens a bit the great energy and engaging rhythm of the first six tracks. Fortunately, with the final BOUQUET OF DECIBELS, the guys from Winterthur push their foot down on the accelerator again, riff and chorus work great for a little bomb in the style of THE ANSWER, a worthy conclusion to an album that's not perfect but nonetheless highly recommended. Of course, the game of comparisons and references is always lurking: THE BLACK CROWES, RIVAL SONS, WOLFMOTHER above all, but in any case we are in front of a good group that sounds fresh, powerful and free from preconceptions and mental schemes ... how real Rock should be. An album that should be considered among the little pearls of this year.
- Tracklist:
1. Brother 3:53
2. Favorite Enemy 5:30
3. Sun Soul Healing 3:42
4. Lost 4:26
5. War of Words 4:55
6. Magic Woman 5:11
7. Memories 5:08
8. Stumbled 3:59
9. Ocean 3:54
10. Bouquet of Decibels 4:38
- Line up:
Cyrill Vollenweider – Guitar
Hendrik Ruhwinkel - Bass
Florian Ganz - Vocals
Marco Hostettler – Guitar
Adrian Böckli - Drums
Web: https://www.facebook.com/jackslamerband/
Article by: Mike Matty