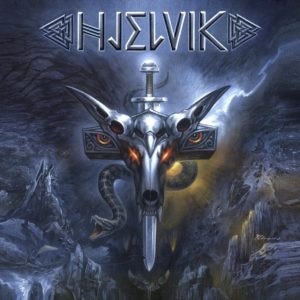 HJELVIK - WELCOME TO HEL
HJELVIK - WELCOME TO HEL (NUCLEAR BLAST, 2020)
"... Blackened Thrash/Viking Metal ... Undeniably, one of the best albums of this year ..."
Genre: Blackened Thrash/Viking Metal
Rating: 8/10
Erlend Hjelvik, formerly known as front-man, lyricist and co-founder of Norwegian party-punk-rockers Kvelertak, split from his bandmates in 2018 and spent the past two years waiting for his moment and plotting a big comeback. . . Today he is a rejuvenated and inspired Viking Metal warrior, mature and ready to release his solo band, HJELVIK, and his thunderous and rousing debut album, WELCOME TO HEL.
The album consists of 10 tracks of granitic Blackened Thrash Viking Metal, all very powerful and very direct: fast tempos, heavy rhythm sections, engaging choirs and of course the scratchy, harsh and cutting voice of the warrior Hjelvik over everything.
"WELCOME TO HEL" is a nuanced album that offers a shower of rocky/metal riffs, lightning-fast solos and tempo changes in the most unexpected moments, a deep and captivating LP that gives emotions with every new listening. No need to talk about the single songs, we are facing the classic album 'all killers, no fillers', but having to mention the best moments, in addition to the singles HELGRINDA, NORTH TSAR and GLORY OF HEL (all accompanied by related videos), I would definitely opt for the opening duo FATHER WAR and THOR'S HAMMER, two truly devastating rampages with fantastic solos, and the wonderful THE POWER BALLAD OF FREYR, a majestically epic Viking hymn that will take no prisoners during the live shows.
Guest appearances from High on Fire / Sleep legend MATT PIKE and Slough Feg's MIKE SCALZI, are an extra bonus for what is an outstanding debut.
The legendary Joe Petagno, author of the iconic and timeless images we all know of bands like Motörhead, Led Zeppelin, Nazareth, created the artwork for the album "WELCOME TO HEL" and the HJELVIK logo.
In the end… Erlend, with his debut album "HJELVIK", has created a varied and complex explosive blend, an extremely balanced mix of aggression, passion, melody and Norse Mythology; more than an album we could almost call it a 'sonic assault', a 'monumental call to arms' shouted and played in the most classic Old School Metal ... but that sounds more modern and fresh than ever!
Fast as lightning, violent and relentless as a Viking plunder, WELCOME TO HEL is not only a great solo debut, but it's also the kind of album that will convince fans to come back to the live shows to sing together and have fun. As soon as the listening ends…immediately you want to push the PLAY button once again: this says it all.
Undeniably, one of the best albums of this year.
Tracklist:
1. Father War 3:42
 2. Thor's Hammer 2:13
 3. Helgrinda 4:21
4. The Power Ballad of Freyr 3:36
 5. Glory of Hel 4:30
 6. 12th Spell 4:21
7. Ironwood 4:20
8. Kveldulv 3:11
9. North Tsar 4:12
10. Necromance 4:54
Line-up:
Erlend Hjelvik – Vocals
Rob Steinway – Gituar
Alexis Lieu – Bass
Kevin Foley – Drums
Web: https://www.facebook.com/HJELVIKmetal/
Article by Mike Matty