HANNAH
ALDRIDGE
–
LIVE
IN
BLACK
AND
WHITE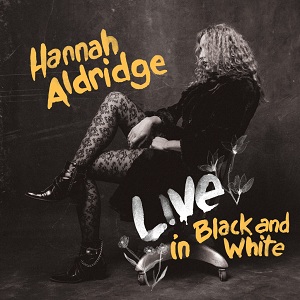 HANNAH ALDRIDGE – LIVE IN BLACK AND WHITE   (ICONS CREATING EVIL ART, 2020)
Bare-bones and precious as a rough gem !!!
Genre: Folk Rock, Country, Southern Gothic
Rating:  8,5/10
I happen to love Icons Creating Evil Art. It's quite hard those days to stumble upon a really interesting artistic offer, more so when it assigns itself the explicit intent of being controversial; that often means controversy will be in fact  the only tangible thing you'll get. That's not the case with ICEA. "We want to provoke, inspire, create, destroy, and disrupt old structures while having fun doing so" says their statement, and God Bless You says I. Label's founder Carl-Marcus Gidlöf managed to build up an impressive artists' roster in just a few years, quality acts like Louise Lemòn and Tolliver, just to name a couple, following a simple yet ineffable rule : "My gut has a lot of say. I need to feel something" he told The Art of LA in a 2016 interview. So do we man, keep on feeding us good vibes! And here we are, a new and exciting issue to freshen up our minds and our souls seriously damaged by the hot summer weather and the pandemic burden of this year of our Lord 2020: Hannah Aldridge, born and bred in Muscle Shoals, Alabama, whose music has been recently included in Scott Wiper's last movie The Big Ugly (released on July 24, 2020), signed with ICEA and the result is an awesome live album that draws upon her two previous studio records Razor Wire (2014) and Gold Rush (2017). It's not a canonical reproduction of a live night, but instead a collection of tracks recorded in two separate shows, one at the Tangled String Studios of Huntsville, Alabama, and the other at The Lexington in London. Aldridge presents a stripped down version of her songs, an acoustic bare-bones set in which she stands alone confronting the crowd with nothing more than a guitar and her deep, inspired, at times haunting voice. The result leaves nothing to be desired. On the contrary, Hannah's works shine of a new light, intense and passionate. Songs like "Parchman", with its dark, death row story ("Oh, I'm just waitin' on my turn/To feel that needle burn/When they send me on") or the splendid "Burning Down Birmingham", that pays homage to the Letter From Birmingham City Jail by Martin Luther King Jr, really find their true rendition inside this raw, precious, rough gem that is Live in Black and White. Her songwriting is deep, thoughtful, dark beyond measure but genuine: "this is how I'm feeling, and I need to talk about it" says Hannah, and  the live dimension grants her new expressive means. She's joined on stage by artist like Denni Nicholls (on "Lace") and her father, producer, songwriter and musician Walt Aldridge, plus many more. A special mention goes to "Rails to Ride", performed together with the Welsh lads of The Goat Roper Rodeo Band: boy, those guys sure know how to harmonize! But the doctor's personal recommendation for today is "Black and White", a touching, melancholic reminiscence of past times that aims straight for your heart. Moving, sweet and sour just like Hannah's voice. Live in Black and White is an absolute must of this late summer. Don't miss it. Be there or be square.
TRACKLIST:
1) Howling Bones
2) Like You Love Me
3) Goldrush
4) Aftermath
5) Black & White
6) Save Yourself
7) Rails to Ride
8) Lace
9) Parchman
10) Born to Be Broken
11) Lonesome (encore)
12) Burning Down Birmingham (encore)
Line-up:
Hannah Aldridge – Vocals, Guitar
Featuring:
Walt Aldridge
Robbie Canavagh
The Black Feathers
The Goat Roper Rodeo Band
Danni Nicholls
… and more
Sul web: https://www.facebook.com/HannahAldridgeOfficial/
Article by: Karl Eisenmann