GRUMPYNATORS
–
STILL
ALIVE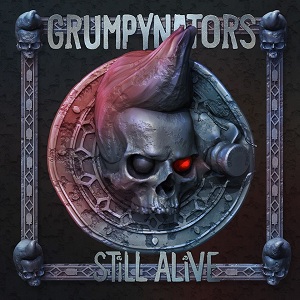 GRUMPYNATORS – STILL ALIVE (Mighty Music, 2020) 
A record that's gonna make you scream and shout!
Genre: Rockabilly, Hard Rock, Speed Metal
Rating: 9/10
"Whooooo, yeah! Bring it on, I want more!" Come on, folks. How many times did you react with those words when listening for the first time to a new record lately? Tell me, I really wanna know. I'm sure your answer will be "well, a few actually". You know what? Same here. So you may understand why I got so psyched for the new Grumpynators' album, "Still Alive", out this August for Mighty Music: it made me feel again that fuck-the-world enthusiasm of my greener days! The hard-working Danish combo from Copenhagen really scored with their third album. Mixing different musical backgrounds into one cohesive act Grumpynators take their peculiar but unmistakable sound to full development, also thanks to the mastery and expertise of Søren Andersen at Medley Studios who sealed an awesome record with the mark of excellence. The title-track, "Still Alive", is the kick in the pants you need to start the day in a decent way. Damn, such an energy I can only remember in a Ramones or Sex Pistols record! Maybe's the fact that I'm well over 40 but also the lyrics got definitely under my skin: no matter my countless mistakes, here I am still alive, suckers, and one more chance is all I need! Be warned, you will keep on shouting at the top of your lungs with the following "Going Away for Good", a high-energy rock anthem with a fresh punk-ska twist. Emil Øelund's gasoline-fueled voice goes full throttle, perfectly balanced with his and Christian Nørgaard's guitars, in Blood and Bones, speedy and powerful enough to blast you off your feet. Grumpynators didn't leave anything out of a perfect record: a couple of power ballads are due on any respectable hard rock album, so here are the Aerosmith-ish "Feel the Same" and "Dream Girl", an adrenalinic love letter like I've never heard before. The general mood remains positive and groovy, but if you're looking for heavier cuts you won't be disappointed: "Yesterday" and "All I Want" testify for the metal background of the band. I dare to say that "Sweet Psycho Sister" has a certain hardcore feeling in its raw intensity; great double-bass by Mr Jakob Øelund here, no doubt you'll agree with me. Now, I usually throw in my favourites at this point. Jeez, it's so hard this time, what Still Alive really lacks are weaker moments. Besides the fuckintastic title-track I will probably name another couple of cuts: "Crazy Monster Girl" (my daughters are singing along with it at an insane volume as I write) and "Back on The Road". Both are pure concentrate of plutonium-grade energy presented with raw yet positive attitude and sustained by the awesome and earthquake-like drum work of Per Fisker. If this summer's hot weather is dragging you down the new Grumpynators record is the key to face it with renovated enthusiasm. Don't miss this one: it's your last chance to shout "I'm still alive"!
TRACKLIST: 
1) Still Alive
2) Going Away for Good
3) Blood and Bones
4) Feel the Same
5) Dream Girl
6) Yesterday
7) Sweet Psycho Sister
8) All I Want
9) Monster Girl
10) Back on the Road
Line-up: 
Christian Nørgaard - Guitar
Emil Øelund - Guitar + Vocals
Per Fisker - Drums
Web: https://www.facebook.com/grumpynators
Article by: Karl Eisenmann