VA
ROCKS
–
I
LOVE
VA
ROCKS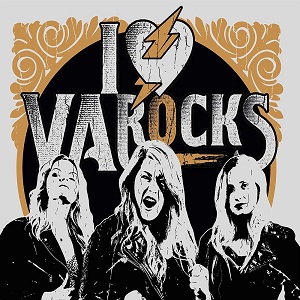 VA ROCKS – I LOVE VA ROCKS  (Metalville Records, 2019)
A savage injection of pure energy!
Genre: Hard-Rock, Punk-Rock
Mark: 8/10
Question: what do you have if you add up a good chunck of Rock'n'Roll, a sprinkle of punk attitude, a monolithic yet fresh sound and three tough & gifted girls? No need to tell me, I already know the answer: it's VA Rocks! The combo from Lund, Sweden, keeps up the good work started with their first full-lenght lp Pull No Punches and cuts a record that goes in a more personal direction while maintaining the same trademark straight-to-the-point approach to music that gives our girls a cutting edge. I Love VA Rocks is their fantastic new album, a collection of powerful rock songs that will surely leave a mark in today's indie scene. All the ingredients of the previous works are here: catchy choruses, hooking riffs and throbbing rhythms.Influences are still evident but VA Rocks is clearly evolving, moving towards the creation of an original sound. No More Fucks to Give is a classic hard rock song heavily influenced by Bon Scott's AC/DC, but the istrionic presence of Ida Svensson Vollmer with her thunderous yet melodic alto voice manages to give an extremely recognizable and personal touch. Ida's great character emerges boldly in Gonna Get You, a great stadium rock anthem with irresistibly addictive vocals that's guaranteed to rock you to the bone, right on par with the sleazy Rebel Blood (Street rock with a glitter touch? Yes please!). But VA Rocks wouldn't be such an amazing trio if it didn't sport a rock-solid rhythm section: crank up the volume on your favourite boombox and blast you ears with Woman, you won't be disappointed. Klara Wedding bass work is mind blowing. Precise, powerful, groovy yet delightfully rough. The perfect synthesis between Dee Dee Ramone and Cliff Williams, if you ask me. Klara's partner in crime, the headbanging Frida Rosén, is another force to be reckoned with as featured in Hit the Road: high energy pop garage-punk at its best with a killer drumming. As usual, here goes my personal recommendation: Jesus, how I love Here Comes Trouble! Raw, straight-in-your-face but still glamour in a certain way. Just listen to the vocals and I bet my last fiver you'll think of a blasphemous marriage between The B52's and Krokus! Guys, nothing more to say: I LoveVa Rocks is a rough diamond in a polished packaging, a pure and savage injection of glitter-fueled energy that'll keep you warm through the whole winter. Go for it.
TRACKLIST:
1) NMFTG Intro
2) No More Fucks to Give
3) The Code of The Road
4) Gonna Get You
5) Woman
6) Rebel Blood
7) Hit the Road
8) Romeo & Juliet
9) Here Comes Trouble
10) Never in a Million Years
Line-up:
Ida Svensson Vollmer - guitar / lead vocals
Klara Wedding - bass / backing vocals
Frida Rosén - drums / vocals
Web: https://www.facebook.com/VAROCKSswe/
Article by: Karl Eisenmann