THE
DEAD
DAISIES
-
LOCKED
AND
LOADED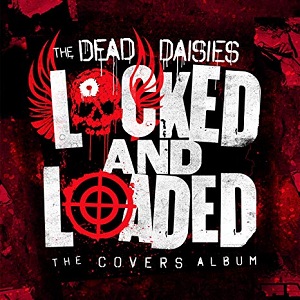 THE DEAD DAISIES – LOCKED AND LOADED – The covers album (Steamhammer/SPV, 2019)
"...This album is an absolute must have not only for the Daisies's fans, but for rock'n'roll fans all over the world. ..."
Genere: Hard Rock, Classic Rock
Voto: 9/10
What can be said of The Dead Daisies that hasn't been said a million times before? C'mon, it's the only true supergroup of the contemporary era, no shit! Do you remember Cream, Crosby Stills Nash & Young, Blind Faith? Well, if you don't you gotta do something about it but you're kinda excused, because your parents (or maybe grandparents) used to rock like crazy listening to that music. We're talking that league here, dudes, we're talking about incredible musicians, coming from every corner of that awesome planet that goes by the name of Rock'n'Roll, joined together to blast our ears with some of the finest cuts I've heard in the last years: "Lock'n'Load", "Resurrected", "Make Some Noise" just to name a few hit songs taken from the past albums. Not to mention, in my absolutely personal opinion, an authentic sonic monument as Revoluciòn, standing there just like a monolith stating "Rock is everything but dead, suckers!". So, you could imagine my surprise when I got my hands on Locked and Loaded: The Covers Album. Hey, those are my favourites too! You know what? Maybe these guys aren't just a bunch of music-biz celebrities, they are true rock'n'roll fans, just like us regular joes! And yes they are indeed, true blue. In any of their records they put one of two little pearls taken from the past, and here they are all in a fabulous album plus some never recorded ones and a few live cuts. "A tip of the hat - as singer John Corabi says – to our heroes". Sometimes forgotten heroes, as the opening track is Midnight Moses from the cult band Sensational Alex Harvey Band that failed to achieve great success in the USA but was really big in UK during the seventies. A punchy, rock-hard song that hooks you right from the start; keyboards and guitar courtesy of Dizzy Reed and Richard Fortus, respectively. But you don't get to catch your breath, 'cause what follows is the meaniest cover of Holing Wolf's Evil I've ever heard! You'll love the guitar work, and Corabi's voice is simply perfect for a blues track turned heavy like this one. What comesnext is simply the greatest pacifist song ever written, no need to say I'm talking 'bout Fortunate Son by Creedence Clearwater Revival. Castronovo and Mendoza lay down a powerful groove, the perfect canvas on which Aldrich and Lowy can express themselves with a couple of lightning-fueled solos. Every song is a classic, revised & refurbished Daisies style with the help of guests like Jackie Barnes, Jon Stevens and Brian Tichy: from the high-octane version of Helter Skelter to the evergreen anthem Rockin' in The Free World anyone of the 10 tracks is guaranteed to rock you to the bone. One last mention goes to my favourite song, actually one of my favourite songs ever: Join Together by The Who, definitely not an easy band to cover. Well, the guys know when it's time to put the pedal to the metal and the result is simply awesome! Corabi's voice at his best holds its ground in the almost epic confrontation with Roger Daltrey's, and the band works like a powerhouse from the groovy bass intro to the devastating drum-driven closure. Jeez, I screamed with all my lungs the lyrics to the song for all the 04.11 minutes and you'll do the same, I tell you. This album is an absolute must have not only for the Daisies's fans, but for rock'n'roll fans all over the world. 
TRACKLIST:
1) Midnight Moses
2) Evil
3) Fortunate Son
4) Join Together
5) Helter Skelter
6) Bitch
7) American Band (live)
8) Revolution
9) Rockin' in The Free World (live)
10) Highway Star (live)
Line-up: 
John Corabi: Vocals
Doug Aldrich: Lead Guitar, Backing Vocals
David Lowy: Rhythm Guitar, Backing Vocals
Marco Mendoza: Bass, Backing Vocals
Deen Castronovo: Drums

Jackie Barnes: Piano, Percussions
Richard Fortus: Guitar
Dizzy Reed: Keyboards
Jon Stevens: Vocals
Brian Tichy: Drums


Articolo di Karl Eisenmann