JESS
BY
THE
LAKE
–
UNDER
THE
RED
LIGHT
SHINE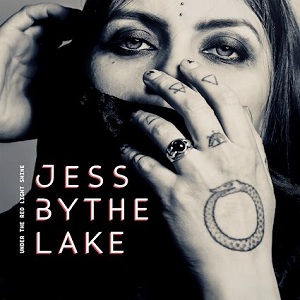 JESS BY THE LAKE – UNDER THE RED LIGHT SHINE (Svart Records, 2019)
"...A glowing, beautiful light shines on Jess and her new band...a light on a new perspective..."
Genere: Psychedelic Rock, Classic Rock
Voto: 8,5/10
Once there was a mysterious and charismatic singer, who went by the name of Jasmin Saarela. She was the leader of a cult band named Jess and The Ancient Ones, and they used to tell acid tales of astral wonders and cosmic resonance. Then she lightened up her mood, and lent her outstanding vocals to a friend's project, The Exploding Eyes Orchestra. They where laid back and relaxed, but still she felt she had something in her heart that was meant to be told. So Jess by The Lake was born, and the obscure lore of Jess now gaines new depth and perspective: their debut album, "Under the Red Light Shine" is a little gem that really shines a light of its own, no pun intended. A red light, suggests the title-track, a hard-hitting and seventies-flavoured rock song that features the powerful drumming of Marianne Heikkinen and the 'Jon Lordish' attitude of Ethel Sepala behind the keyboards. We keep driving down Memory Lane with the second track, "Freezing Burn", a dreaming and melancholic ballad reminiscent of the west coast psychedelic scene of the late sixties. Jasmine shows she's at her full potential here, both with her always inspired lyrics and with her musician skills: the Wurlitzer nails it big time, giving the song an ineffable vintage aura. Same thing can be said for "The Wait", possibly the most pop of the album's songs. A slightly weird and delicate tune that shows a kind of poetic that can be only defined as finnish. But make no mistake, this is a rock album and to be sure we remember it here comes the first single, "Nightmare". A straight, no bullshit hard rock tune that sports the savage precision of Kauppinen and Leppajarvi on guitar and bass, respectively. Jasmine doesn't forget where she came from though, and tracks like "Legacy Crown" and, most of all, "Interstellar" testify of her love for psychedelic themes and cosmic-rock atmospheres. I have left a couple of songs for last, and I did it on purpose. "My Hands" is an incredibly convoluted mess of harmonic intricacies and dissonances superbly crafted by Jasmine voice and Kauppinen fantastic guitar that made me shake and shiver in bliss with its contrastingly simple melodic line. Awesome. But not as much as "Halo (Ghosts in The Flames)", my absolute favourite. A sweet, evocating, hopelessly romantic tune in which Jasmine's voice has the chance to express all her artistic presence, the kind of song that leaves you speechless and breathless for good. A glowing, beautiful light shines on Jess and her new band, clearing the path for a different perspective.
TRACKLIST:
1) Under the Red Light Shine
2) Freezing Burn
3) The Wait
4) Halo (Ghost in The Flames)
5) Nightmare
6) Legacy Crown
7) My Hands
8) Interstellar
Line-up:
Jasmine Saarela: Vocals, Guitar, Wurlitzer piano
Marianne Heikkinen: Drums, Backing vocals
Ethel Seppala: Keyboard, Backing vocals
Aapo Kauppinen: Guitar, Backing vocals
Heikki Leppajarvi: Bass, backing vocals

Articolo di Karl Eisenmann