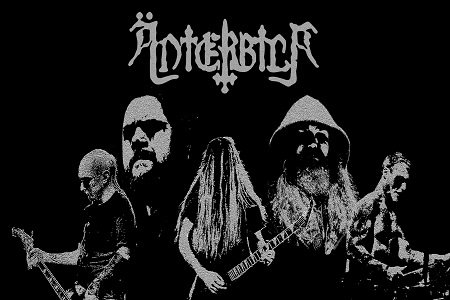 INTERVIEW WITH JERFF


MELODY LANE had a very interesting interview with JERFF, founder and guitarist of the Swedisk Folk/Black Metal band ÄNTERBILA.
Don't miss 'ÄNTERBILA', their first self-titled album released on december 2022 via NORDVIS. 
"...Lurking amidst the metallic darkness are passages featuring violin, acoustic guitar, and traditional arrangements. This formula has produced a collection of songs deeply imbued with that wistful, sinister, and folkloric feeling present in various Nordic masterpieces by the likes of Storm, Isengard, Taake, Panphage, and Arckanum..." 
MELODY LANE: First of all, also if it can sound a bit expected…Can you tell us where does the name Änterbila come from?  
JERFF: I don't remember if it was me or someone else, but it came at the same time as the first demo was recorded. It's the name of an axe, used by the Swedish navy back in the days.

MELODY LANE: The line-up of the band is confirmed, is it the same from the beginning of the band…or have you had changes in the last years? Can you tell us something about the roots of Änterbila? Actual members…And where the band was born?
JERFF:The band has changed multiple times. I came with this idea to my friend (Motvilja) and wanted to record a demo, and so we did, with him on vocals and me on guitars and bass. Later on we went through some members, but most didn't fit the band 100%. At the end we were me(Jerff) on guitars, Daudr on bass, Motvilja on vocals and Monstrum on drums. During the recording of the first album we changed singer into Agg, and then the album was done. Right after the albums release we got a new bass player, my closest friend of many years, Svaltunga and recruited another guitar player, Raamt. And now we are rehearsing for the next album.

MELODY LANE: Can you list us 3 songs, from Änterbila discography (including new material), that can define the sound of the band …3 songs that can help our readers to know Änterbila at the best. 
JERFF: That's a hard one. Everything in the album define what we do. But my personal favorites would be Äntergast, 1704 and Hemlängtan.

MELODY LANE: Tell us something about the creative process of your music. Is there a main composer or we can talk about a team work? The songs come from ideas of a single member and then the band works on these ideas in the studio jamming together, or your songs are written in the studio and all the members compose together? What about messages and subjects of your lyrics?
JERFF:Most of the music and lyrics are written by me but we are trying to compose more together. This album is pretty much 99% me, but the next one will have more of a personal touch from the other members. I write riffs and lyrics whenever they come to me, then I present them in the rehearsal space and we build a song together with what we have, then we record demos so we can go home and listen to them over and over again to see if we need to change anything.
The lyrics are about Scandinavian folk history. Peasantry, folk lore, the unknown etc etc.

MELODY LANE:  Apart from the all the problems and troubles related to the pandemic COVID-19 , any chance for us to see Änterbila playing live here in Italy/Europe in the next months/years? Maybe summer festivals?Any plans?
JERFF: Absolutely! Right now we will be playing in Sweden, but we're always interested in festivals abroad too.

MELODY LANE: Could you tell us two bands, from the actual international scene, you'd like  to tour with?... Two bands that would represent a perfect line-up for Änterbila to play with. And why these bands?
JERFF: That's very hard. But I have huge respect for Horn from Germany. Great guy, and we have been talking about doing something together in the future.
Even though I don't know them personally, Havukruunu from Finland is also a band I have alot of respect for.

MELODY LANE: We know that 'to define is to limit'… but how'd do you define Änterbila sound? Are you an EXTREME METAL band? A FOLK BLACK  METAL band? ATMOSPHERIC BLACK METAL band?...Or…?
JERFF:That's a good question. Me personally I would define it as folk metal or extreme metal. Most people define us as a folk black metal band. Some people refuse to. At the end of the day, it doesn't really matter to me. I did define it as black metal for a while, since that's where everyone would put us, but I stopped caring about that stuff.

MELODY LANE: Which musicians are/have been your main musical inspirations? 
JERFF:My musical inspiration comes from lots of bands and music. Our music is not directly inspired by other bands, but ofc I get inspiration from what I listen to. Everything from old Scandinavian folk tunes to Kebnekajse, Arckanum, Taake, Sorhin, Darkthrone, Viktersorg etc etc
  
MELODY LANE: Which are your favorite bands nowadays? Is there any musicians you'd really like to collaborate with?...and why?
JERFF: I've been into alot of modern bands lately. Horn, Ungfell, Havukruunu, Norrhem, Vargålder. Alot of bands from Sweden, Finland and Germany.

MELODY LANE: Until today...What was the most important concert for Änterbila's career?
JERFF:It has yet to come.

MELODY LANE: As a musician, what has been your biggest achievement to date and what do you want to achieve in the near future? 
JERFF: Releasing this album with Nordvis. I've worked with record labels in the past, but Nordvis offers alot more than I'm used to. He cares about his bands and deliver every time. I'd like to keep playing live and to release the album we're working on at the moment.

MELODY LANE:  After time, are you totally satisfied with your choices about sound and the writing of your first release "DEMO"? If you could… would you change anything? 
JERFF: No, I don't see any reason to change anything from the past. It would have sounded different if I wrote it today, but I don't see any reason to go back and change anything.
  
MELODY LANE: In the end…A message from you to all MELODY LANE readers.
JERFF: Cheers! 
Web: https://www.facebook.com/anterbila
Interview by: MIKE MATTY