INTERVIEW
WITH
MIST
OF
MISERY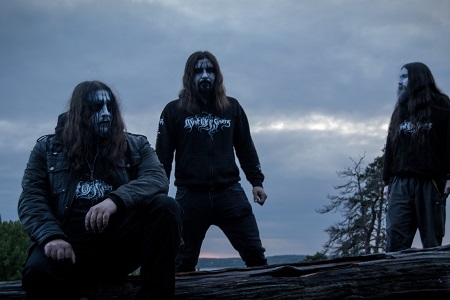 INTERVIEW WITH MIST OF MISERY 
MELODY LANE had the pleasure of interviewing Tenebris and Mortuz Denatus, bassist and guitarist respectively of the Swedish band ATMOSPHERIC/SYMPHONIC BLACK METAL band "MIST OF MISERY". Don't miss their fantastic and brand new album "Severance" out today, Friday, Nov. 4, via Non Serviam Records. "... "Severance" is MIST OF MISERY's first concept album and tells a tragic story that takes place in 19th century rural England. It is full of melancholy, pain and despair....".
Highly Recommended!!!
MELODY LANE: First of all, also if it can sound a bit expected…Can you tell us where does the name MIST OF MISERY come from? 
MIST OF MISERY: Mortuz Denatus and the co-founder of the band came up with it while trying to find a name that suited the kind of music we had in vision.
MELODY LANE: The line-up of the band is confirmed, is it the same from the beginning of the band…or have you had changes in the last years? Can you tell us anything
about the roots of MIST OF MISERY? And where the band was born?
MIST OF MISERY: The line-up has changed a lot since the birth of the band. The now only remaining original member is Mortuz Denatus. The band was born in Stockholm, Sweden in 2010 and now consists of four members; Mortuz Denatus who is the main composer, guitarist and orchestrator, Tenebris who is the co-composer, bass player and lyricist, Livsnekaren who is the drummer and Änglamakaren who is the vocalist.
MELODY LANE: Can you list us 5 songs, from  MIST OF MISERY 's discography (including new material), that can define the sound of the band … 5 songs that can help our readers to know MIST OF MISERY at the best.
MIST OF MISERY:
1: Mist of Misery
2: Absence
3: Bleak Autumn Pt II
4: Severance
5: Fields of Isolation
MELODY LANE: Tell us something about the creative process of your music. Is there a main composer or we can talk about a team work? The songs come from ideas of single member and then the band works on these ideas in the studio jamming together, or your songs are written in the studio and all the members compose together?
MIST OF MISERY: The creative process of writing the music on the last two albums was shared by Mortuz Denatus and Tenebris. The process looks a little different for each song but usually starts with a riff, a piano piece or an idea and both sit down and write the song together on two guitars. While writing the song different orchestral arrangements are discussed. Mortuz Denatus then writes the complete orchestral arrangements for the song and Tenebris writes the lyrics.
MELODY LANE:  Can you tell us something about contents and messages of your new album ? …Can you tell us anything about the whole concept of SEVERANCE? And please tell us where does this title come from? 
MIST OF MISERY: "Severance" is our very first concept album and it's written as a story taking place in 19th century rural England. It's basically the tragic tale of the character the story revolves around and every song is a chapter in his life. The title "Severance" refers to this character's severance of ties to society which is the basis of the story.
MELODY LANE:  …After time, are you totally satisfied with your choices about sound and the writing of your previous records ? If you could… would you change anything? What did you focus on to make the sound better and perfectly consistent with the musical ideas you had in mind?
MIST OF MISERY: We are very satisfied with our choices regarding sound and writing on all of our albums. You learn new things along the way and incorporate that knowledge into the next album and so forth. Our main focus when it comes to "perfecting the sound" has always been to surpass ourselves. We don´t really care what other music sounds like, we only ever compare with our own music and the specific soundscape we are looking for on each album (which may vary a bit from album to album).
MELODY LANE:So apart from the covid/pandemic situation…will you tour in the next future? Have you already a touring schedule? Any chance for us to see  MIST OF MISERY playing live here in Italy/Europe in the next months/year?
MIST OF MISERY: There are no current plans for any tours unfortunately. Mist of Misery has been very inactive on the live front for these last three years, mostly due to the covid situation. We are just now making plans for a gig or two over here in Sweden but as for Italy or the rest of Europe, no plans to play there exist at the moment. Of course with the backing of a decent promoter, we would be very happy to play abroad.
MELODY LANE: Could you tell us two bands, from the actual international scene, you'd like MIST OF MISERY to tour with?... Two bands that would represent a perfect line-up for MIST OF MISERY to play with. And why these bands?
MIST OF MISERY: I would say perhaps Emperor and Dimmu Borgir. Two very symphonic bands that Mist of Misery would fit right in with we think.
MELODY LANE: We know that 'to define is to limit'… but how do you define  MIST OF MISERY sound? Are you an atmospheric black metal band…a symphonic black metal band… A  melodic black metal band…Or…?
MIST OF MISERY: We don't really define our sound but rather leave it up to others to decide for themselves. There is quite a bit of symphonic black metal in it obviously and there is certainly atmosphere in our music. I would say we have parts that are ambient as well, though perhaps that was more true of our earlier work. We have some elements of doom metal as well. What does that make us? We'll leave it up to the listener.
MELODY LANE: Which musicians are/have been your main musical inspirations? And which are your favorite bands nowadays?
MIST OF MISERY: It's hard to name any specific musical inspirations for our writing but we will say (Tenebris and Mortuz Denatus) that two albums that both of us enjoy are ColdWorld's "Melancholie" and Dimmu Borgir's "Stormblåst".
MELODY LANE: As a musician, what has been your biggest achievement to date and what do you want to achieve in the near future? 
MIST OF MISERY: We would say "Severance" has been our biggest achievement so far, without a doubt. The whole writing process with everything from the intricate orchestral arrangements to the lyrics for this concept album. Our next goal is to surpass this album in every way possible, how ever hard that might be to do.
MELODY LANE: Until today...What was the most important concert for  MIST OF MISERY career? And why?
MIST OF MISERY: It was probably when we played Eradication Festival in Wales a few years back, because of the attendance and the other bands involved.
MELODY LANE: In the end…A message from you to all MELODY LANE readers.
MIST OF MISERY: Check out our new album "Severance" which is out Nov 4th via Non Serviam Records! You are also welcome to check out our previous releases as well on Spotify/Youtube/Bandcamp and other digital platforms.Thank you!!!
Web:https://www.facebook.com/MistofMisery
Article by: Mike Matty