INTERVIEW
WITH
WINTERMOONSHADE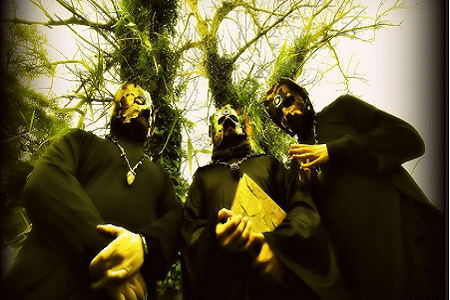 INTERVIEW WITH WINTERMOONSHADE

Melody Lane had the pleasure to have a very interesting interview with the Portuguese Atmospheric/Melodic Black Metal band WINTERMOONSHADE. Don't miss their latest album titled 'Eternal Haunted Shores' released last February via ART GATES RECORDS label. "... 
artists such as Cradle of Filth, Moonspell, Wardruna or Heilung are these metalheads' main influences. Definitely, their roots are whispering dark nature tales, waiting to be heard...."
MELODY LANE: First of all, also if it can sound a bit expected…Can you tell us where does the name WINTERMOONSHADE come from? 
WINTERMOONSHADE: Sometimes we go camping near our hometown and by night when the moon is up in the sky, we can watch the nocturnal shadows across the trees branches giving the place a magical touch and we wanted to transpose that feeling and sight to our band name. WinterMoonShade is also a combination of three words in one, the same way we are a Trio as band. So we created an unique name with the intention of reflecting ou musical landscape. 
MELODY LANE: The line-up of the band is confirmed, is it the same from the beginning of the band…or have you had changes in the last years? Can you tell us anything about the roots of WINTERMOONSHADE? And where the band was born?
WINTERMOONSHADE:With strong will to take the adventure of joining a circle and create music by our personal inspiration, the group was formed in the early days of 2020. We are rooted in the west coast of Portugal and since the first musical seeds that we have been together the three of us, Zefir blasting drums, Fenrir strength keeping us whole with the bass lines and Haze strumming guitar and vocal chords. 
MELODY LANE: Can you list us 3 songs, from  WINTERMOONSHADE 's discography (including new material), that can define the sound of the band … 3 songs that can help our readers to know WINTERMOONSHADE at the best.
WINTERMOONSHADE: We have already two albums out each one with 9 tracks, and it is kind of tricky to express which songs better indicates new listeners our sound, anyway we can refer "Low Tide Ghost" the first Single from our self titled debut album, and "Wolf Whispering Dream" alongside with "Lusitânia Night Noises" both singles from "Eternal Haunted Shores" record. We guess these three songs can give a good little taste of WinterMoonShade! 
MELODY LANE: Tell us something about the creative process of your music. Is there a main composer or we can talk about a team work? The songs come from ideas of a single member and then the band works on these ideas in the studio jamming together, or your songs are written in the studio and all the members compose together?
WINTERMOONSHADE: Mainly some ideas are developed by Haze and then brought to the rehearsal room for getting shapes and new context by Fenrir's and Zefir's approach and personal income to the songs. For some tracks happens a huge metamorphosis from the inicial point of view, in other cases the final result is a fatter and stronger version of the Origins. We always blend the ingredients as we jam along finding out the perfect flavor for each piece of music so the songs can have an identity of their own. 
MELODY LANE:  Can you tell us something about contents and messages of your new album ? …Can you tell us anything about the whole concept of 'Eternal Haunted Shores? And please tell us where does this title come from?
WINTERMOONSHADE: "Eternal Haunted Shores" refer to Santa Cruz and some other places near our hometown. The concept behind the record is a gathering of tales, experiences and introspection, blending realities, dreams, nightmares and fantasies. The intention is letting the listener drift into different sounds and let imagination build a path through the musical landscape. 
MELODY LANE:  …After time, are you totally satisfied with your choices about sound and the writing of your previous album? If you could… would you change anything? What did you focus on to make the sound better and perfectly consistent with the musical ideas you had in mind?
WINTERMOONSHADE: We are always looking for perfection and that is like Horizon line constantly changing and going further. We tried our best writing and recording in the past that we could now only look back be grateful and learn from it. Every time we are creating we focus our energy to make the songs sound consistent regarding all elements necessary, so we believe each song we make reflects well the moment of creation and all the surrounding atmosphere that we are in as we are developing our music. 
MELODY LANE:  So apart from the covid/pandemic situation…will you tour in the next future? Have you already a touring schedule? Any chance for us to see  WINTERMOONSHADE playing live here in Italy/Europe in the next months/year?  
WINTERMOONSHADE: After the storm that blasted everyone, now the scene is getting stable. We are now working on to get some opportunities for playing live. Let's hold on and strongly wish that the early months of 2023 brings us graceful news. 
MELODY LANE: Could you tell us two bands, from the actual international scene, you'd like WINTERMOONSHADE to tour with?... Two bands that would represent a perfect line-up for WINTERMOONSHADE to play with. And why these bands?
WINTERMOONSHADE: There are many bands we would love to have the honor of playing with so it would be very difficult to name only two of them. Instead probably best is to mention here our wildest deam and desire to open shows for two of our main reasons that lead us to play music in the first place... Moonspell and Cradle of Filth! 
MELODY LANE: We know that 'to define is to limit'… but how do you define  WINTERMOONSHADE sound? Are you an ATMOSPHERIC BLACK METAL band…a MELODIC BLACK METAL band… A  SYMPHONIC BLACK METAL band…Or…?
WINTERMOONSHADE: It is kind of funny, because when we started to make music, we avoided completely thinking about that matter, and when our Debut Album came out we find that we were branded like Melodic Black Metal. For us the most important is that we like what we are doing and when listening to it recognize that is us and our sound way beyond the titles given to us. 
MELODY LANE: Which musicians are/have been your main musical inspirations? And which are your favorite bands nowadays?
WINTERMOONSHADE: Our influences spectrum is a vast ocean in and out metal genres. We enjoy listening to many different styles as long as music makes us feel anything. Speaking specifically in Metal genres, classic bands like Emperor, Marduk, Behemoth, Dissection, Immortal, Cradle Of Filth and so on, obviously are in the core of our devoted appreciation and always a inspiration to WinterMoonShade's atmosphere. With YouTube these days we can reach daily many new bands and it is getting harder to trace everything that comes out every moment but we keep ourselves updated the most we can. 
MELODY LANE: As a musician, what has been your biggest achievement to date and what do you want to achieve in the near future? 
WINTERMOONSHADE: The three of us have been before in other projects and for the past few years we had many different experiences that lead us to join WinterMoonShade. Blend together our energy and devotion to this band might be one of the greatest steps so far. Our hopes and wishes are to continue in the path of creating an identity that clearly defines us and makes people recognize the band as they first start to listen our music. 
MELODY LANE: Until today...What was the most important concert for WINTERMOONSHADE career? And why?
WINTERMOONSHADE:As a band born in the middle of Covid Chaos, we had only a few opportunities of playing live so far. Until now Lamas em Chamas Festival was the closest taste we had to a great live celebration. The environment surrounding the gig was really welcoming and the place was also very charming to be playing. 
MELODY LANE: In the end…A message from you to all MELODY LANE readers. 
WINTERMOONSHADE:We are deeply grateful for Melody Lane support and we invite all readers to discover our two albums and join us in the social web pages to be a part of WinterMoonShade's path development... Cheers to all!!! 
WEB:https://www.facebook.com/wintermoonshade
ARTICLE BY: MIKE MATTY