INTERVIEW
WITH
SHAM
69/LORDS
OF
THE
NEW
CHURCH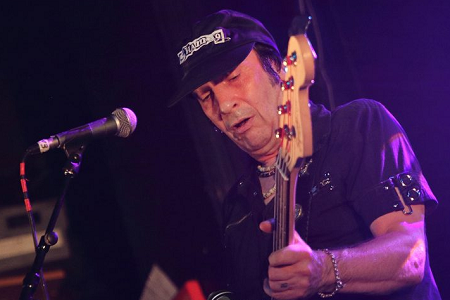 INTERVIEW  WITH DAVE TREGANNA

Legendary bass player DAVE TREGANNA, with kindness and availability, shared with us thoughts and memories of his immense and fantastic career. From SHAM 69 to LORDS OF THE NEW CHURCH, from the short-lived adventure with SHAM PISTOLS to being one step away from becoming the bassist  of the IGGY POP band, from the turbulent experience with SHOOTING GALLERY to the 'all-star' side-project THE CRUNCH, DAVE retraced with us many stages of his journey in the world of Rock in a frank, nice and detailed way. Absolutely unmissable interview for any true Rock fan!
MELODY LANE: Hi DAVE! Thanks for accepting our interview! How are you and where are you at the moment?
DAVE TREGANNA: Hi! I'm fine, thank you. I am in London right now, but I'm mainly living in Finland, because my wife is from Finland. We bought an house there so when I'm not here in London for the SHAM 69 gigs, I'm mainly based in Finland, precisely in the middle of nowhere, in the countryside; it's a very remote place. You know…beautiful views, farmlands, you can grow your own vegetables, even if  for a city boy like me it takes time getting used to…  
MELODY LANE:  How's it going with the SHAM 69? Are you on tour? Are you planning, in the near future, to play in the rest of Europe as well as in the UK?
DAVE TREGANNA:  Well…actually with the SHAM 69  we are not playing a lot live, we are doing a couple of gigs every month. Great shows, the audience is always cool and there is always great energy and lots of fun! You know… not all of us are keen on doing a lot of gigs anymore, I think we are all a bit experice-burn out of doing live shows. We don't feel like doing three hundred concerts a year like when we were younger ah ah ah ...As for dates around Europe, there's nothing planned  at this time, but it's always a possibility, anyway there's nothing arranged at the moment.  
MELODY LANE:  Instead what can you tell us about your other band, THE CRUNCH? Do you have something planned? ... Can we rather call it a band or is it a side project?
DAVE TREGANNA:  THE CRUNCH…it 's always been a side-project. We've done  2 albums together, which isn't bad for a side project, two albums that are really good. We get along very well with each other, but since we all have other commitments, we're on a bit of a hiatus at the moment and don't have any plans for the near future; but we always say that at some point, when it's convenient for all of us, we could meet and do another tour or another album ... but at the moment there is nothing definitive planned  
MELODY LANE: The news has circulated online that next year there may be the possibility of seeing back together THE LORDS OF THE NEW CHURCH, for one night only, a special gig with MICHAEL MONROE on vocals and TERRY CHIMES on drums?... Can you confirm it?
DAVE TREGANNA: Yes, I confirm. Unfortunately this show has already been postponed a couple of times, due to Covid restrictions, but this time I think it's gonna be the right one. The concert will be held in London at the SHEPERD'S BUSH EMPIRE, a big old fashioned theater, a lovely venue. A friend of mine, EUGENE, who runs VIVE LE ROCK magazine, invited us and asked us to play a LORDS OF THE NEW CHURCH set; obviously we can't have STIV BATORS behind the microphone,  So EUGENE decided to call MICHAEL MONROE with whom he is in contact… Back in the days LORDS OF THE NEW CHURCH and HANOI ROCKS were very close, MICHAEL MONROE even shared an apartment with STIV BATORS, in London, in Fulham. The first time I saw HANOI ROCKS was when they first came to London and supported THE LORDS OF THE NEW CHURCH, and I remember watching them and thinking " Wow this band really gots something!"…We got to know them and became friends. MICHAEL was a true friend of STIV, and a fan of STIV, and he's a great front-man, so he is probably the best choice, without a shadow of a doubt.  At the moment we have no further plans, but who knows? ... If it goes well, we could go further ...  
MELODY LANE:  …and what about TERRY CHIMES?
DAVE TREGANNA:  Yes right, TERRY CHIMES will be on the drums! He's played with THE CLASH, HANOI ROCKS, BLACK SABBATH,THE CRUNCH and we played together in the CHERRY BOMBZ. TERRY CHIMES is somehow part of the history of LORDS OF THE NEW CHURCH, because initially BRIAN JAMES asked STIV BATORS to form a band with him, and TERRY CHIMES was their drummer, while their bassist was TONY JAMES, who had played in GENERATION X and SIGUE SIGUE SPUTNIK; that was quite short-lived, they just did rehearsals, the band didn't even have a name. But interesting thing is that right in that period TERRY CHIMES and TONY JAMES wrote RUSSIAN ROULETTE, which would later become one of the most known songs of the LORDS OF NEW CHURCH and that was included in the LORDS first omonimous album. But you know, BRIAN JAMES and TONY JAMES didn't quite have  the same musical vision, so I came in playing bass and very shortly after that, for other reasons, we found a different drummer, NICKY TURNER, and we formed THE LORDS OF THE NEW CHURCH... but as you can see TERRY CHIMES was around even back then; before even the band had a name he was already involved with me and BRIAN JAMES. So it's quite natural that he should be the drummer for this sort of special one-off gig. 
MELODY LANE: So you and TERRY played together in CHERRY BOMBZ and THE CRUNCH, TERRY and MICHAEL instead played together in HANOI ROCKS ... Musically your paths have already crossed several times in the past ...
DAVE TREGANNA:  Yes, we like to keep it in the family ha ha…  
MELODY LANE: And the live keyboardist MARK TAYLOR will he be performing at this kind of LORDS' reunion?
DAVE TREGANNA:  If he's available yes, he did several tour with us…  
MELODY LANE: Let's now take a big step back in time, when did you start playing and how did you decide to become a bass player?
DAVE TREGANNA:  When I started playing music, I played acoustic guitar at home, in my bedroom, at my parents' house, and I learned the chords on my own. Basically I liked playing rhythm guitar, so yes...I had a rhythmic background. The reason I started playing bass is pretty peculiar ... When I joined SHAM 69 for the first time, they wanted me to play rhythm guitar, so SHAME 69 had a line-up with two guitarists, and actually I also played two gigs as rhythm guitarist. Then the POLYDOR label decided to record a SHAM 69 live concert and to put it on the first SHAM 69 album, but they actually realized that the bassist they had, ALBIE MASKELL, could not keep time, so the guys on the label said he couldn't be recorded. So I switched to the bass, it was the easiest thing to do. I definitely had the skills to do it, we were all very young, punks, we just had to get on stage and make some noise. So it turned out that the first time I played bass on a stage it was recorded for SHAM 69's first album, the live side.  I really enjoyed playing bass after that ... Then slowly I became more and more confident in playing the bass and I developed my melodic rhythmic style, first playing with THE WANDERERS and then obviously with the LORDS OF THE NEW CHURCH. I started writing and bringing some of my ideas and bass lines to the studio and to rehearsals and I'm still very proud of some of them. One of the most successful for me is definitely in the song DANCE WITH ME. STIV BATORS and BRIAN JAMES came to rehearsals with this song they had written and it was like a Country Rock dance style song. I just added a different bass line, I invented it from scratch, and it completely changed the song and the way STIV developed the song and even the lyrics. I don't think I've ever had enough credit for that ... but that's life.
MELODY LANE: You just mentioned THE WANDERERS, a band that not everyone knows, born from the union of the members of SHAM 69 and DEAD BOYS . What do you think of the album you recorded? It was, let's say, the transition link towards the LORDS OF THE NEW CHURCH ...What do you think about?
DAVE TREGANNA:  I think it's really a good album, maybe too many keyboards and synthesizers to put it bluntly, but there are some really good songs. I definitely agree with you, it was a transition album both in terms of sound and lyrics. If you listen to the lyrics of STIV BATORS with the DEAD BOYS, then you listen to his lyrics with THE WANDERERS, and then you listen to his lyrics with THE LORDS OF THE NEW CHURCH, you can really see how THE WANDERERS was the transition between DEAD BOYS and THE LORDS ... Lyrically it was a real transition for STIV. Coming to London and living in London, it was a completely different culture for STIV and he loved it and it opened his mind and expanded his mind to many different concepts that he wouldn't have had the chance to experience with the DEAD BOYS ...
MELODY LANE: Personally I got to know THE WANDERERS album thanks to MICHAEL MONROE of whom I am a big fan. In 2002 he released a beautiful cover of  'TAKE THEM AND BREAK THEM' by THE WANDERERS which was also the title track of the EP in which it was included.
DAVE TREGANNA:  You know…HANOI ROCKS guys already loved the DEAD BOYS. I think MICHAEL MONROE was influenced by STIV BATORS attitude and lyrics, you know… MICHAEL got to hanging out a lot with STIV and, as I already told you before, MICHAEL and STIV shared a flat together in London, just the two of them. It's great the MICHAEL understood STIV's  mentality and that he keeps STIV's memory alive in his albums and with his covers… 
MELODY LANE:  You've played in several bands that have produced quite different styles of music. SHAM 69 are Punk, LORDS OF THE NEW CHURCH were New Wave/Post-Punk, SHOOTING GALLERY e KILL CITY DRAGONS were more part of Classic Hard Rock, CHERRY BOMBZ even Sleaze/Glam Rock... So I would like to ask you: which genre do you feel closest to and which makes you feel more comfortable? The one with which you can best express yourself as a bassist?
DAVE TREGANNA:   Well it's a tough question. As for my bass playing, I really enjoy creating bass lines that can have an influence on the songs and that they are not just simply an element  of the rhythm section. I really like the early period of THE LORDS OF THE NEW CHURCH but I also really like playing live with SHAM 69. I can play different styles, I've never been one dimensional musician and I like different kinds of music if it's good…
MELODY LANE: I have always seen you play bass using the pick, never with your fingers, especially live. Is it a choice that concerns the sound or is it a habit acquired over time?
DAVE TREGANNA:   I've always played using the pick during live shows, but on some studio recordings like THE NIGHT IS CALLING by LORDS OF THE NEW CHURCH, for example, I played fretless bass with my fingers and also on a couple of songs by SHAM 69 I played using my fingers. I used my fingers when I needed a softer sound, but most of the bands I've played in, and still play in, have always sounded very loud, so I prefer the pick attack ...
MELODY LANE:  Inevitable question: as a bassist which are the musicians who have most influenced you?
DAVE TREGANNA:  When I was very young I listened to the BEATLES songs a lot, I was fascinated by the way PAUL McCARTNEY played the bass. Then I started listening to bands like THE WHO, LED ZEPPELIN so JOHN ENTWISTLE, JOHN PAUL JONES were some of the musicians who influenced me the most ... Anyway I've never tried to copy anyone else, even if, listening a lot to that kind of music it has obviously influenced my style of playing bass ...
MELODY LANE: We mentioned CHERRY BOMBZ. You joined the band replacing TIMO KALTIO, who had been roadie and guitar technician of HANOI ROCKS. The late and dear TIMO KALTIO was a very kind friend of our magazine, we had a wonderful interview with him and he told us many great Rock & Roll stories... His untimely death was truly a tragedy. Can you tell us how you came to replace TIMO on bass in CHERRY BOMBZ?
DAVE TREGANNA: TIMO was my best friend in London. He lived very close to me for a long while and apart from music, we hung out together and we both had young children at the same time. He became my best friend together with BRIAN JAMES, they were my closest friends for the longest of time. For what concerns CHERRY BOMBZ, it was a very mutually agreed and friendly arrangement; it wasn't that TIMO got sacked…He wasn't comfortable playing bass, he'd always been a guitarist and he didn't think he was the right person for CHERRY BOMBZ. So ANDY and NASTY had seen my style of playing bass and thought it really suited the kind of songs they were playing. So it was a mutual  agreement and TIMO still wanted to be part of CHERRY BOMBZ somehow, so he became the band's roadie and ANDY's guitars tech ...
MELODY LANE: I've always been curious to know more about why the band broke up. Is it true that there were problems between ANDY McCOY and ANITA CHELLAMAH at your last concert in New York? Can you tell us what happened and why you broke up?
DAVE TREGANNA: Well... They had an argument, let's say...an emotional disagreement. When we finished our last concert, in New York, ANITA was very angry. BILLY IDOL was there and started talking to ANITA backstage, and what we found out later was that he had invited her to go on vacation with him. It was all a bit silly really, but you know... We were all tired from the tour which had been very long, and then the stress of the many shows and then we weren't exactly in sober conditions all the time. So the band...it was a sort of breakup, it kind of fell apart…  
MELODY LANE: I've read an interview with TERRY CHIMES in the past, where he stated that the real problem was that the band couldn't sign a record deal, even after the US tour, which was supposed to serve as a bit of a showcase for the band in the States ...
DAVE TREGANNA: There were a lot of negotiations going on, there were a lot of possibilities but in the end nothing came out and the band broke up. That was the main goal of our manager RICHARD BISHOP, to sign a record deal, and we came really close. It was gonna happen but then it all fell apart and it didn't happen, but …that's life. Sometime you win, sometime you lose… 
MELODY LANE: Personally I think it was a real shame that CHERRY BOMBZ didn't have the chance to release an album and establish themselves as a band. It was a killer line-up ... you, TERRY CHIMES, NASTY SUICIDE, ANDY McCOY and you had some really awesome singles A real shame that you have run into so many problems both related to record deals and internal relations ...
DAVE TREGANNA:  I agree with you, it was a good line-up and yes and we had some really good songs. But, in addition to the ones you have already mentioned, I think another problem we encountered was a somewhat negative and critical reaction from some hardcore HANOI ROCKS fans, who saw ANITA CHELLAMAH as a sort of replacement for MICHAEL MONROE; but we obviously didn't see it that way, we were a completely different band... but that's what happened. Unfortunately, some people have closed minds and cannot accept things or changes. That was the main negative reaction we had for CHERRY BOMBZ, and as I said, it came from some diehard HANOI ROCKS fans. They thought we were replacing MICHAEL MONROE with a female singer... All bullshit... 
MELODY LANE: Still talking about that period, what can you tell me about your participation in the video DO YA DO YA (WANNA PLEASE ME) by SAMANTHA FOX? Quite strange for rockers like you ...
DAVE TREGANNA:  Ah…Well…That was right at the end of the CHERRY BOMBZ, we were a bit out for money and RICHARD BISHOP somehow organized this thing. Well, I thought to myself: "Should I really do this?". SAMANTHA FOX was looking for an interesting band to include in her video but we weren't sure we wanted to, but RICHARD BISHOP told us: "They offer you 250 pounds and all the drinks you want to drink for the day!" ... and so we said "Ok ... we can do it!" Ha ha ha ...
MELODY LANE:  Some time ago we had the pleasure of interviewing NASTY SUICIDE (JAN STENFORS), who told us that after CHERRY BOMBZ, he, you and TERRY still played together in another band called THE WYRD THINGS  and that, at that time, you composed the wonderful DEVIL CALLING, song that you later recorded with other bands you were part of separately, such as KILL CITY DRAGONS, SHOOTING GALLERY or CHEAP & NASTY ... What can you tell us about THE WYRD THINGS?
DAVE TREGANNA:  Yes, after CHERRY BOMBZ split up, our manager RICHARD BISHOP was in touch with a singer called JAMES VANE and with a guitarist called CLIFF, and he wanted to hook myself, NASTY and TERRY up with these guys. We did a few gigs as a band called THE WYRD THINGS and you know…we had some really good songs but it never really worked out and we basically disbanded. We didn't release any products. That was immediately after the CHERRY BOMBZ split-up and just before I re-joined THE LORDS OF THE NEW CHURCH.    
MELODY LANE: Another musician we have had the pleasure of interviewing in the past and with whom you have played in various bands including LORDS OF THE NEW CHURCH is drummer DANNY FURY ... How did you get in touch with him and how did he get into the LORDS OF THE NEW CHURCH?
DAVE TREGANNA: I first met DANNY in the mid-80s because his band supported THE LORDS OF THE NEW CHURCH in Switzerland. I met DANNY again in 1988 when he moved here in London and we started hanging out together. In the meanwhile STIV BATORS and BRIAN JAMES broke the contract with MILES COPELAND… COPELAND was LORDS' manager and the reason why I left the LORDS a couple of years before... anyway ... STIV BATORS and BRIAN JAMES returned to London, after living for a while in America, and they got in touch with me and we decided to put the LORDS OF THE NEW CHURCH back together. At that point, however, NICKY TURNER our original drummer had stayed in America, so I introduced DANNY FURY to STIV and to BRIAN and in the end we did several tours with DANNY on drums... 
MELODY LANE: After THE LORDS OF THE NEW CHURCH, you and DANNY FURY played together in another 'cult' band called KILL CITY DRAGONS along with guitarist STEVE VON SAINT ... Can you tell me how that band was born?
DAVE TREGANNA: Well... with THE LORDS OF THE NEW CHURCH we had a European tour organized at the end of 1988 and we were looking for someone to drive the band... You know at that time we no longer had any management or record label and I was basically in charge of the logistics and organization of the tour as well as obviously playing bass. STIV knew this guy called STEVE VON SAINT, he was a guitarist with whom STIV also wanted to collaborate... and STIV said STEVE VON SAINT would have liked to be our driver for the tour, so well...so STEVE VON SAINT became our driver for that tour and that's how he met myself and DANNY...And then, after the breakup of THE LORDS OF THE NEW CHURCH, STEVE VON SAINT told DANNY that he had a lot of songs aside and wanted to put together a band. So they started collaborating, they did rehearsals and then asked me if I would like to join them. So I went to check the songs, and I found out that they were good songs, so we started looking for a singer. Through a mutual friend, STEVE VON SAINT 'd been told of this guy working in a bar in New York, who was a singer but who wasn't playing in a band at that moment, and the guy was BILLY G. BANG. So we managed to contact him, and BILLY moved to London and we formed the KILL CITY  DRAGONS.
MELODY LANE: After KILL CITY DRAGONS your path crossed again with ANDY McCOY ... You and BILLY G. BANG joined him in the SHOOTING GALLERY and released a great album of straight forward Rock & Roll. How was that collaboration born?
DAVE TREGANNA: ANDY McCOY had a contract with MERCURY label, and he was living in Los Angeles, and he was trying to find a singer and a bass player, but he couldn't find the right people in Los Angeles. He had read about the KILL CITY DRAGONS or or someone had told him about us, anyway... he came over to London and he approached me saying that he needed a bass player and a singer. At that time BILLY G. BANG BILLY was having problems with STEVE VON SAINT, and before we did the gig at the BORDERLINE club in London, BILLY had already said he didn't want to play with STEVE VON SAINT anymore. So when ANDY came to tell us about his project, BILLY decided to join him. So the situation was falling apart and I saw that there was no future for THE KILL CITY DRAGONS and so I left too to join them. We had a record deal in Los Angeles and the record company would have paid us a place to live, you know, it seemed like a good opportunity; so BILLY and I moved to Los Angeles and so SHOOTING GALLERY was born.
MELODY LANE: Brave choice yours ...considering that ANDY McCOY had the reputation of being, let's say, quite "difficult".
DAVE TREGANNA:  ANDY McCOY 's a great musician and for that reason I'm still fond of him, even if his behaviour sometime it's not the best. He lives on a different planet to anyone else, he lives on 'planet ANDY', he's not like anybody else, he's completely unique ...
MELODY LANE:  Some time ago I read an interview with SHOOTING GALLERY producer, RIC BROWDE, in which he said that the situation in the band was out of control and that "...DAVE TREGANNA was the lone nice person in the band who was trying to hold it down  all by himself..."
DAVE TREGANNA:  Oh well… at least I tried ha ha ha… You know what? RIC BROWDE did a really great thing for me and I 've never had the chance to get in touch with him to thank him again...My daughter was born in Los Angeles and with the SHOOTING GALLERY we had a tour organized to support KISS, who were doing a 'back to the club tour' at that time. So two weeks after my daughter was born we had to go away on tour, so I left my daughter with my ex-wife ( the mother of my daughter) and her sister, who came over from Germany, to help looking after the new born baby. Two days after SHOOTING GALLERY left Los Angeles for the tour, we were in Phoenix, I tried to call my wife insistently, but I couldn't get ahold of her, and I was really worried because on the news there was the Rodney King Riot. The TV news showed footage of people looting, burning and fighting in Hollywood. Then I finally found out why I couldn't get ahold of my wife; it was because RIC BROWDE, realizing she was in danger as she was located n Hollywood, came over and got my ex-wife, her sister and my new born daughter and he took them up to his house, in the hills, where it was  safer to be. That was a brilliant thing, I'm forever in debt to him. 
MELODY LANE: Frankly, what I think for CHERRY BOMBZ also applies to SHOOTING GALLERY: you were a band of great potential and with a fantastic line-up, even considering that JO DOG ALMEIDA, from DOGS D'AMOUR, joined you as second live guitarist...What were the problems that led to the dissolution of the band?
DAVE TREGANNA:   I think the main reason as to do with the record label, because the guys who ran the label didn't like ANDY anymore. ANDY was o bit over the top sometime and he behaved badly with some guys of the label. He happened to be offensive and sometimes... you know... you can even be the most brilliant of musicians but mixing alcohol with substances it can alter the character of people. People's behavior changes when they are not sober and it can become unacceptable even for members of your own band. The Hollywood business people did't like that, you know… they weren't fans of the music, they were just business guys. ANDY pissed them off, so they decided they were not gonna put a lot of effort in the band and, as if that wasn't enough, BOB SKORO, the A&R guy that had been really behind SHOOTING GALLERY,  he left to join another label, and the people who took over didn't want ANDY. I think that's really what happened in addition to the fact that some members of the band were fighting their demons . So we fell apart for different reasons. Anyway that experience allowed myself, BILLY and PAUL GARISTO to do an album with a japanese guitarist called Takashi O'Hashi,  who was PAUL GARISTO's friend. We formed a band and we called ourself THE SLUMLORDS. After we did the album, we ended up doing gigs in Japan, we went out to Japan because the guitarist was quite famous over there…And we did a residency, which I had never done before. We played twelve nights, every night we did two sets, we did an early set and a late set, so we actually did twenty four gigs in twelve days in Tokyo, at the BILLBOARD CAFE, a beautiful location in Tokyo Bay. The band got so amazingly tight and we were so in touch with each other. It was one of the most amazing time for me, a really magical time for me. During the set we had spontaneous jams and you know… it was great… Just the other day I played the SLUMLORDS's EP, and I'm very proud of it. I really like what I did on the bass, PAUL GARISTO 's a great drummer, the guitarist was really good and the songs were great, and I think it would probably deserve to have more recognition than it actually has , but that's life… When we were in Japan everything was fine but when we went back in Los Angeles unfortunately Billy got back in bad habits, PAUL GARISTO moved back to New York and as for me, neither myself nor my ex-wife wanted to bring up our daughter in Hollywood and we wanted to move back in London...so it was impossible to keep that band together…
MELODY LANE: However, I read on the internet that fortunately over the years BILLY G. BANG got out of that bad situation and now he leads a completely different life...
DAVE TREGANNA: He was always quite insecure and he needed drinks and drugs to overcome his insecurity. Unfortunately he had a heroin habit in Los Angeles and for many years that distroyed his life. But ten years ago, more or less, he turned it all around, and now he's leading a satisfying life, now he's ok…
MELODY LANE: Do you have a 'big regret' about your career? Maybe something that in hindsight you wish you had done differently? Something that maybe could have changed things about your bands or your career ...?
DAVE TREGANNA: Well it's not a 'big' regret, let's say it's a 'little' regret…That's when we re-formed THE LORDS OF THE NEW CHURCH,  after STIV BATORS and BRIAN JAMES and they both moved back to London. We didn't have a record label or a management as I told you before, and I was working with an agent and doing the booking of the European tour, and we just arranged like a six weeks tour of Europe for THE LORDS OF THE NEW CHURCH. We didn't have a record label supporting us, the only income  we were going to have was from the gigs money, which wasn't bad…So we were all gonna survive on the gigs money. Just before we were going to leave for that tour, about a week before, I got a call from ANDY McCOY, who was putting together a live-band for IGGY POP world tour and he wanted me on bass guitar. Fuck, I would have loved to play with IGGY POP, he was one of my ultimate heroes, but I couldn't do it, I couldn't fuck over STIV and BRIAN, they were my best mates, so I refused ANDY's offer. Five minutes later I got a call from IGGY himself, who asked me to join his band, but after I explained the situation of my band and the upcoming tour to him, he thanked me anyway and he appreciated the fact that I remained faithful to my band. After that they hired  ALVIN GIBBS from the UK SUBS as bass player for that tour…
MELODY LANE: Well, it was sure a tough choice to make; but had you ever met IGGY in person before that phone call?
DAVE TREGANNA:  Well…I'd met IGGY before, in the early days of THE WANDERERS. We were playing this prestigious small night club in London, the EMBASSY CLUB, where all the musicians used to go. We were playing on stage and STIV BATORS was trying to get people to come to the front of the stage. IGGY was there and my girlfriend of the time was there too…She came to the front of the stage and laid down on the floor, and she was laying on her front resting on her elbows looking up for the band.  I thought that no one would have followed her or that no one would have done the same and instead the next thing I saw was IGGY POP come down and lie down right next to her, right in front of the stage. And I said "Fuck IGGY POP is right here in front of the stage ... looking at me!" It was amazing! Then after the gig I met him briefly, but I hadn't contact with him until that time that he called me on the phone and so…you asked me about a regret…I don't regret what happened because I would have stayed loyal to the LORDS OF THE NEW CHURCH anyway, but in some ways, I don't know what might have happened if I had joined IGGY POP's band for that world tour…It might have changed my life completely…who knows?
MELODY LANE: And then that LORDS OF THE NEW CHURCH tour turned out to be the last LORDS tour, right? With the last legendary concert that became famous thanks to the STIV BATORS t-shirt ... Can you tell us how it went?
DAVE TREGANNA:  At the beginning of that tour there was no problem with anyone, we all had a great tour. It was after that, because STIV claimed he couldn't do any gig because he had injuried his back, while BRIAN JAMES heard from somebody's else that STIV was out clubbing in Paris, and he didn't look like he had any problem with his back. BRIAN said to me he'd had a phone call with STIV and that STIV 'd said he couldn't have done the next gigs that THE LORDS OF THE NEW CHURCH had lined up and STIV told BRIAN that if we wanted we could get someone else to sing in his place. As I told you before, the money from the gigs were the only income me, BRIAN and DANNY had…so BRIAN answered to STIV: " Alright, then I will!"… and so BRIAN put that ad for on the music press. STIV obviously didn't like it, so when he came to London to do that final show, he had a t-shirt printed with the ad that BRIAN had put on the press. STIV put the t-shirt on for the encore, all through the gig he didn't say anything about being pissed off or upset or anything…We didn't kind of talk to him before the show because he arrived very late from Paris, he  arrived in the dressing room a little while before to go on stage. So during the encore, he came in front of me, jumping up and down pointing his t-shirt, but of course I was playing bass, I couldn't read a bloody t-shirt, so I even smiled not realizing what it was at all. After we did the encore, he had a taxi waiting and he went off with his Parisian girlfriend in the taxi so we didn't even have the chance to talk about it with him…
MELODY LANE: What a charming character STIV BATORS! Frontmen of that caliber are now very rare around...
DAVE TREGANNA: STIV was wild on stage but off stage he was totally unpredictable. The morning after the gigs you could find him doing the washing at the laundry or ironing his shirts…STIV was quite a complex character, he was a total wild man sometime, but he was a very sweet ownly guy as well. Luckily I made peace with the STIV. He came to London some time before he died, he called me saying he had nothing against me and we had dinner in a Mexican restaurant. So ... at least I was able to make peace with him before he died ... BRIAN didn't ... BRIAN probably regrets it
MELODY LANE: Talking about all the bands and projects you've been a part of is practically impossible, it would take us so much more time, but there are some that intrigue me a lot and I'd like to know something ... Let's start with ENDORFIENDS ...
DAVE TREGANNA: Oh well…After the KILL CITY DRAGONS, after I and BILLY G. BANG left THE KILL CITY DRAGONS, STEVE VON SAINT and DANNY FURY got some other members in to replace us, and they got over to Los Angeles trying to get a deal but they did not succeed, and so STEVE VON SAINT came back to London. In the middle of nineties I was back living in London, after THE SLUMLORDS split-up. I got a call from STEVE VON SAINT who was working with a singer called DAMIEN 'SPIDER' CULLEN, who has his own band in Finland now. They were looking for a bass player, so I went over, we did rehearsals and they had some good songs and so we formed the ENDORFIENDS. For a while we were managed by VICKY HAMILTON, in Los Angeles, who previously had been the manager of bands like GUNS & ROSES and POISON.... We went over to America to do some gigs, trying to seal a deal. Again nearly it happened but it didn't quite happened. However later we managed to release our album, a good album, Glam/Punk style… 

MELODY LANE:...Let's talk now about SHAM PISTOLS, the supergroup formed by you and JIMMY PURSEY together with STEVE JONES and PAUL COOK from SEX PISTOLS ... A dream line-up and yet it didn't work ... What was the problem?
DAVE TREGANNA: Mainly because JIMMY PURSEY did not hit it off musically and lyrically with STEVE JONES, that's the main reason. And also there were problems concerning the music business, problems between managers...so I'd say it was 50% artistic problems, 50% business problems...It could have been a great band. I played on stage with STEVE JONES and PAUL COOK at a SHAM 69'gig at the GLASGOW APOLLO, in front of three thousand people. It's one of the best memory that I have, even though now, when I listen to the record, I think it's a bit chaotic but the concert was absolutely brilliant.
MELODY LANE: And then I'd like to know something about the less-known projects in which you played with the late TIMO KALTIO; you two collaborated in several bands right?
DAVE TREGANNA: Yes sure ... We played together in VOID, the line-up was composed by myself on bass, TIMO on guitar,  KEITH SPARROW on vocals and LES RIGGS on drums. LES and TIMO had already played together in CHEAP & NASTY. With VOID we didn't record anything, but we did a tour in Finland, in support of the great guitarist MICK GREEN from THE PIRATES and JOHNNY KIDD & THE PIRATES. Then myself, TIMO and KEITH SPARROW played together in another band called TRANSYSTEM V, with JAZ MILLER on drums. With TRANSYSTEM V we also published a video called "Creepsville", you can find it on YouTube.  Another interesting band, we played in together with TIMO, was founded and put together by our friend and former bandmate DANNY FURY, the name of the band is TANGO PIRATES.  It was something really new for me because it's been the only band in which I played as guitarist up to day... Oh my God I've been in so many bands! Ah Ah Ah 
MELODY LANE: Looking back on your long career, is there a mistake you made that you still think about or something you are not proud of?
DAVE TREGANNA:  Oh well…Once with the SHAM 69, I jumped off stage to confront somebody who had been giving the finger during all the show and I'd had enough. But you know , I'm not among the tallest people, I'm quite short…and as I landed down in the audience, I sadly realized this guy was about two meters tall and built like a brick shithouse.  So I really thought I was gonna die! But I started struggling and screaming "Hey you bastard how you dare to do that to the SHAM 69?!"… and to my astonishment he didn't react and I got back up on stage. That could have gone really badly, that was a mistake!!!... Another time while doing a gig in America, I was watching this guy, in the audience right in front of the stage, acting suspiciously, giving out small metal coins to a couple of his friends, and soon after they started to throw them at STIV BATORS. So there was a really tense atmosphere because of these bad and stupid people in the audience. And the reason I really had enough and I wanted to stop him was that one of our roadie had lost the sight in one of his eyes due to a coin  thrown by the audience while he was playing with his band. He was hit in his eye and now he was kind blinded in one eye… I was thinking about this when I decided I'd had enough. I took my bass off, swung it, and whacked him over to the top of his head…Can you imagine how heavy a bass is when you do that? And this guy fell back to the ground, eyes rolled. I had already told one of my roadies what was going on, so the roadie was in the middle of the audience trying to grab him and take him out of the venue but before he could get to him it all happened. It was a terrible feeling because I thought I killed him, luckily I didn't… That was certainly a mistake...
MELODY LANE: Many musicians in recent years have published their biographies. Considering your impressive career, the many great musicians you've played with, your bands, tours around the world ... maybe you should too. Have you ever thought about it or is it in your future projects?
DAVE TREGANNA:  Well I definitely have the idea, but there are always other things going round, always something else going on. Actually I think I'll will write it but in the end, even if my memory is not that brilliant and I'm terrible with dates. I can tell you a really funny story about it, that may sound really strange to you. A few time ago, we were driving up to a gig with SHAM 69, so I was in the van with JIMMY PURSEY and DAVE PARSONS and they got into the topic of a time when SHAM 69 were in the Shepperton Studios and LED ZEPPELIN were there too. Shepperton Studios it's a place where they make movies as well, nice great complex in South West London, we had rehearsals there. And JIMMY PAGE and ROBERT PLANT took us around and showed us their storage place where they have all their equipments and everything. And I said "I can't remember that!...Was I there?", And both JIMMY PURSEY and DAVE said " Yeah of course you were there"…Maybe I 'd had too many drinks or something... So apparently I met JIMMY PAGE and ROBERT PLANT and I didn't even remember!...
MELODY LANE: Ha ha ... then you'll have to ask someone to help you get things together and reconstruct the various episodes ... but I really think that your biography would be awesome and would make many ROCK lovers happy! Dave thank you for your kindness and helpfulness, it was great to talk to you! Thank you so much!
DAVE TREGANNA:  Thanks to you! It was a pleasure! And thank you for reminding me some things that I have done and some bands I played in... ha ha ha! All the best and take care!
Article by: MIKE MATTY