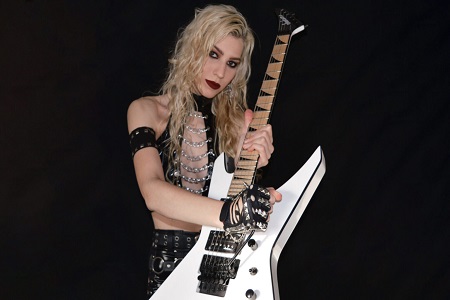 INTERVIEW WITH SONIA ANUBIS

Melody Lane had the pleasure to have a very interesting interview with the 
guitar phenomenon Sonia Anubis (Ex-CRYPTA, Ex-BURNING WITCHES), leader and founder of the  Glam/80's Heavy Metal band COBRA SPELL.  Sonia told us about the origins of her project, her musical influences, tours and the latest 'inspired about the 80s reckless fun' Ep Anthems Of The Night ...Do not miss it absolutely
MELODY LANE: First of all, also if it can sound a bit expected…Can you tell us where does the name COBRA SPELL come from?  
SONIA ANUBIS: The name if Cobra Spell was a very spontaneous name that I came up with, I was looking for something that sounded cool. Cobra's are pretty cool, no?
MELODY LANE: The line-up of the band is confirmed, is it the same from the beginning of the band…or have you had changes in the last years? Can you tell us anything about the roots of COBRA SPELL? And where the band was born?
SONIA ANUBIS: The line-up indeed had been changing. The band started as a side-project of mine to be able to make music in my most favourite style: 80s heavy rock. Cobra Spell was founded in the summer of 2019. Since the band is no longer a side-project, the band is currently undergoing some changes for a 100% steady long-term line-up.
MELODY LANE: Can you list us 3 songs, from  COBRA SPELL 's discography (including new material), that can define the sound of the band … 3 songs that can help our readers to know COBRA SPELL at the best. 
SONIA ANUBIS: 
·         Addicted To The Night
·         The Midnight Hour
·         Shake Me

MELODY LANE: Tell us something about the creative process of your music. Is there a main composer or we can talk about a team work? The songs come from ideas of a single member and then the band works on these ideas in the studio jamming together, or your songs are written in the studio and all the members compose together?
SONIA ANUBIS: In COBRA SPELL, I am the main composer of the music. The songs are fully created and recorded at my home and I show them to the members as demo's so they get an idea of the songs.
MELODY LANE:  Can you tell us something about contents and messages of your last EP ? …Can you tell us anything about the whole concept of Anthems of the Night? And please tell us where does this title come from? 
SONIA ANUBIS: The themes of the songs of our latest EP are kind of varied! But they all speak about themes inspired about the 80s reckless fun. For example, Addicted to the Night speaks about a man that is addicted to going out to night clubs and doing drugs, and realising the effect wears out and that it all becomes some kind of nightmare. Steal My Heart Away is straight forward an anthem about being in love in distance, The Midnight Hour speaks about partying at night, flirting around and getting laid. And as last, Accelerate speaks about driving in full high speed with a fast car!
MELODY LANE:  …After time, are you totally satisfied with your choices about sound and the writing of your previous SINGLES/EP? If you could… would you change anything? What did you focus on to make the sound better and perfectly consistent with the musical ideas you had in mind?
SONIA ANUBIS: I am very satisfied with the song-writing of the songs, since I really took the time to listen them over and over again to make sure that I didn't bust anything that I don't think sounds good enough. Allowing me to feel fully satisfied on the songs. Production wise though, it's always a challenge to get where I want to get perfectly, but we are as close as we can get!
MELODY LANE:  So apart from the covid/pandemic situation…will you tour in the next future? Have you already a touring schedule? Any chance for us to see  COBRA SPELL playing live here in Italy/Europe in the next months/year?  
SONIA ANUBIS: We just had 2 different tours behind our back! We have toured in Spain/Portugal supporting ROSS THE BOSS, and we have toured Europe supporting ENFORCER, EVIL INVADERS and AMBUSH. It was epic!! We have a few shows confirmed in Europe now, but we are working on having a more concerts, of course! It would be amazing to play a show in Italy!!
MELODY LANE: Could you tell us two bands, from the actual international scene, you'd like COBRA SPELL to tour with?... Two bands that would represent a perfect line-up for COBRA SPELL to play with. And why these bands?
SONIA ANUBIS: Sabire and Crazy Lixx
MELODY LANE: We know that 'to define is to limit'… but how do you define  COBRA SPELL sound? Are you an HARD ROCK band…a GLAM METAL band… A  80'S HARD ROCK band…Or…?
SONIA ANUBIS: 80's hard'n'heavy with a sleazy touch
MELODY LANE: Which musicians are/have been your main musical inspirations? And which are your favorite bands nowadays?
SONIA ANUBIS: As for musicians; Blackie Lawless, Gene Simmons, Yngwie Malmsteen, Nergal, Marty Friedman, Tony Macalpine. Current favourite bands: RATT, KISS, Dokken, Modern Talking, The Sisters of Mercy, Device, and maaaaany more.
MELODY LANE: As a musician, what has been your biggest achievement to date and what do you want to achieve in the near future? 
SONIA ANUBIS: Playing a concert on Wacken Open Air festival and playing on Full Metal Cruise! I have many dreams, some of my dreams are touring in the United States/Canada, Asia, South America, Mexico. I really want to travel the world with touring. Also I would love to play on Sweden Rock Festival again and on Wacken again with COBRA SPELL!
MELODY LANE: Until today...What was the most important concert for  COBRA SPELL career? And why?
SONIA ANUBIS: Full Metal Cruise, this festival was literally on an actual cruise, and was organised by the Wacken bookers. So obviously an epic opportunity to be able to play on there!
MELODY LANE: In the end…A message from you to all MELODY LANE readers.
SONIA ANUBIS: A big thanks to you all for reading the whole interview! We have big dreams in COBRA SPELL and you will hear a lot about us in the future, let me tell you that! We are ready to conquer the world with some real 80s sleaze. Check out our latest EP 'Anthems Of The Night' — available on all major platforms on on physical format through our webstore www.cobraspell.com. Stay wild and thank you!
WEB: https://www.soniaanubis.com/
         https://www.facebook.com/cobraspell
ARTICLE BY: MIKE MATTY