INTERVIEW
WITH
JAN
STENFORS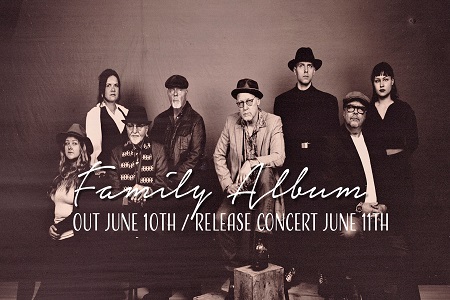 INTERVIEW WITH JAN STENFORS 


MELODY LANE had a great interview with former Hanoi Rocks/Cheap & Nasty's guitarist Nasty Suicide (Jan Stenfors), who is making a comeback just these days with his new 'family band'  called STENFORS and a new studio album that will be released just tomorrow, friday 10 June, via the Finnish label Rolling Records and that's entitled the FAMILY ALBUM.
Nasty's new band is a real family affair, a band of brothers. The Stenfors' brand new full length LP will be released on both physical and digital formats. So, friends of Rock'n' Roll, stay tuned!
Interview not to be missed!
MELODY LANE: Hi Jan and thank you for your time ... Let's start with the most obvious question ... How was the family band born?
JAN STENFORS: It's a bit of a dream come true for me. You know, even during the years when I wasn't playing much, I still cherished the idea and thought I should do something musically interesting with my brothers, with whom I had played together a lot when I was a boy ... and then you know… my brother Frej even played drums on my solo album… So things grew slowly, we were having a lot of fun ... and so I came up with the idea of involving other relatives. As things went on we got our father involved too and it worked out great ... and my wife got involved too. So little by little the idea became more and more reality and more and more ambitious. With all the problems related to the CORONA virus we obviously couldn't do any shows, so we started to see what we had songwise and if it would be good enough to record an album, to show the band STENFORS to the world. So things started from there and worked great ... and now for me it's really a dream come true: I have my own family band! 
MELODY LANE: So your father is also part of the project?
JAN STENFORS: Yes, he's on the album… while when the shows start it won't be possible for him to come with us, you know, he's getting a little old and moving around is not very comfortable for him. For the album he wrote some stuff, recorded some guitar parts with us in the studio and he sang in one song.
MELODY LANE: What can you tell us about the songs included on the album? Is it all original stuff or will there be covers too?
JAN STENFORS: All original except two tracks. There are two covers. One my dad sings, it's an old jazz cover from the '20s called SWEET SUE , and the other one it's a JOHNNY CASH's song that I sing… it's a rocky version of Folsom Prison Blues. 
MELODY LANE: How were the songs born? Is there a main composer or was it a 'family affair' in terms of songwriting? Tell us something about all the band members
JAN STENFORS: We split the composing pretty much equal with my brothers NISSE and FREJ. Then the band is me on vocals, guitars and mandolin, my older brother NISSE on bass and vocals, my little brother FREJ on drums and vocals, then there's my father who is the leading flag of the whole band, the spirit and soul of it. My wife Minna plays keyboards and sings backing vocals, my nephew JONATAN, who's NISSE's son, is the other guitar player but he also produced, recorded and engineered the entire album. We have to thanks JONATAN if we could do it all by ourself, we didn't need a label to record the album or to pay a studio...he did everything in his homestudio. And then we have my daughter and FREJ's daughter JASMINE and CARLA who sings backing vocals... With such a large, seven-piece line-up, we hope to find big enough stages ha ha ha... and a big van to move around. 
MELODY LANE: The album will be out in a few days, the singles that preceded it are really interesting and I think they highlighted the different nuances of your sound...THEN IT'S GONE's really a killer song... What can we expect from the sound of STENFORS?
JAN STENFORS: The album will be released on June 10 and was preceded by a couple of singles. The first "Then It's Gone" was actually released some time ago, while the second single was released in April. We had to wait longer than expected for the album to be released and I think that the reason for that is that it took quite along to get the vinyl manufactured. It will be released in all formats, cd, vinyl, digital and even some cassettes…We have a deal in Finland with a Finnish company and I don't know how exactly the distribution is set up at the moment but the album will be available in Finland, in Europe and also to Japan.  You can expect a little bit of everything, on the album you can listen to Jazz influences, which come mainly from my father, or Rock / Blues influences that instead come from me and my brothers ... About THEN IT'S GONE, our first single ... well I can tell you that DAVID GILMOUR and TOM PETTY are among the musicians who have influenced me and perhaps the song can be a little associated with the style of TOM PETTY ...So yes… on the album you can hear different influences but always keep in mind that my brothers and I were born in the 60s and we grew up with the music of the late 70s ... so this is the period that most influenced and inspired us, there you can find our roots. But then of course there are the younger guys in the band as JONATAN, who is the other guitarist and produced the record…He is a fan of different things, certainly more modern; and you can feel those influences in his way of playing the guitar and in the way he picks his parts ... Let's say that this album is more or less the history of the music of the STENFORS: what it was, where it comes from and what it is now. 
MELODY LANE: Today that the situation of live shows is slowly returning to normal, what can you tell us about your concerts or tours? Do you have any plans?
JAN STENFORS: At the moment it is obviously a bit difficult to organize a tour, but surely we will do some one-off shows here and there in Finland initially ... and we will see how things go and how the situation evolves. Summer is coming, so we are planning to play some outdoor shows, small festivals or things like that. For the time being there is no extensive tour planned but we will see in the future… 
MELODY LANE:  Your album will be released on the Finnish label ROLLING RECORDS, can you tell us how this collaboration was born?
JAN STENFORS: It was my choice, then I told the band about it and they thought it was a good idea too. ROLLING RECORDS reissued on vinyl my solo album, VINEGAR BLOOD, which hadn't been available on the market for quite a while. It worked and the album went well ... During one of my visits I spoke to the owner of the label, and I told him that I had this project with my family-band, that we were recording an album and that we were thinking of releasing it ourselves. He wanted to listen to it and he immediately showed interest in the project and he wanted to put it out as well. We get along really well with the guys at the label, they are sincere guys really keen on doing something with our album ... So things have developed in a completely natural way... we delivered the final recording and mixing to the label…they thought about the mastering, all the things needed to put the product together and then obviously they'll take care of the distribution part... So you know… things went in a simple and natural way and for the moment I think it was the best choice to do. I don't think we needed a bigger label but rather someone who was really interested in our music and for this we are  really happy ...and then we have to consider that we are a family band, we have day-time jobs, so we are not prepared to do extensive tours and we cannot commit in full-time promotion, which is what a big label would require... so I think that the choice made is the best to start for this 'new family project' ... then... we will see how things evolve and in the future, if necessary, we will make different choices ... but for now we are fine in this way ... 
MELODY LANE:  Now let's talk about the set-lists that you will play live ... Will you also play songs of the bands you were a part of or will you focus only on the STENFORS' new material?
JAN STENFORS: Obviously in the set-list there will be many songs from our latest record, because we want to promote the new STENFORS' stuff, and then we will also play songs from my solo album VINEGAR BLOOD and from both CHEAP & NASTY's albums... we have already tested these songs live, in the past, with my brothers... and I can say that they work really well ... for example BEAUTIFUL DISASTER is always present in the set-list, because it works well with the current line-up and it is indisputably a great song ...  
MELODY LANE:  You've been part of legendary bands like HANOI ROCKS, CHEAP & NASTY, CHERRY BOMBZ and DEMOLITION23... But then you left the scene and you were away from the music world for several years, confusing everyone a bit... Today you're back with your Family Band... Can you tell us what has happened over the years and what has finally pushed you back into the game?
JAN STENFORS: There were a few years when  I didn't write music, I didn't play with anyone and barely played my guitar. I just focused on what I was doing in the pharmacy and pharmaceutical industry.  But then I did some live appearances with MICHAEL MONROE and I also played as a guest at the HANOI ROCKS REVISITED reunion at TAVASTIA CLUB in Helsinki in 2009, there is also the dvd of that beautiful show ...... and I felt good, and it was natural and I said to myself  "I need to do this too". From there on I started playing more and more… and I started thinking about doing something for real... 
MELODY LANE:  You were the founder and leader of the legendary cult-band CHEAP & NASTY with whom you released two wonderful albums ... We have been fortunate,  in the recent past, to interview the other members of the band and we seemed to understand that one of the reasons that led to the disbandment of the band is that you were a bit doubtful about the quality of the band and the songs ... considering also that you had been part of a band as important as HANOI ROCKS in the past could be plausible ... What can you tell us about?
JAN STENFORS: I was really a little disillusioned with the world of music. It was very difficult to make a living in the music business simply by being yourself. Basically I think I was not sufficiently prepared for the tremendous effort and involvement required to achieve success ... And even after all the effort and sweat you put into your project there is by no means guaranteed that you will be successful or that you will make a living with your music.. So yes, doubtful in the sense that I wasn't sure if what I was doing was successful enough to achieve success ... The albums were great, but there are so many other things that affect the success of a project ... you have to rotate on the radio...the videos...you know this kind of thing...you have to stand out somehow. It is not always good enough just be 'good enough' ... it must fall in so many places and surely there is also a component of luck. I don't know ... I was not very prepared at that time for doing that job and I was interested in the pharmaceutical industry and academic career and I felt that they were giving me more at that time ...
MELODY LANE:  One thing that stunned fans at the time, including myself, was that just as CHEAP & NASTY's second album, COOL TALK INJECTION was being released, you joined the punk rock band DEMOLITION23, starring MICHAEL MONROE and SAMI YAFFA ... Three members of HANOI ROCKS together again. .. It seemed that the conditions were there for a great project and instead after the tour also DEMOLITION23 disbanded ... What can you tell us about those turbulent years and the dissolution of those two awesome bands?
JAN STENFORS: What actually happened  was that I was thinking more and more about going back to Finland, going back to studying and starting an academic career ... because, as I told you, I was tired and disillusioned with the waiting for the band to take off. At that moment, I didn't feel I had the energy it would have needed to keep the band going, I don't know how to describe it but… it was a sort of lack of motivations . At that point I got an offer from MICHAEL and SAMI, they were planning of touring with their band DEMOLITION23 in Europe and Japan, but their guitarist had some problem, he couldn't come with them, he couldn't leave the STATES for some reason… So it was just a coincidence that I quit CHEAP & NASTY and joined DEMOLITION23 ... I accepted because I thought it was going to be a fun tour, with SAMI and MICHAEL we would have played some real and wild Rock 'n' Roll ... but I knew it was a temporary thing and that as soon as the tour would have ended I would have moved to Finland because I had by then made my decision to go back to study. You know...obviously it happens that when you're on tour, after a great show...you're sitting off the gig having a few drinks you start to talk about stuff...So I think at some point we were talking about the possibility that I would join the band for a longer period or permanently but it didn't really materialize... and then in any case they already had their guitarist, who was waiting for them in the States, and I had set my mind on settling in Finland and doing the studies...Deep down in my mind it was made up I was gonna quit playing in bands and concentrate on academic stuff and that's all.
MELODY LANE:  As a big fan and attentive listener of your music, I have always had a doubt with me and so I take this interview to satisfy my curiosity ... The beautiful song DEVIL CALLING included in the album COOL TALK INJECTION was written, according to the liner notes in the album, by you and DAVE TREGUNNA (SHAM69 / LORDS OF THE NEW CHURCH / CHERRY BOMBZ / THE CRUNCH) ... That song was recorded, prior to your release, also by KILL CITY DRAGONS and  Andy McCoy's SHOOTING GALLERY... what can you tell us about the story of this song?
JAN STENFORS: Ah Ah…With DAVE ... I think we remember writing this song differently. Basically I wrote this song with a singer called JAMES VANE ... You know ... at one point we were together in a band called THE WYRD THINGS. The line-up of this band was me, DAVE TREGUNNA, TERRY CHIMES, the three of us were from THE CHERRY BOMBZ who just broke up, and then a couple of English guys ... one of them was singer JAMES VANE ... About DEVIL CALLING, I remember writing the riff and the chords and JAMES VANE wrote the lyrics, while I think what DAVE remembers is that he wrote the music and JAMES VANE the lyrics so ... ha ha ... Anyway that's why there are different versions of the song ... each of us used it in the bands of which we were part of later ... and yes…After KILL CITY DRAGONS, DAVE also re-recorded it, along with ANDY McCOY, with a band called SHOOTING GALLERY. You know ... DEVIL CALLING is one of those songs that are born in the studio, together with the band, when you jam together during rehearsals. It's not one of those songs that someone wrote at home, made a demo and then presented it to the band. For a song born in the studio, during rehearsals, with the participation of all the musicians such as DEVIL CALLING, the right song-writing credits must be attributed to the whole band , THE WYRD THINGS precisely. That would be more correct, at least it is how I see things nowadays...However 'THE PAST IS GONE' ... 
MELODY LANE:  After HANOI ROCKS you were also part of another legendary underground band together with ANDY McCOY: CHERRY BOMBZ ... the band born from the ashes of HANOI ROCKS . Despite some excellent singles, a tour in the States and participation in some big festivals like the READING FESTIVAL in the UK, the band broke up ... Several things have been said and written about CHERRY BOMBZ, what can you tell us about it and why the band broke up?
JAN STENFORS: Yes, I think it was a combination of these ... You know a band is a group of different people with different characters who need to work together and it's not an easy thing to do ... Sometimes it just doesn't work. I think in CHERRY BOMBZ there was a combination of people who couldn't take the pressure and didn't work well together ... I think it was a chemistry problem between the band members ... And then in a way .. . I think nowadays people are more professional, I don't mean artistically but professionally ... Nowadays when musicians join a band they know better what they got into, a lot of people have a musical background, nowadays you are being trained to be a musician… The younger generations have a musical background and are also prepared about the stuff that concerns touring and record labels. While in those days we moved by instinct, according to the sensations of the moment ... You put five artists together and sent them to the United States for a long tour, without having a record to promote, without a label ... you never knew what would have happened ... And with THE CHERRY BOMZ it just didn't work ... I think it was probably the same problem we had in the last days of HANOI ROCKS ... before the final disbandment
MELODY LANE:  Reading interviews with the other members of CHERRY BOMBZ in the past I realized that the tour in America and the various concerts in Europe had to serve as a showcase to try to find a label and a record deal, but unfortunately without success ... right?
JAN STENFORS: But you know ... incompatibility issues between band members, ego and drugs are not a good combination when you're trying to get a record deal…also because it usually takes a while to get one.
MELODY LANE:  How are the relationships with your former mates / friends in HANOI ROCKS today? In the past you have played live several times with MICHAEL and SAMI ... what is your relationship with ANDY McCOY, are you in touch?
JAN STENFORS: Well, I have a great relationship with MICHAEL and SAMI, while ANDY is more distant nowadays ... SAMI never had big fights with ANDY, but I think MICHAEL and I have had more heartfelt incidents with him. Personally I have had several and in the end I had one that broke the camel's back so to speak ...
MELODY LANE:  Jan one last question ... during interviews with the other members of CHEAP & NASTY , ALVIN GIBBS, LES RIGGS and the late and dearly missed TIMO KALTIO…we got to know that there may be something boiling in the pot ... Can you tell us anything about it? Do you have any plans to write together again or re-release the old albums maybe with the addition of some bonus tracks or demos or anything like that?
JAN STENFORS: Well, we have been in touch lately, we did some online meetings via ZOOM, the first was when TIMO was still with us, we were in the middle of the pandemic  period ... So we talked about recording new songs even if we live in different countries. .. but then TIMO died ... And I don't know ... ALVIN is always very busy with UK SUBS and his books, currently I'm also very busy with my new band, my daily work, I'm still ambitious about it and I want to do it very well, and then other things have come and it takes time and patience to deal with them ... so it's a little hard to carry out plans from the CHEAP & NASTY side right now, but I think the will is always there, and I believe that as soon as the opportunity will arise we will try to carry on the ideas we had, maybe by releasing an EP or something like that ... I think you cannot engage in many things at the same time, even if you want, because you have to be realistic, you have to stay calm and not to do things halfway: what you do, you must do it well ...   
MELODY LANE: Jan thanks for your time and availability, good luck with your new band and your new album!
JAN STENFORS: Thanks guys! Thanks for supporting us ... Stay safe and hope to see you soon!
Web: https://www.facebook.com/stenforsfamilyband
Article by: Mike Matty