INTERVIEW
WITH
SILHOUETTE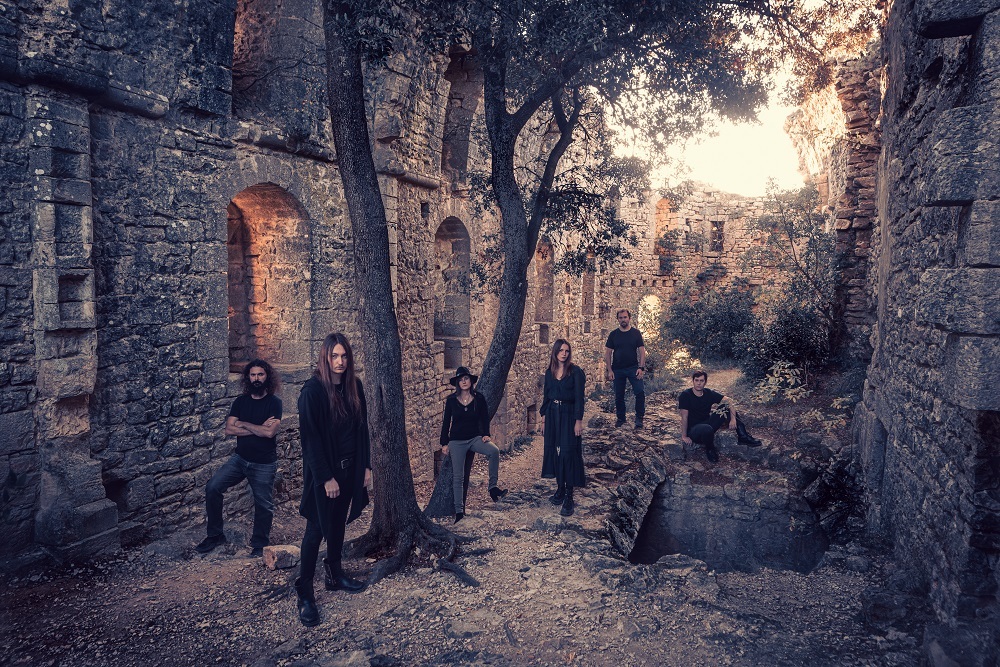 INTERVIEW WITH 

SILHOUETTE



MELODY LANE had a great interview with the French atmospheric black metal band Silhouette. Initially conceived as a one-man band, the project then involved more musicians in order to develop a synergy between clean female vocals and traditional black and DSBM vocals.
Silhouette's view reflects dreams and visions about distant people whose shapes and intentions will stay obscure forever. Through soul's dooms and mist, Silhouette deals with topics such as lost ones, fantomatic shapes from which only fragments and souvenirs remain. The band proposes a journey between intense melodies, storms, and velvet lulls to depict the travel of the one who dares to explore the places and ghosts of their past.
Highly anticipated debut album, 
Les Retranchement
is set for international release on January 28th via Antiq label.
MELODY LANE: First of all, also if it can sound a bit expected…Can you tell us where does the name SILHOUETTE come from?
SILHOUETTE:  Silhouette's name comes from visions I had in dreams of a woman in various situations. I can never really see her face or understand her intentions. She sometimes appears as a positive figure, but sometimes as a threat as well.
MELODY LANE: The line-up of the band is confirmed, is it the same from the beginning of the band…or have you had changes in the last years? Can you tell us anything about the roots of SILHOUETTE? And where the band was born?
SILHOUETTE:  At first, Silhouette was supposed to be a one-man band. Then I wanted it to evolve and I gathered other musicians who shared my vision to be able to give live representations of the band. For example, I wanted a guttural singer and female clean singer to symbolize the duality between the brilliant aspects of the Silhouette and its darkest aspects. As for the band line-up, we had another singer at the beginning and we are about to change one of our guitarist because of diverging schedules.
MELODY LANE: Can you list us 3 songs, from  SILHOUETTE 's discography (including new material), that can define the sound of the band … 3 songs that can help our readers to know SILHOUETTE at the best.
SILHOUETTE:  Since we are releasing our debut EP, the choice will be quite easy ! First, I would say that the song that sums up the essence of Silhouette is probably "L'Etreinte de la Chute". It mixes the clean singing and the screaming vocals, and the music is a blend of black metal and more ethereal acoustic moments. Speaking of it, Ascension best represents the originality of the band: it is the introduction of the EP and introduces the atmospheric dimension and Ondine's voice. Finally, Les Retranchements is a song that can be surprising at first as it includes clean male vocals from our guest and friend Clément Château (Hortus Deliciarum). I think he brings yet another layer to our music with a kind of gothic vibe.
MELODY LANE: Tell us something about the creative process of your music. Is there a main composer or we can talk about team work? The songs come from ideas of a single member and then the band works on these ideas in the studio jamming together, or your songs are written in the studio and all the members compose together?
SILHOUETTE:  I am the main composer of the music, but I only give the band the main structure of the songs with the guitars and a simplified drum kit. The songs are then enhanced by the work of my fellow musicians: Zand complexifies the drums, Grise composes the bass and Yharnam and Ondine take care of the lyrics and singing. So it is a teamwork, but we work on our parts separately and I oversee the process.
MELODY LANE:  Can you tell us something about contents and messages of your last album ? …Can you tell us anything about the whole concept of Les Retranchement? And plese tell us where does this title come from?
SILHOUETTE:  Our music is about dreams and visions of which shapes and intentions are obscured. Silhouette deals with topics such as lost ones, fantomatic shapes and some more tangible topics such as alcoholism. The title "Les Retranchements" in French evokes a state or a place of contemplation in which unsuspected spiritual resources can be found.
MELODY LANE: Talking about the sound of your album… What did you focus on to make the sound better and perfectly consistent with the musical ideas you had in mind?
SILHOUETTE: Even though this was our first release, we had a very precise idea of the sound we wanted. I myself worked a lot on the sound of the guitars to achieve this balance between the strong, saturated guitars and the ethereal vibe of the clean guitars. We also invested a lot to be able to record quality stems. Then we trusted Frédéric Gervais from studio Henosis with the reamping, mixing and mastering of our record and we were really impressed with the result. He was able to give a new color, a massive sound, we are very grateful to him.
MELODY LANE:  So apart from the covid/pandemic situation…will you tour in the next future? Have you already a touring schedule? Any chance for us to see SILHOUETTE playing live here in Italy in the next months/year? 
SILHOUETTE:  We fell behind on our recording and releasing schedule because of the pandemic situation. Touring is definitely something we want to do, but we are still a young band and we have some work to do to get there. We plan on playing our first gigs in the south of France this spring, and we really hope to be able to play abroad in the years to come.
MELODY LANE: Could you tell us two bands, from the actual international scene, you'd like SILHOUETTE to tour with?... Two bands that would represent a perfect line-up for SILHOUETTE to play with. And why these bands?
SILHOUETTE:  In an ideal world, I would love to share the stage with Schammasch or Alcest. These are two strong influences that can summarize several aspects of Silhouette including Black Metal and our ethereal side.
MELODY LANE: We know that 'to define is to limit'… but how do you define  SILHOUETTEsound? Are you an Atmospheric Black Metal band…an Avant-Garde Black Metal … a Melancholic/Melodic Black Metal band…Or…?
SILHOUETTE:  I think it's not very easy to put Silhouette into a single box. Our music aims to create an atmosphere immersed in reverb so the atmospheric Black Metal seems suitable. But we also have an ethereal, tortured and melancholy side created by the duality between the two singers and the riffs of guitars. There is a form of primary rage but also a vulnerability throughout the music, so I think the melancholy Black Metal style would also suit.

MELODY LANE: Which musicians are/have been your main musical inspirations? And which are your favorite bands nowadays?
SILHOUETTE: My main influences are Alcest, Schammasch, Mare Cognitum, Blut Aus Nord, Sylvaine, Darkher, Akhlys, Converge, Cult Of Luna, Tristania I think that the current Black Metal scene is doing very well. The new Blut Aus Nord, Deathspell Omega and Akhlys are absolute killing! The split with Mare Cognitum and Spectral Lore around the concept of the solar system is an excellent record also !
MELODY LANE: As a musician, what has been your biggest achievement to date and what do you want to achieve in the near future?
SILHOUETTE:  Well, the release of this EP and the feedbacks we got are already fabulous achievements ! As for what follows, we hope that Silhouette will take us far. We want to do as many dates as possible and big festivals! A first European tour would make us happy !
MELODY LANE: Until today...What was the most important concert for  SILHOUETTE career? And why?
SILHOUETTE:  For the moment, Silhouette have never been on stage! We are preparing live performances in the shadows. But we have had several very good proposals that we will share when the time comes!
MELODY LANE: In the end…A message from you to all MELODY LANE readers.
SILHOUETTE:  Thank you for reading these lines. We hope that Silhouette will touch you as much on record as in concerts. I hope this interview will give you another aspect of our universe! 
WEB: https://www.facebook.com/SilhouetteBM
ARTICLE BY: MIKE MATTY