INTERVIEW
WITH
DARK
MILLENNIUM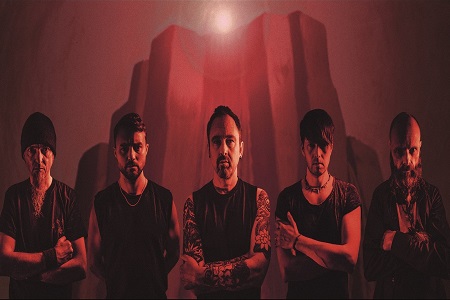 INTERVIEW WITH CHRISTIAN MERTENS
MELODY LANE had a great interview with CHRISTIAN MERTENS, singer of the German Atmospheric Death/Doom Metal band DARK MILLENIUM. 
"... a mixture of death metal elements, doom metal, progressive, a little bit of black metal on the new album, and always with the focus on atmosphere… you can't describe the sound in two words…..."
DARK MILLENIUM's new album '"Acid River"' will be released on January 7th, 2022 via MASSACRE RECORDS. 
Band highly recommended to fans of PARADISE LOST, MY DYING BRIDE, ANATHEMA, CANDLEMASS and SWALLOW THE SUN.
MELODY LANE: First of all, also if it can sound a bit expected…Can you tell us where does the name DARK MILLENNIUM come from? 
CHRISTIAN MERTENS: The first name of the band was "Mortal  Freight". When the sound became darker and more Death Metal like, we decided to change the name into "Dark Millennium", just because we had the opinion that this title would describe the music and the intention of the lyrics in a better way. And of course, the millennium became darker in so many ways…  
MELODY LANE: The line-up of the band is confirmed…or have you had changes in the last years? Can you tell us anything about the roots of DARK MILLENNIUM  ? And where the band was born?
CHRISTIAN MERTENS: We started in the late eighties as a band that sounded more like a thrash metal band. When we recorded the first demo "The Apocryphal Wisdom", we changed as mentioned into a band that was influenced by early death metal bands like Death and Possessed. After the second demo "Of Sceptre Their Ashes May Be" we got a record deal with Massacre Records, and 1991 we released our first album "Ashore The Celestial Burden". We always had line up changes on the bass position, but have now a constant bass player with Gerold Kukulenz. The drummer on our comeback album "Midnight In The Void" was original member Christoph Hesse, who left the band due to personal reasons after that album. We now have Andre Schaltenberg on the drums, and have a constant line-up.
MELODY LANE: Can you list us 5 songs, from  DARK MILLENNIUM' s discography (including new material), that can define the sound of the band … 5 songs that can help our readers to know DARK MILLENNIUM  at the best.
CHRISTIAN MERTENS: That's not so easy, but I choose these songs from each album: 
Below the holy fatherlands (from Ashore The Celestial Burden)
Pandemonium (Diana Read Peace)
The Failure (Midnight In The Void)
In Equilibrium (Where Oceans Collide)
Godforgotten (Acid River)
MELODY LANE: Tell us something about the creative process of your music. Is there a main composer or we can talk about a team work? The songs come from ideas of a single member and then the band works on these ideas in the studio jamming together, or your songs are written in the studio and all the members compose together?CHRISTIAN MERTENS: We sit together in different combinations, while every member has the opportunity to show his ideas, that we try to form into songs. I write the lyrics before we create the music, and often change them while working on the songs. We record our ideas as demos, look at them later, and sometimes change something before we get into the final process of recording. All in all, it's very spontaneous and follows no certain rules.
MELODY LANE:  Can you tell us something about contents and messages of your new album ? …Can you tell us anything about the whole concept of "Acid River"? And please tell us where does this title come from?
CHRISTIAN MERTENS: The main idea of the album is the entering of an occult world into our reality. We tell different stories with different characters in that context. The acid river is floating through all songs and stories as something that changes the known mood into something secret and morbid. It's not a concept album in the usual way, but has a path leading through all songs.
MELODY LANE:  …After time, are you totally satisfied with your choices about sound and the writing of your previous  album? If you could… would you change anything? What did you focus on to make the sound better and perfectly consistent with the musical ideas you had in mind?
CHRISTIAN MERTENS: We are absolutely satisfied with this work, and wouldn't change anything by now. I think the sound is perfect as it is old school and kind of "warm", which is the perfect atmosphere for the songs we had written. We wanted a sound that reminded at our debut album, as the whole creative process was like working on that album.
MELODY LANE:  So apart from the covid/pandemic situation…will you tour in the next future? Have you already a touring schedule? Any chance for us to see  DARK MILLENNIUM  playing live here in Italy or in Europe in the next months/year? 
CHRISTIAN MERTENS: We are ready and look forward to play live again, and it would be a great pleasure playing in Italy. Due to the current situation we have yet no plans or special dates…
MELODY LANE: Could you tell us two bands, from the actual international scene, you'd like DARK MILLENNIUM  to tour with?... Two bands that would represent a perfect line-up for DARK MILLENNIUM  to play with and that playing with them would help to enlarge your fan base…And why these bands?
CHRISTIAN MERTENS: Well, I would love to play with bands like Chapel of Disease from Germany or Oathbreaker from Belgium, because these bands create a special atmosphere that meets brutality in a special way. I think that could be a very interesting combination and maybe can lead different fan bases together.
MELODY LANE: We know that 'to define is to limit'… but how do you define DARK MILLENNIUM' sound? Are you a Progressive Death/Doom Metal band…an Atmospheric Death Metal band… A Dark Metal band…Or…?
CHRISTIAN MERTENS: I think we can speak about a mixture of death metal elements, doom metal, progressive, a little bit of black metal on the new album, and always with the focus on atmosphere… you can't describe the sound in two words…
MELODY LANE: Which musicians are/have been your main musical inspirations? And which are your favorite bands nowadays?
CHRISTIAN MERTENS: The influences of the band members are very different. My personal inspirations are artists like Nick Cave, PJ Harvey, Bands like Emperor, Dark throne, Autopsy, early Death, early Possessed, and grunge bands like Pearl jam, Soundgarden and Alice in chains. And I like new black metal influenced bands like Oathbreaker, Rolo Tomassi and Deafheaven.
MELODY LANE: As a musician, what has been your biggest achievement to date and what do you want to achieve in the near future?
CHRISTIAN MERTENS: My biggest achievement was to re-unite Dark Millennium together with our guitarist and producer Hilton, which was a perfect decision at the right time. And we plan to tell our story further, want to create much more music, many albums, and play live as often as possible.
MELODY LANE: Until today...What was the most important concert for  DARK MILLENNIUM 's career? And why?
CHRISTIAN MERTENS: Oh, that's not easy to say… I would choose no single concert, but the first tour with Unleashed, Samael und Tiamat. It was the first experience for a young band to travel around with these bands, and present the first album we had created… very good memories!
MELODY LANE: In the end…A message from you to all MELODY LANE readers.
CHRISTIAN MERTENS: Thank you very much for your interest! Maybe you try to discover Dark Millennium and our very different albums, and maybe you like to start with our new work "Acid River", which represents the current creative feeling of this band in a good way… Stay safe!
WEB: https://www.facebook.com/DarkMillenniumOfficial
ARTICLE BY: MIKE MATTY