INTERVIEW
WITH
DOBBELTGJENGER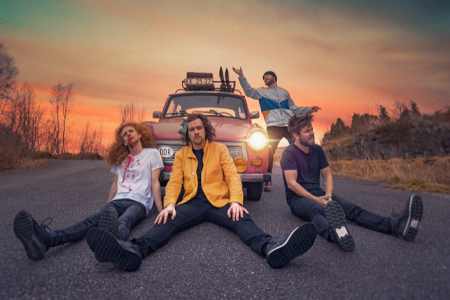 INTERVIEW WITH VEGARD WIKNE

Melody Lane had a very interesting interview with Vegard Wikne singer, guitarist and composer, of the Norwegian Alternative Rock band Dobbeltgjenger. These futuristic retro-rockers released their fantastic new album, titled SMOOTH FAILING, on april 9th via KARISMA RECORDS, an album that's highly recommended to fans of bands like Queens of the Stone Age, Talking Heads and 80's era King Crimson.
MELODY LANE: First of all, also if it can sound a bit expected…Can you tell us where does the name Dobbeltgjenger come from?
Vegard Wikne: It actually originally came as a Twin Peaks reference - Doppelganger, which is the evil counterparts of individuals, originating from the Black Lodge. But then we changed it to norwegian, because there were so many bands called Doppelganger (ironically enough).
MELODY LANE: The line-up of the band is confirmed, is it the same from the beginning of the band…or have you had changes in the last years? Can you tell us anything about the roots of Dobbeltgjenger? And where the band was born?
Vegard Wikne: I founded the band, and I'm the singer, guitarist and main composer. In the beginning it was only me from the current line up. It started as a trio with Vegard Wikne on vocals and guitars, Jakob Sønnesyn on bass and John Sæten Lilletvedt on drums. We then played songs that I had written over a couple of years.
MELODY LANE: Can you list us 5 songs, from  Dobbeltgjenger 's discography (including new material), that can define the sound of the band … 5 songs that can help our readers to know Dobbeltgjenger at the best.
Vegard Wikne: Johanna, La Dee Da, Come On Over, Dive In and Tin Foil Hat.
MELODY LANE: Tell us something about the creative process of your music. Is there a main composer or we can talk about a team work? The songs come from ideas of a single member and then the band works on these ideas in the studio jamming together, or your songs are written in the studio and all the members compose together?
Vegard Wikne: Most of the songs are mainly written and demoed by me. With Smooth Failing our drummer Sondre Veland came up with a lot of awesome beats, that started several songwriting processes. All the songs were carefully demoed at Vegards house, and then recorded very similarly in the studio later, were I played all bass, most of the guitars, synths and vocals. Sondre did all drums and Knut Martin Langeland did some guitars. 
MELODY LANE:  Can you tell us something about contents and messages of your last album ? …Can you tell us anything about the whole concept of SMOOTH FAILING? And please tell us where does this title come from?
Vegard Wikne: The record is about the pleasure of doing the wrong things. It's about giving up, in a blaze of neon mist and fireworks. Smooth failing reflects a time in my  life, where I was doing just that: failing smoothly. Just being self destructive and loving it - until… it falls apart. But there is some magic in that period in self deceptive self destruction.
MELODY LANE:  …After time, are you totally satisfied with your choices about sound and the writing of your previous album? If you could… would you change anything? What did you focus on to make the sound better and perfectly consistent with the musical ideas you had in mind?
Vegard Wikne: I´m never happy with anything. That's the way it has always been and will always be. I am always more happy with my most recent songs, than older ones. So now I think that the best thing I have every created are the 12 demoes for our fourth album haha.
MELODY LANE:  So apart from the covid/pandemic situation…will you tour in the next future? Have you already a touring schedule? Any chance for us to see  Dobbeltgjengerplaying live here in Italy or in Europe in the next months/year? 
Vegard Wikne: We are hustling and working towards different possible tour locations right now. We would LOVE to play in Italy for sure. Hopefully we get to travel a bit in 2022.

MELODY LANE: Could you tell us two bands, from the actual international scene, you'd like Dobbeltgjengerto tour with?... Two bands that would represent a perfect line-up for Dobbeltgjengerto play with. And why these bands?
Vegard Wikne:  Queens of the stone age and Unknown Mortal Orchestra! That would of been amazing! First of all we LOVE these to bands, and also I think the music would work really well together. Aim high, crashland low.
MELODY LANE: We know that 'to define is to limit'… but how do you define  Dobbeltgjenger' sound? Are you an ALTERNATIVE ROCK band…a MODERN PROG ROCK BAND band… A  POST ROCK BAND ROCK band…Or…?
Vegard Wikne: I would define it as an alternative rock band, with a strong focus on groove, colours and solid and catchy songwriting.
MELODY LANE: Which musicians are/have been your main musical inspirations? And which are your favorite bands nowadays?
Vegard Wikne: Well, I've already mentioned QOTSA and UMO. Those two are definitely two of them. I love anything that is actually unique, that actually brings something new to the table that is music. I also love Tyler The Creator, especially his newest album IGOR, as well as a lot of David Bowie and Iggy Pop. I abselutly love Talking Heads and anything to do with David Byrne. The quirkiness and groove is just aaaah.   
MELODY LANE: As a musician, what has been your biggest achievement to date and what do you want to achieve in the near future?
Vegard Wikne: Biggest achievement must have been to have completed this last record (Smooth Failing), even tho I was really mentally unwell. Just to have been able to musically express myself through that record, when I was extremely far down some dangerous mental rabbit holes, I am really proud of that. I hope to be able to tour more internationally and play with some great bands!    
MELODY LANE: Until today...What was the most important concert for  Dobbeltgjenger's career? And why?
Vegard Wikne: I think that must have been when we played a showcase in Oslo, Norway in 2018. We had just released our second album Limbohead, and it was the first gig where a lot of strangers came to see us, and it was just a magical night. Just one of those nights where everybody in the venue becomes one, through sweat, blood and loud loud live music. I just want to go back to that!
MELODY LANE: In the end…A message from you to all MELODY LANE  Readers.
Vegard Wikne: I hope you check out our music! If you can dig bands like Queens of the stone age, we are confident that you would dig us too. We have to go back to wrestling polar bears now. See you soon! 
Web: https://www.facebook.com/dobbeltgjengerofficial
Interview by: MIKE MATTY