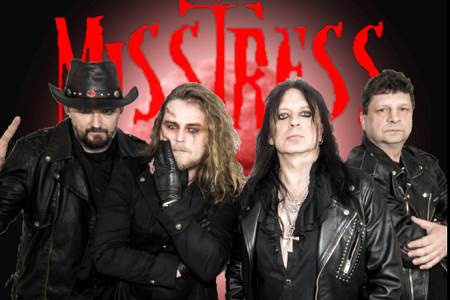 INTERVIEW WITH 

ANDY "ANKH" SHOENEICH
Melody Lane had a funny interview with 
Andy "Ankh" Shoeneich, guitarist
 of 
the Horror Glam Rock band MISSTRESS! 

Andy 

 told us about the roots of his band, their plans for the future and the great expectations for their new album "RESURRECTED
" that will be released on May 7th, 2021 via  Blasphemous records. 
Band recommended to fans of MISFITS, ALICE COOPER, MURDERDOLLS and 
Wednesday 13
MELODY LANE: First of all, also if it can sound a bit expected…Can you tell us where does the name Misstress come from? 
Andy "Ankh" Shoeneich: It's just Mistress spelled on purpose with a spelling mistake, you know - like Led Zeppelin or Def Leppard. Well, and Mistress itself has many meanings, let everyone try to interpret it himself…
MELODY LANE: The line-up of the band is confirmed, is it the same from the beginning of the band…or have you had changes in the last years? Can you tell us anything about the roots of Misstress ? And where the band was born?
Andy "Ankh" Shoeneich: The line-up of the band has changed several times. Roots? I just wanted to do thing like this. The group comes from Lower Silesia, Poland, it is located in East Europe :D :D :D. It was not easy due to the difficulty of finding the right musicians. You know, Poland is such a backward country where there is religious fundamentalism. Most musicians try to be very "true", they lack distance and sense of humor. Also, putting together a team of guys who consider playing as having a good time was not easy, believe me :D. The date of creation is the Walpurgis Night of 2011...
MELODY LANE: Can you list us 5 songs, from  Misstress 's discography (including new material), that can define the sound of the band … 5 songs that can help our readers to know Misstress at the best.
Andy "Ankh" Shoeneich: Vampire's Kiss; Hooray For Satan; Time To Hunt; Lilith; Sex, Blood & Rock'n'Roll.
MELODY LANE: Tell us something about the creative process of your music. Is there a main composer or we can talk about a team work? The songs come from ideas of a single member and then the band works on these ideas in the studio jamming together, or your songs are written in the studio and all the members compose together?
Andy "Ankh" Shoeneich: Most of them are my compositions, I mean I write music, very rarely a piece of text. The vocalist is responsible for the lyrics. Together we refine the melodic lines and then, in the whole line-up, we make some changes in the arrangement if it turns out to be needed.
MELODY LANE:  Can you tell us something about contents and messages of your last album ? …Can you tell us anything about the whole concept of Resurrected? And please tell us where does this title come from? 
Andy "Ankh" Shoeneich:  11 hard rock songs and two instrumental miniatures. The message? Having fun, no compromise, not looking at musical trends and fucking "sacred" :D: D :D. The title is very simple: on the one hand, it makes fun of a fairy tale about the known resurrection (with us "from the dead" a vampire rises), and on the other, it refers to the reactivation of the band after a five-year break.
MELODY LANE:  …After time, are you totally satisfied with your choices about sound and the writing of your previous  album? If you could… would you change anything? What did you focus on to make the sound better and perfectly consistent with the musical ideas you had in mind?
Andy "Ankh" Shoeneich:  The songs are what I wanted, the only thing is the sound that I'm not entirely happy with. But that would require working in studios in the United States, with producers there.
MELODY LANE:  So apart from the covid/pandemic situation…will you tour in the next future? Have you already a touring schedule? Any chance for us to see  Misstress playing live here in Italy or in Europe in the next months/year?  
Andy "Ankh" Shoeneich:  Of course, concerts are essential! That's why you're in a rock band to play live! That's it, it's fun and not some fucking boring rehearsals or even studio work that I don't really like. About the chances of playing in Europe, this is a question for our manager ;)
MELODY LANE: Could you tell us two bands, from the actual international scene, you'd like Misstress to tour with?... Two bands that would represent a perfect line-up for Misstress to play with. And why these bands?
Andy "Ankh" Shoeneich:  Wednesday 13 and Michael Monroe. W13 because it's a very similar style and Michael ... well, that's the essence of rock and roll!
MELODY LANE: We know that 'to define is to limit'… but how do you define  Misstress '  sound? Are you a SHOCK ROCK band…a GLAM ROCK BAND band… AN  HORROR HEAVY METAL BAND band…Or…?
Andy "Ankh" Shoeneich:  We're rock'n'roll band J A lot of lyrics are horror, some are "iconoclastic", musically it's hard rock with some echoes of glam/sleazy metal. We call it horror glam :D.
MELODY LANE: Which musicians are/have been your main musical inspirations? And which are your favorite bands nowadays?
Andy "Ankh" Shoeneich:   This is a lot… KISS, Alice Cooper, The Sweet, T. Rex, Motley Crue, W.A.S.P., Hanoi Rocks, The Rolling Stones, Led Zeppelin, Elvis, Little Richard, David Bowie, New York Dolls, Death SS. Currently apart from those mentioned: Wednesday 13, Murderdolls, The 69 Eyes, Michael Monroe, Vinnie Vincent.
MELODY LANE: As a musician, what has been your biggest achievement to date and what do you want to achieve in the near future? 
Andy "Ankh" Shoeneich:  Biggest achievement? Me and myself :D :D :D. Rock'n'Roll till death, play live and release of more albums ;)
MELODY LANE: Until today...What was the most important concert for  Misstress' career? And why?
Andy "Ankh" Shoeneich:  Each performance is equally important. Listeners must get the best, they must be respected.
MELODY LANE: In the end…A message from you to all MELODY LANE readers.
Andy "Ankh" Shoeneich:  Fuck the imposed trends. Rock'n'roll all night and party every day, keep crazy and listen to MISSTRESS!