INTERVIEW
WITH
DAMON
JOHNSON
&
THE
GET
READY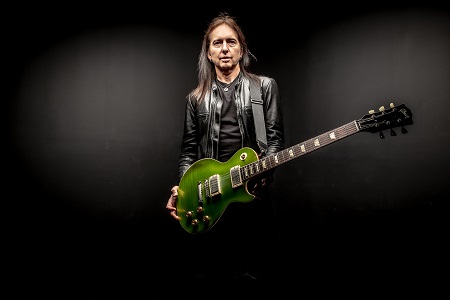 INTERVIEW WITH DAMON JOHNSON
MELODY LANE had a great interview with the legendary DAMON JOHNSON!
DAMON shared several moments of his immense career with us and revealed us interesting details about his new album and his new band! Rock fans know Johnson's name from his years scorching stages as lead guitarist in the ALICE COOPER band, and later with THIN LIZZY and BLACK STAR RIDERS. They remember him fronting potent '90s Southern rockers BROTHER CANE. They've heard his songs recorded and sung by stars like STEVIE NICKS, CARLOS SANTANA AND STEVEN TYLER. Now DAMON is back with his new Hard Rock band, the power trio 'DAMON JOHNSON & THE GET READY' and has just released a powerful and engaging new album titled BATTLE LESSONS. Unmissable interview for all lovers of true Rock!


MELODY LANE: In the last year we have seen many bands that have decided to postpone the releases of their new albums due to the pandemic, perhaps preferring to release them on dates closer to the resumption of live shows. Your latest album BATTLE LESSONS 's been released in February, do you think it was the right time or have you had doubts about it?
DAMON JOHNSON: It was a tough decision, because we knew it would be better if we could go out and tour to promote the album, but most of the songs included in BATTLE LESSONS were written about a year and a half before the album was released ... I had these songs ready for a long time ... and as a songwriter and as an artist I felt that this chapter, on which I had focused on so long, was now ready; I had said everything I had to say; I was very happy with the songs, I was very happy with my band and I was also very lucky because I could work again with my friend, the great producer  Nick Raskulinecz, and you know ... the fact that I could work with him and get the work done...well it was very important, fundamental. And, you know ... my fan base too, not that I have hundreds of thousands of fans, but my fans are very warm and passionate, they love this record and they spoke out and they were happy that I was going to release a new album so ... so for me it was undoubtedly the right thing to do ... all things went right, it was the perfect time to get it out and move on. Unfortunately no one knows how long it will take before we can go back on tour ... but you know, by that time, I will probably have another album written and ready ...
MELODY LANE: Tell us something about the title you choosed 'BATTLE LESSONS'…The concept behind this title…
DAMON JOHNSON: For me BATTLE LESSONS just represents the experiences, the lessons that we all have learned through different times in our lives. For me specifically, I was relating to things I had learned in my career, in the music business, not only about music but about working with other people, about travelling with other people and making decisions together…it's all been amazing. Yes, of course, it can be difficult sometimes, being in a band has its challenges, even when you're young, you know, when you're in your twenties and thirties, being in a band can be challenging and it's much more difficult as we get older, when you're in your forties and your fifities… your  personal life is different, your priorities are different, the things that you hope to achieve are different…all the great bands that I've been priviledged to be a part of and everything that I learned from those experiences are focused now into 'BATTLE LESSONS' and into what I'm doing as DAMON JOHNSON & THE GET READY…so yes I love this title and I love the idea behind it…things that we learned in battle!
MELODY LANE: And now let's talk about the new name of your band 'DAMON JOHNSON & THE GET READY', where does it come from?
DAMON JOHNSON: I credit that I did it to my manager KEVIN LEE. He called me one day and said "Listen Damon, this new record is powerful, it's a big rock record. But you've been around so long and you have done so many shows as DAMON JOHNSON, sometimes  you play electric, sometimes you play acoustic, and if you just say only 'DAMON JOHNSON' people aren't  not sure of what it's gonna be...of what they are going to listen during the show"…d'you know what I mean? He felt like it was in the best interest of this record to give my band a name, like DOUBLE TROUBLE like THE HEARTBREAKERS…So in festivals or wherever else …anytime you see DAMON JOHNSON & THE GET READY… you have no questions, I'm  gonna be there with the big guitars and big amps…great Rock!…And I love the name, THE GET READY…It just feels like a call to arms, it just feels like a celebration, it feels very positive.
MELODY LANE: So now you are recording and playing as a trio ... Let's introduce your drummer JARRED POPE and your bassist ROBBIE HARRINGTON to our readers ... We know they have played and collaborated with many great musicians such as TOM KEIFER, STEVE VAI ... How Did you meet them, how did you put the band together?
DAMON JOHNSON: It's really a very interesting story. I met JARRED POPE in 2007, when he became the drummer for WHISKEY FALLS, a country band that I was in. We were out there working, we needed a drummer, some guys in the band knew JARRED… and I immediately loved JARRED, I loved how he played. I and JARRED hit it off really well, we talked about our favorite records and our influences and things we were listening to, and it was quite clear that JARRED, just like me, was not really a Country guy, he was a Rock 'n' Roll guy…So, ironically, while we were in WHISKEY FALLS together, we did a festival, the next year, and ROBBIE HARRINGTON was playing bass for a very popular Country artist, Dierks Bentley and JARRED and I were watching him play and I said to JARRED "Check out that bass player man, that guy is a Rock guy man, look at him, look the way he plays"… ROBBIE had a great style, the way he dressed, the way he carried himself and immediately I thought that he was cool and I would have loved to play with him one day. And these things we are talking about happened literally 13 years ago…After that I went back to ALICE COOPER then I joined THIN LIZZY and then I was in BLACK STAR RIDERS, but I kept in touch with JARRED and ROBBIE…JARRED moved in Nashville the year after I did, so it was very quickly man, when I started putting things together to record my albums, I called JARRED and he said " Ok, let's do it!". And he's recorded on all my releases since 2016, on the ECHO Ep, on the live album and on the two full length MEMOIRS OF AN UPRISING and BATTLE LESSONS. JARRED's just been a constant for me now for about six years, I love him, he's my favorite drummer. Two years ago we were looking for a bass player and ROBBIE was my only call; it happened that he was available to work a little bit, and once we all got on the road together and started playing I could see instantly that it was special, it was not just three guys playing music: there's chemistry, there's respect, we've been doing this for a very long time and I couldn't be happier with the GET READY…
MELODY LANE: Talking about the writing process for BATTLE LESSONS, have you been the main composer or was it a team effort?
DAMON JOHNSON: Well yes…I'm the principle songwriter but the guys know there's always an open door for their ideas, I love to write songs and I love to write songs with my friends... Exchanging ideas, there is absolutely a lot of collaboration between us. Usually I make demos just for my own purposes, kind of devoloping the ideas, but none is more excited  than me when we go to the studio, because I can't wait to hear what they bring, because I know they are gonna make it sound way better then my demos ah ah ah...
MELODY LANE:  So TONY HIGBEE, who played guitar on your live album and on your previous album MEMOIRS OF AN UPRSING, is not in the band at the moment right?
DAMON JOHNSON: Oh TONY HIGBEE and I have been friends  for a long time. Tony is a very very busy boy. He works for TOM KEIFER, he also has his own band, it's a great band, that's called THE EAST SIDE GAMBLERS, they are fantastic…TONY and I talked each other and it was clear that with all the activities that he had, it was gonna be difficult for him to be able to also committ to what I was doing. About two years ago, we were kind of forced to do a few gigs as a trio and for me it was a lot of fun, there was something that I enjoyed about the dynamics of not having two guitars, it was a blast and I loved it. But I also told TONY whatever I play with another guitar player the job is his…If Tony can't be there then we are gonna do it  as a trio, it's not like I'm gonna get someone else…But I can tell you that I love the trio…and my goal, my intention is to keep it as a trio right now…There's been a lot of great trios that have been inspirations for us, everyone from RUSH to ZZ TOP to NIRVANA to JIMI HENDRIX to STEVIE RAY VAUGHAN & DOUBLE TROUBLE also GARY MOORE often perfomed live as a trio…
MELODY LANE: Living in Nashville I imagine that you will have the opportunity to easily come into contact with many musicians ... Have you ever thought about artistic collaborations, or about friends or guests who could play maybe on your future albums? It could be an interesting way to get attention for a new project like yours…
DAMON JOHNSON: Yes, totally!  It's something  we talked about…That's one of the beautiful things of living here in Nashville, I got so many friends here; friends  in newer bands , friends in older bands, rock bands, hard rock bands, classic rock bands…anything you can imagine is here. I do have the desire to put something out, that I've worked on in the last couple of years, that has included some other people, but I need to get permission from them to do it…There's one project in particular, that I'll keep it as a sorprise for now, but if everything goes as I'm hoping it will, I think I'd like to put this out within the next six months or so…Because it's all recorded and it's ready to go and it will be fun, it will be DAMON JOHNSON & THE GET READY with a very special guest. But in this moment everything is difficult due to the pandemic, it's not easy to meet people, we always try to find a way to work in healthy conditions but we must commit to stay safe, to stay healthy.
MELODY LANE: As your previous albums, BATTLE LESSONS's been released via your label, DOUBLE DRAGON RECORDS. Did you have contact with other labels or did you decide from the beginning to publish it independently?
DAMON JOHNSON: We had a lot of conversations about labels and I'm very flattered and honored that I've had several labels reaching out to me with the opportunity to do some kind of distribution deal or to work together …But, you know, I just feel like so much is changed in the music business over the last ten years; I have relationships with great photographers, great publicists, even a couple of people to help me work my songs in radio stations, especially here in Nord America. I felt very strongly that I want to kinda have ownership of my music, I'm not saying that I won't ever do a deal with a label, but I just don't know what difference it would make for someone like me right now…Maybe huge labels like Universal or Sony Music…but these labels they are not signing rock'n'roll bands anymore, they won't deal with rock acts…I do wish that BATTLE LESSONS, and my previous album MEMOIRS OF AN UPRSING, could get a greater distribution, internationally or even worldwide. But as it stands right now, a lot of these labels they want a lot in return for that…they want to own my music for far too long…like ten years, fifteen  years…for too long…I don't wanna do that. That's fine for some people or for some artists, they are ok with that, but for me it's just too long. We'll see man, maybe for the next record we will work with a company, you never know, but I'm loving putting this record out by myself. I just feel so fullfilled of doing it independently. I work very hard, I've always been an hard worker. I'm  staying very proactive on my website, on my social-medias, I take care of a lot of things and I love it. And I'm so happy with the pubblicists that I work with, I have a really great team and they really do a fantastic job, we are growing together.
MELODY LANE: Considering the current state and the crisis that exists in the world of music, I think it is fundamental for any band, apart from the world giants, to return to thinking as an emerging band, to find the closeness of the fans in order to receive direct support... to establish a direct relationship between the band and the fans ...
DAMON JOHNSON: Oh yes…You know, a thing that has always been very rewarding for me is the warmth and affection that the fans show me after the concerts. After the shows we played over the last two years, whether we were playing our headlining shows  or we were supporting some other bigger band, I always went out to the merchandise table... I 'm always happy to go to the table, I'm happy to shake hands and to take photos with the fans or to sign some stuff, and the fans shows their support buying phisical copies of cd and vinyls and t-shirts…and I enjoy that part of it, I like to play gig and then to connect to people, have conversations with the fans after the show, ask them what they think of the show, their favorite songs and all that kind of stuff… 
MELODY LANE: You are now the frontman, singer and guitarist of the band ... Do you find it stressful in any way? Do you succeed in managing everything easily?
DAMON JOHNSON: Well I love to be the  frontman, to sing and play guitar. Yes, it's a lot, but I've been doing it for so long and I'm quite comfortable carring all the responsibilities, singing, playing, making the setlists and all the stuff...When wayback in the nineties I fronted BROTHER CANE, that was an incredible experience, we made great records, we toured a lot and I learned so much…The challenge for BROTHER CANE was that I had not been a singer for very long, I had been playing guitar for a long time but not singing and beeing a frontman…so when BROTHER CANE broke-up I had a real sense of relief, that was fun but that was a lot of hard work, and so that's when I sort of embraced just being a guitar player again.  I played with JOHN WAITE, then I played with ALICE COOPER and then THIN LIZZY and then BLACK STAR RIDERS… Kind of over the course of those fifteen years, I started having ideas, writing more songs and recording at home ... Then at some point I felt ready, yeah ... I felt like this time I was ready; now I'm much more confident behind the microphone than 25 years ago ... and I feel like this record, BATTLE LESSONS shows that ... I'm much more comfortable in my own skin.
MELODY LANE: What about your touring plan…have you already got any scheduled dates in the next months?
DAMON JOHNSON: We want to tour as soon as possible, I'm happy to report that we already have a few shows booked here in North America... not many but a few;  we have a date supporting the great ZZ TOP and we might do some shows with SAMMY HAGAR, who's on old friend of mine, and then we are scheduled to play up in the Midwest with the great BLUE OYSTER CULT…so any fan of those bands will definitely have the opportunity to know and to get into the GET READY...and at the same time I talked with my friend Kevin Martin, from CANDLEBOX, to arrange some shows together and we booked a few shows on our own, we are gonna play down in my hometown in Birmingham, Alabama…So we'll see what happen, at the moment due to the pandemic everything is very slow, we go on step by step…
MELODY LANE: For a new band like yours, that is launching a new album and looking to expand its fan base, perhaps the best thing would be to open for or play in support of great bands that can attract huge crowds ... what do you think about that?
DAMON JOHNSON: Oh yes…Our music is made for big crowds, these songs are written, recorded and built for big audiences so…We love walking on stage in front of a crowd that doesn't know who we are, play our show and bring them on board…and there's no better way to do that obviously than to open for some established band so...I'd like to open for GUNS 'N' ROSES, and then I'd like to play with QUEENS OF THE STONE AGE, and FOO FIGHTERS, huge bands...We are also friends with the guys in KISS and LYNYRD SKYNYRD. You know, I'm really fortune because I know a lot of people in the world of rock music business and I think that the great thing about THE GET READY is that we have songs that would fit in all kind of situation...
MELODY LANE: I think a great couple to see live would be your band along with THE DEAD DAISIES... Both bands play a powerful and enthralling Classic Hard Rock...
DAMON JOHNSON: Oh I love THE DEAD DAISIES, those are good guys, we are great friends with them…And actually I did a little touring with them back in 2013. At that time I was in BLACK STAR RIDERS and in that moment we had an opening in our schedule, THE DEAD DAISIES needed someone to fill in on rhythmn guitar so I joined them for three weeks…it was so much fun!
MELODY LANE: Talking about the BLACK STAR RIDERS that you just mentioned ... It's been a few years now, can you tell us something about your decision to leave the band?
DAMON JOHNSON: I was just ready to do my own thing, that's all it was, pure and simple. I was ready to make my own music and really to make that a priority. The schedule was just getting too challenging, it was too difficult to commit full time to BLACK STAR RIDERS and still being able to give my music the attention that it deserves and it requires. That's one thing about rock'n'roll, being in two or three bands…well it's too much, it's chaos…There was nothing negative about BLACK STAR RIDERS, it was so much fun, RICKY WARWICK is one of my best friends, he's such a great songwriter, I learned so much from RICKY…It was a beautiful time but there was no way that MEMOIRS OF AN UPRISING and BATTLE LESSONS would exist if I was still in BLACK STAR RIDERS, there's just no way I could have written records of that quality on my own having to commit full time to a band like BLACK STAR RIDERS; so it was not an easy decision, it was very difficult, but once I did decide there was no looking back. I love those guys, we always keep in touch. Their last album, the one they did without me in the band, is fantastic, so…They are in a good place, I'm in a good place and I think everyone is very happy…
MELODY LANE: Speaking of your past I would have a couple of curiosities to ask you ... You were part of the ALICE COOPER's band for several years ... what do you keep of that experience?
DAMON JOHNSON: Oh well ALICE ... he's a legend as an entertainer and performer and he has very specific ideas. The most important thing for ALICE is the musical skill, the musicianship. You have to be a great musician to be part of his band. Once he gets what he wants in that aspect then the rest is almost fun for him: the show, what we were gonna wear, the guillottines, the snakes… nothing is left to chance. He just knows what he wants man, he's done it for so long, he's such a professionist. If he gots a new album out he knows how integrates the new songs, he works on the setlist… It's fun for him, it's like a big puzzle and he knows how to fit all the pieces in the right place while around he has great musicians playing those songs to the best of their ability.
MELODY LANE: My second curiosity ... You are one of the authors of JUST FEEL BETTER, a very famous song by CARLOS SANTANA, sung by STEVEN TYLER, included first in the album 'All That I Am' and then even in the greatest hits 'Ultimate Santana'by CARLOS SANTANA ... Can you tell me something about this song, how it came about and how it ended up on the SANTANA's album?
DAMON JOHNSON: Well, it started out as a song that I wrote with my long-time friend Buck Johnson. Buck is also from Alabama, we are not related but we've been friends for a long time; he's one of my best friends. Buck and I started writing the song in the early 2000's and later he brought in his friend JAMIE HOUSTON to finish it…And JAMIE came up with an incredible lyric, most of the lyrics of that song were JAMIE's. So they sent me the idea and, as soon as I heard it, I knew it was very special, what a great song. But another bonus of having JAMIE involved was that JAMIE also had a relationship with the president of ARISTA Records, CLIVE DAVIS, a music legend. JAMIE sent the song to CLIVE DAVIS who heard the song and loved it and then CLIVE DAVIS took it to CARLOS SANTANA, and also CARLOS loved it. Then CLIVE DAVIS said "What do you think if I call STEVEN TYLER and try to see if he wants to sing it?"…So it was really crazy, man…The short story of JUST FEEL BETTER for me, was that I was just in the right place in the right time; so much credit to BUCK JOHNSON, credit to JAMIE HOUSTON, I am so grateful for that experience, I'm so proud of being part of that song.
MELODY LANE: Your acoustic version of JUST FEEL BETTER, released on your album "RELEASE", is beautiful, I like it very much ... essential but full of feeling ...
DAMON JOHNSON: Thank you man, I love that song. I still perform JUST FEEL BETTER often, anytime I play in acoustic.
MELODY LANE: Damon, just one last question... In the past you wrote or co-wrote songs for different artists and bands... I think of ALICE COOPER, SKID ROW, SAMMY HAGAR, BLACK STAR RIDERS... Would you collaborate on some external project today or do you prefer to stay focused only on your music?
DAMON JOHNSON: I'm very secure in writing for myself but if some of my friends give me a phone call, because they need some songs or ideas for their records, it's not a problem at all:  I have tons of songs, I have dozens of songs here in my laptop…I always keep the window open, I enjoy collaborating, I love to write with other people for their project even if I'm much more focused obviously on my own music right now…

MELODY LANE: Thank you DAMON, just a message for MELODY LANE's followers and readers…
DAMON JOHNSON: Thank you so much, stay safe and stay healthy, fingers crossed ... I really hope to see you all on tour soon!


WEB: https://www.facebook.com/officialdamonjohnson  /  www.damonjohnson.com
ARTICLE BY: MIKE MATTY