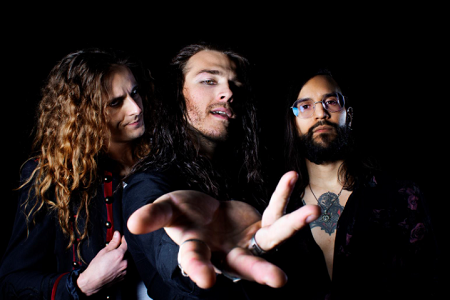 INTERVIEW WITH LUDVIG TURNER


MELODY LANE had a great interview with LUDVIG TURNER singer of the Swedish Alt-Rock band REACH!  
Ludvig told us about the roots of the band, the making and the great expectations for their new album 'The Promise of a Life' that will be released via Icons Creating Evil Art on April 23th 2021. 
MELODY LANE: First of all, also if it can sound a bit expected…Can you tell us where does the name REACH come from?  
LUDVIG TURNER: Haha! A great start! For me and Marcus our band was heading somewhere when we began playing together. We we're reaching for something Grand. Reach was the first name we came up with and the one we stuck with. It represents struggle and vision for us and is s reminder that we should keep challenging ourselfs as a band and individuals. Long story kinda short! 
MELODY LANE: The line-up of the band is confirmed, is it the same from the beginning of the band…or have you had changes in the last years? Can you tell us anything about the roots of REACH? And where the band was born?
LUDVIG TURNER: Reach started when me and Marcus met. Marcus auditioned for a band I played guitar in at the time. We got along real well and decided to start our own thing. We had a singer, Alex Waghorn, and went through bass players, rhythm guitarists and a keyboardplayers before we got  Zouf, our friend since the start of the band, to join Reach. This is Reach now forever more. Me, Zouf & Marcus makes this band without one of us there is no Reach! 
MELODY LANE: Can you list us 5 songs, from  REACH 's discography (including new material), that can define the sound of the band … 5 songs that can help our readers to know REACH at the best.
LUDVIG TURNER: We've been known for elaborating our sound through the years but 5 songs that we enjoy playing and songs from the new album that we look forward to performing are: 
NIGHTMARE (The Great Divine)
SHAME (The Great Divine) 
THE LAW (The Promise of a Life)
SATELLITE (The Promise of a Life)
MOTHERLAND (The Promise of a Life)
They are all somewhat progressiv and exciting. If you like these songs you'll find many more with a similar vibe. 
MELODY LANE: Tell us something about the creative process of your music. Is there a main composer or we can talk about a team work? The songs come from ideas of a single member and then the band works on these ideas in the studio jamming  together, or your songs are written in the studio and all the members compose together?LUDVIG TURNER: Every member in Reach knows his place and What he represents in the band. I usually make demos and write lyrics but the songs are put together in prodcution. Zouf & Marcus really makes up for 66.6% of the sound. Usually we make a lot of changes in the songs while recording. Marcus could play something  unexpected and we go "Wait wait wait!! Do that, let's re-arrange something and get that in the song!". It's a great way of creating in my opinion. The promise of a Life has a lot of that.
MELODY LANE:  Can you tell us something about contents and messages of your last album ? …Can you tell us anything about the whole concept of The Promise of a Life? And plese tell us where does  this  title come from?  
LUDVIG TURNER: The titel was picked from that last song of the album. The promise of Life has a bit of sarcasm in it. The promise of a life is necessarily not The promise of a Good life. This album puts feelings like Fear, Anger & vengefulness in the spotlight. They're topics that I find easy to write about and more exciting for me than "happy ending stories". From the bands point of view this album is us trying & doing our best. Every line oN the album recorded has thought behind it and rather than trying to push our individual skills we aimed to create a piece of art we can be proud of. And we are!
MELODY LANE:  …After time, are you totally satisfied with your choices about sound and the writing of your previous albums? If you could… would you change anything? What did you focus on to make the sound better and perfectly consistent with the musical ideas you had in mind?
LUDVIG TURNER: I'd like to think that we did our best on all three albums but with time we all got more experienced as musicians and persons. It really feels like we're heading for a good direction when it comes to writing music and performing! For me personally I think I could have given the lyrics more time for the albums prior to this one. I was very focused on the guitar since it's my main instrument but in The Promise of a Life I Sat down with the songs and really worked them hard. I want to give the listener something honest and real. 
MELODY LANE:  So apart from the covid/pandemic situation…will you tour in the next future? Have you already a touring schedule? Any chance for us to see REACH playing live here in Europe/Italy in the next months/year?  
LUDVIG TURNER: We have a tour planned with our brothers in HEAT! It's been postponed almost a year but it's happening. Italy is one of the countries we're playing in. I'm very excited for this!
MELODY LANE: Could you tell us two bands, from the actual international scene, you'd like REACH to tour with?... Two bands that would represent a perfect line-up for REACH to play with. And why these bands?
LUDVIG TURNER:  All of us probably have different answers but for me a dream would be to Open up for MUSE. I think we'd be a Good opening act! But I'd be too star strucked to perform well, haha! Another band i recently Discoverd is AWOLNATION, most of the songs from the The Promise of a Life would do good with their songs in my opinion. They're awesome! If you have not listened to AWOLNATION then check out "Fiesta Fever". That's an epic song!
MELODY LANE: We know that 'to define is to limit'… but how do you define REACH sound? Are you an  ALTERNATIVE ROCK band…a MODERN ROCK band… A  MODERN PROG BAND…Or…?
LUDVIG TURNER: We seem to be ever changing but this album is a bit Alt-rock i guess! 
MELODY LANE: Which musicians are/have been your main musical inspirations? And which are your favorite bands nowadays?
LUDVIG TURNER: Nowadays I listen alot to classical music and specifically Chopin! But that's becouse in hard core practising piano atm. But AWOLNATION as i mentioned is an artist i really appreciate! Marcus and Zouf i can't tell you but we all listen to all kinds of shit! Hehe
MELODY LANE: As a musician, what has been your biggest achievement to date and what do you want to achieve in the near future?  
LUDVIG TURNER: For me Reach has been something i'm really proud of and right now I feel like I want to spent my life creating under that banner. We've all done cool gigs and player with awesome artists but making your own music, releasing it, performing it and seeing it being appreciated is just something else!
MELODY LANE: Until today...What was the most important concert for REACH's career? And why? 
LUDVIG TURNER: I think the 2 shows we did with HEATS during a weekend just days before the pandemic began ended up meaning alot for all of us. We noticed that our new songs and performace was the next step up! It felt like we started the engines to a rocket ship but were then forced to turn them off. The last time we did a gig was the first time we all felt  "We're on To something, for real..."
MELODY LANE: In the end…A message from you to all MELODY LANE readers.
LUDVIG TURNER: First of all we want to thank MELODY LANE for featuring us, Thank you! It means alot. To the readers of MELODY LANE: Thank you for supporting the music scene with you enthusiasm, especially in these days when we need you the most! If you're a Reach-fan we love you and if you're new to our band we Welcome you with open arms to our wierd little family! Allt the best & take care of yourself!
Web: https://www.facebook.com/reachofficialsweden
Interview by: MIKE MATTY