INTERVIEW
WITH
ELECTRIC
BOYS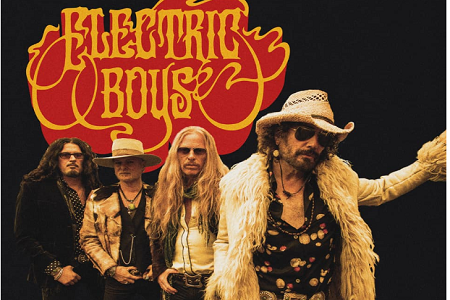 INTERVIEW WITH CONNY BLOOM

Melody Lane had the pleasure to have a very interesting interview with CONNY BLOOM, singer, guitarist and frontman of the Swedish legendary influential rock band ELECTRIC BOYS! CONNY revealed us interesting details about the new album UPS!DE DOWN that will be released on April 30th via MIGHTY MUSIC and shared with us fascinating Rock stories ... from collaborating with GINGER WILDHEART to joining the Finnish cult band HANOI ROCKS. Interview not to be missed!
MELODY LANE: Hi CONNY, to start a few words about the line-up, we know that there has been a change of guitarist ... MARTIN THOMANDER who had already played with you in the past is back ...
CONNY BLOOM: Oh yes MARTIN is the same guitarist who played on our third album FREEWHEELIN'. I'm very happy with this because once we decided to part with FRANCO SANTUNIONE, I only had MARTIN in my head as a substitute, no one else. It had to be him! I didn't even have a plan B in case MARTIN refused. But fortunately he accepted otherwise I would not know. He is the right person, I am totally happy with his return.
MELODY LANE:What was the reason for the separation with FRANCO SANTUNIONE?
CONNY BLOOM: It was about the music, but also some differences of point of view regarding the record company, issues concerning the business side, he had some different ideas that didn't seem right to us, so in the end, we decided not to continue and not to play together; I think he's much happier where he is now, in his new situation, with the new band… All came together really good.
MELODY LANE: FRANCO has now joined BLACK PAISLEY, I read that the two bands will play together soon right?
CONNY BLOOM: Yes there is a  show planned in Stockholm. I think in September if I remember correctly. Given the situation we hope to play... who knows...
MELODY LANE: Keeping on talking about the line-up, tell us something about the situation with your two drummers ... Is NICLAS SIGEVALL still in the band?
CONNY BLOOM:Yes, NICLAS is still in the band, but he lives in Los Angeles and he hasn't returned to Sweden due to the pandemic. So I called him, and we talked about the fact that the band had to go on anyway, and we had to make an album to go on otherwise the band would have risked dying ... and NICLAS accepted without problems; so we called JOLLE ATLAGIC to play the drums, he had already played with us and recorded three songs on our previous album. NICLAS and JOLLE, they are both great musicians who play very well, but NICLAS, who lives in the US, can't join us for a one off gig, or just a couple of shows, d'you know what I mean? NICLAS, from the USA, can join us for a tour or for extended periods in the studio, while JOLLE will do the rest ... At the end of the day JOLLE has played more shows than NICLAS lately. So JOLLE, as well as MARTIN, was the very first option and all seems to go for the best...
MELODY LANE: You and JOLLE played together for a while in HANOI ROCKS ... Did you meet around that time?
CONNY BLOOM:Yes,  we first met him when he came to Helsinki to audition for the role of drummer in HANOI ROCKS. There were two Finnish and three Swedish drummers and JOLLE was one of them.
MELODY LANE:In the last year we have seen many bands that have decided to postpone the releases of their new albums due to the pandemic, perhaps preferring to release them on dates closer to the resumption of live shows ... Your new album will be released in April, do you think it will be the right time or have you also had doubts about it?
CONNY BLOOM:Of course we talked about it. You know my opinion is that even if we can't play live people still listen to music, I don't see any connection between not being able to play live and not releasing a new record. It is clear normally the albums come out before going on tour but the times are different so you have to think differently ... We kept writing and doing stuff for the band, to keep us active and make sure people don't forget us. We made some videos, we will record a concert for a pay-per-view show, we will do lives from the studio, 'Questions and Answers' with the fans, stuff like that.It's important to keep moving forward, I couldn't even imagine what year it would have been if we hadn't recorded the album. On March 13 of last year I released my solo album, and at the same time all hell broke loose, I was really down and I really don't know ... Music, continuing to write and being creative are the things that kept me going...
MELODY LANE:Do you already have dates planned to promote the album? ... Are you planning or have you already planned a tour?
CONNY BLOOM:We have dates scheduled in Scandinavia in September, and then a couple of festivals towards the end of the summer in Belgium and France; you know we have a new booking agent in Germany who is pretty optimistic about the situation and he talked to us about dates in Germany and other neighboring countries probably also in Italy ... but I don't know ... so we have to wait ... This year we should have played  at the MONSTERS OF ROCK CRUISE too with ALICE COOPER and many other bands, maybe it will be rescheduled for next year, we hope ...
MELODY LANE: I wanted to ask you something about some songs on the new album ... let's start with "Twang 'em & Kerrang' em" ... a very strange title ...
CONNY BLOOM: Oh it's a fun party song ... KERRANG is written like the rock magazine in the UK, and when you pronounce it, it imitates the sound of a distorted electric guitar, a big distorted chord, or the sound of someone hitting an electric guitar ... and also TWANG... I don't know, it reminds me of the sound of the 50's rock guitar, they are two words/sounds that remind me of 'guitar and rock', it's a bit difficult to explain ... TWANG'EM AND KERRANG'EM is a way of saying 'give them a powerful sound of real Rock'… I don't remember the title as it came out but the lyrics are a small tribute to EDDIE COCHRAN and to the Rock'n'Roll of the 50s. You know ELVIS, CHUCK BERRY, LITTLE RICHARD, FATS DOMINO mainly this was the music that was listened to in my house since I was just a boy… the music that my parents listened to. These artists obviously along with THE BEATLES, that my mother listened to them all the time, had an immense influence on me.
MELODY LANE:Another song that really impressed me and that I found really catchy and interesting is "The Dudes & The Dancers"... how was the song born and what is it about?
CONNY BLOOM:THE DUDES AND THE DANCERS ... was born from an idea of ​​ANDY CHRISTELL, our bassist, who had this riff in his head which then became the main riff. It's a song about the Sunset Strip years, fortunately for a while we lived those years, that period ... So about the title...You know in Los Angeles in those years they were all going around saying "HEY DUDE, HEY DUDE" ... there was this very common saying... and instead 'THE DANCERS' obviously refers to the strippers of the clubs and to the dancers of the night clubs. When ALL LIPS 'N' HIPS came out, people called it the strip-song ... often after the shows we went to clubs and people danced to the rhythm of our song ... So let's say that THE DUDES AND THE DANCERS is a bit of a way of remembering those crazy, funny and weird years.
MELODY LANE:I found it a good and truly unexpected choice to open the album with a long instrumental track ... THE UPSIDE DOWN THEME is a fantastic track!
CONNY BLOOM:Oh yeah THE UPSIDE DOWN THEME, you know after it was written we immediately thought it should have been the first track, but then you know as time went on we weren't sure if it was such a good idea. We talked about it a bit ... and the thing was ... we weren't sure it worked in the middle of the track-list but we were pretty sure it wasn't suitable as a song to close the album ... So the only way was to use it as the opening of the album. We were pretty sure that our manager or the label didn't like the choice, so when we drew up the running order of the songs we were sure there would be some problems but instead it went well, they liked it that way and we confirmed it as an opener of the album.
MELODY LANE:I think it's a great song to use as an opening for concerts too ... Powerful and engaging...
CONNY BLOOM:It is always good to start a concert with an instrumental track because it allows you to get into the sound, to understand if everything is ok, to feel the vibrations of the audience before starting to sing. Before I start singing there are several things to think about, you know I am the singer, the guitarist and the front-man and then I have to remember the lyrics, so just playing the guitar initially and gradually getting into the show is a good way to start...
MELODY LANE: It is quite rare to find an opening track that is instrumental and even longer than seven minutes on a Classic Rock or Hard Rock album as UPS! DE DOWN can be ... Generally everyone leans towards the usual 40 ... 50 seconds intro...
CONNY BLOOM:It is really important not to be predictable; it would be extremely boring if people expected something from a band and systematically got exactly that thing. Every time we try to insert new or different elements in our albums; for example if we look back, I think of ALL LIPS 'N' HIPS ... let's say that in itself it is already a good song but, in my opinion, the sitar in the beginning makes it special; it's kind of weird to hear an instrument like that in a song of that genre, it's an instrument that GEORGE HARRISON played in the 60's, and putting it together with a Hard Rock riff was pretty weird; we have always inserted new or particular elements, sometimes different genres in the same album like Funk, Blues, Hard Rock ... and also something special in the production and in the sound. In short, we have always tried to make the albums a bit unpredictable so to keep alive the listener's attention. And we hope we have succeeded in it. There is only one band in the world that has never changed...AC/ DC. But we, as fans, don't want them to change ah ah...but I really think they're the only ones.
MELODY LANE: And about the title… UPS!DE DOWN…What about it?
CONNY BLOOM: If we look at the world today, everything is upside down ... that's an easy answer. I'd say it's a very appropriate title for the times we are living in. But actually the words "UPSIDE DOWN" come from a message that I read in a cap of a COCA COLA bottle ... the cap was lying on the table upside down and inside was this message that said 'upside down' ...and, I don't know… it was cool. Instead, talking about the artwork, ANDY, our bassist, came up with this idea of ​​the wooden box, it is an artwork that recalls some old albums of ALICE COOPER, the vynils …albums we grew up with, like MUSCLE OF LOVE, SCHOOL's OUT or BILLION DOLLAR BABIES… that concept of folding covers. We talked about it with CHARLIE GRANBERG who works on our sleeves and he immediately liked the idea and so we decided to go on that path.
MELODY LANE: Tell us something the writing process and the working method behind ELECTRIC BOYS' music…
CONNY BLOOM: I usually write songs at home and I record demos with a drum machine, bass and guitar, so let's say the songs structure is almost complete. Then with the other guys we listen to the ones that seem the best and we start to rehearse them and in this phase we change something over,  according to the ideas and intuitions of the others; They put their personalities into the songs as normally it should be…and that usually happens. But it's not always in the same way...Sometimes, someone else comes up with ideas, which can be a riff or a chord sequence, and we work on it together. For example as regards THE DUDES & THE DANCERS, ANDY CHRISTELL composed the riff and the main melody, I wrote the lyrics and the title; SUPER GOD was born from a riff by JOLLE as well as INTERSTELLAFELLA was born from an idea of ​​ANDY. I always welcome the ideas of the others...We are a band.
MELODY LANE: List some bands you would like to tour with and that touring with might be useful for expanding your fan base, some bands whose fans might like your music and start getting to know ELECTRIC BOYS
CONNY BLOOM:I would definitely say FOO FIGHTERS because they are huge and they are a great band. Otherwise I can think of GUNS 'N' ROSES, ALICE COOPER or AEROSMITH…THE DEAD DAISIES are also a band I would like to play with ... In general I think we might be interesting to fans of bands playing Hard Rock and Classic Hard Rock ...
MELODY LANE:In 1994, after the third album FREEWHEELIN, the ELECTRIC BOYS broke up ... while Psychonaut, your first solo album, came out in 1999. What did you do in those years between 1995 and 1999? We lost your tracks ...
CONNY BLOOM:I put together a band called CONNY BLOOM's TITANIC TRUTH, more than a band it was the longest jam I've ever been in, it went on a couple of years, we recorded an album, we released it and then we broke up. It was a band with a totally anti-commercial way of thinking, we played pissed off and fed up with the music business. Instead, as far as PSYCHONAUT is concerned, I have always thought that it is a great album, certainly different. The problem is that a lot of people didn't understand it at the moment, because it didn't sound like ELECTRIC BOYS, it was a different sound, a different style, people weren't ready, they weren't prepared for an album like that. Even today, after a long time, I meet people who congratulate me on PSYCHONAUT, they discovered it later ... but better late than never.
MELODY LANE: In my opinion PSYCHONAUT is a beautiful album, personally I think it is the best of your solo albums, a shame it didn't have the success it deserved ... After that experience you collaborated with GINGER WILDHEART right?
CONNY BLOOM:PSYCHONAUT did well in Sweden, it sold enough but it wasn't enough to move on, so while I was wondering what  would be the next move for my career, I received a letter from GINGER WILDHEART, a real letter, the kind the postman delivered to you, not an e-mail ah ah ah…in which he wrote me that he had  recorded this solo-album but that he felt that 'it sounded like a band' and in short he wanted to start a band to go on tour and that he wanted me as a guitarist. So I joined SILVER GINGER 5 and it was great...We toured the UK and Japan, a couple of times, and we also recorded some songs together like WALK LIKE A MOTHERFUCKER, MORE IS THE LAW and something else...and these songs were released as bonus-tracks in the reissue of the album BLACK LEATHER MOJO. I think SILVER GINGER 5 was a great live band, the Sonic Shake video is fantastic, straight-in-the-face Rock'n'Roll, it was one of my best moments, really cool! And then I played with GINGER again in his solo band GINGER & THE SONIC CIRCUS in 2005...and then I joined HANOI ROCKS…
MELODY LANE:I've always been a huge fan of HANOI ROCKS, a legendary cult band. I was shocked when you joined the band, you and ANDY McCOY together, an incredible pair of guitarists. What was your opinion about the band and how did you get into the line-up, how did they contact you?
CONNY BLOOM:Clearly I was inspired by HANOI ROCKS, like many other bands in the past…They were something new, different, I remember seeing them in Stockholm and I was definitively blown away by their show.Well… I met them…We'd got in touch in the early 1980s,I was playing in a band called ROAD RATS, it was a power trio, and our drummer was GYP CASINO the original drummer of HANOI ROCKS. We had a couple of hits in Finland and started playing around, and then we opened up for HANOI ROCKS on a tour and so we met them and we became friends...I made friends especially with ANDY McCOY. Sometimes we played together, we did jam, we liked playing stuff like STATUS QUO and ANDY McCOY often told me that sooner or later we should have played together; but then we lost touch, HANOI ROCKS moved to London and things went how they went. Many years later, he was here in the city, I don't remember if he was here for playing some acoustic show or what...and he tried to get in touch with me and in the end he came in to my house. I remember him looking at my records collection and saying that it was practically identical to his collection, he was pleased that we liked the same artists ...As a matter of fact he suggested a lot of that stuff to me during the 80s, I think of Betty Davis and THE UNDISPUTED TRUTH's albums. Anyway…he phoned me back a little while later asking me to reach them and to try. And it worked and so I joined the HANOI ROCKS and I stayed with them for about four and a half years.
MELODY LANE:So we can say that ANDY McCOY really wanted you in the band ... But also ANDY CHRISTELL, your historic bass player, joined HANOI ROCKS at the same time right?
CONNY BLOOM: Yes it was mainly a ANDY's choice to get me into HANOI ROCKS, MICHAEL MONROE didn't know as much about me as a guitar player as ANDY did...I went over to Helsinki to hang out and to play with ANDY McCOY for a few days and he then said " I want ANDY CHRISTELL to play bass with us". You need to know that ANDY CHRISTELL had already played with ANDY McCOY in the past, during the tour that ANDY McCOY did for his solo album BUILDING ON TRADITION…So he ended up joining HANOI ROCKS a little while after as well…And it was fantastic, great tours, including a couple of times in Japan, and a bombastic ending in Helsinki, at the Tavastia Club, where we did eight shows in six days...unbelievable, fantastic.
MELODY LANE: If I'm not mistaken you worked in the studio with HANOI ROCKS on the last two albums ... What can you tell me about that experience in the studio and about writing songs with them?
CONNY BLOOM:When I joined the band the ANOTHER HOSTILE TAKEOVER album was pretty much finished, they were mixing it. I recorded a couple of overdubs, maybe something else, but it was just their way of being nice to me, I had just joined the band and they wanted to make me feel part of the team; For STREET POETRY it was different. It was an album that we wrote and worked on together as a band; If I'm not wrong I think five songs were born originally from ideas that I had brought to the table and that then were developed together with the other band members…Well in my opinion, it turned out to be really a good record in the end, we had lots of fun and in the studio the band worked really well together.
MELODY LANE:Was it difficult to work and write with another guitarist...in particular ANDY McCOY? A character known for having a rather strong character ...
CONNY BLOOM:Absolutely not, we both love 50s and 60s rock, that kind of sound and that kind of melodies ... and as I told you we were inspired by many artists in common ... a fun and creatively stimulating time ...
MELODY LANE:Unfortunately the second version of HANOI ROCKS also broke up ... MICHAEL MONROE and ANDY McCOY said they had taken the band as far as possible and things were getting stale... even though there were actually statements afterwards that revealed tensions within the band and that it had become a bit difficult again to work... You were there, with them ... what can you tell us about it?
CONNY BLOOM:You know ... they are like brothers; in HANOI ROCKS they need each other, and it's a bit like ROLLING STONES, what happens between MICK JAGGER and KEITH RICHARDS ... you know ... this closeness and playing with someone for so long inevitably creates tensions; I think it's normal; and so sometimes it comes to say "enough, now I've had enough". It also happened to me and to ANDY CHRISTELL, our bassist, it's like he was my brother, we have always played together, since we were kids ... sometimes there are moments of tension but I repeat I think it's normal, it can be. MICHAEL and ANDY had a different lifestyle, they're like yin and yang and yeah ... definitely there was tension, but I guess it's not always negative tension, big bands need that kind of tension sometimes.
MELODY LANE:You have released several solo albums and for many years in ELECTRIC BOYS you have always been the leader and the front-man ... finding yourself to be 'only' one of the two guitarists, did it create problems to you? ... Were you serene anyway ... did you live that situation with satisfaction?
CONNY BLOOM:First and foremost I see myself as a guitarist, and I definitely consider myself a team player; some people, who followed ELECTRIC BOYS, who were in our music, said things ... maybe a little rude ... like I was selling myself, because in HANOI ROCKS I didn't sing, because I wasn't the front-man and blah blah blah ... but I was fine, for me just being the guitarist was a luxury and then when you have a stage animal by your side like MICHAEL MONROE it's all simpler, it's a show within a show, he takes control over the situation and that allows you to focus just about your stuff, about your sound there's not much else to think about ... When I have a front-man like MICHAEL close by or if I play, I don't know, with IGGY POP, STEVEN TYLER, AXL ROSE or characters of that caliber, well I would definitely be happy to be 'just' the guitarist too ... but it has to be a guitar-playing that I think and that I feel exciting…As a guitarist I want to feel creative, I want to have space to jam and to come up with things and ideas…to experiment. I wouldn't want to be just another studio-guy or a side-man…that's boring stuff.
MELODY LANE:I happened to be in the front row during some MICHAEL MONROE concerts ... You never know what's going to happen ....
CONNY BLOOM:And that's the way it should be really, that's how it was back in the days with JIMI HENDRIX and THE WHO, the most important thing was the excitement when you went to a show, the desire to have fun and be amazed ...
MELODY LANE: CONNY we are almost closing, and I have a curiosity ... Among our readers and followers there are several fans of JOHN CORABI, great singer who has been part of bands like MOTLEY CRUE, THE DEAD DAISIES, RATT and UNION ...I saw you have often played together in the past, at MONSTERS OF ROCK CRUISE or in different acoustic shows ... What can you tell us, are you friends, how did you come in contact?
CONNY BLOOM:I think the first time we met was at SWEDEN ROCK, at the hotel bar, and we started talking and he told me that he and TOMMY LEE had attended one of our shows in LOS ANGELES, when we played there with ELECTRIC BOYS ...and then we always kept in touch; sometimes we jam, and when we're on tour or we're in the same cities, and it's possible, we play something together. He's a lovely guy, I love his way of singing ...
MELODY LANE: Last question...Do you have a 'big regret' about your career? Maybe something that in hindsight you wish you had done differently? Something that maybe could have changed things about your band or your career ...?
CONNY BLOOM:Luckily I don't have one of those things that I think about all the time or that haunts me. But...Well... I would say ... but that's just a guess, a little doubt, of course we will never know if it would have ever made the difference...and that is... Who knows what it would have happened if we had released the original Swedish version of our first album FUNK-O-METAL CARPET RIDE all over the world instead of changing five 5 songs working a long time in the studio with Bob Rock and then releasing it again ... Yes...maybe we should have released the first version of the album worldwide and then straight away to start working on the second studio album with BOB ROCK... In this way the second album would have come out much earlier and would have taken advantage of the momentum and of the favorable moment we were having after the release of our debut album ... D'you know what I'm mean? ... There was a too long time-gap between the first and the second album...Too time passed, it took too long between the two records. Maybe it could have been different…but then again we don't know, we can't know. But we have always fought for our ideas and if we think something is right then this is the only thing we will do; if later it proves that it was a good move at least you did what you believed in ... but you still can't know about the future ... so ... But it's just a thought, I wouldn't call it a regret. It is what it is ...
MELODY LANE: Thank you CONNY…just a message to MELODY LANE's readers and followers…
CONNY BLOOM: Thanks guys, I hope you will listen and enjoy our new album ... Hope to see you on tour soon! Stay safe!