INTERVIEW
WITH
THE
QUIREBOYS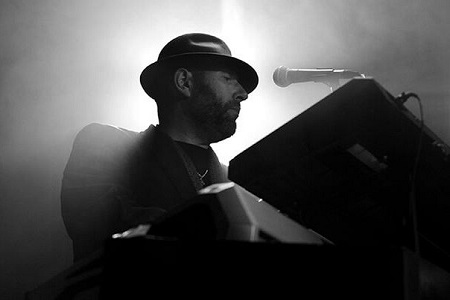 INTERVIEW  WITH 
KEITH WEIR
MELODY LANE had the pleasure of interviewing KEITH WEIR, keyboardist of the legendary English Blues / Sleaze Rock band THE QUIREBOYS!
His entry into the band, the performance at the DOWNLOAD FESTIVAL on stage with DEF LEPPARD, the collaboration with the Hard Rockers THE ANSWER and the experience with the all-stars side-project DOWN 'N' OUTZ, an unmissable interview for all Rock lovers !!!
MELODY LANE: Hi Keith, if I'm not wrong you have been in THE QUIREBOYS for twenty years now ... Tell us how did you get the job in the band ...
KEITH WEIR: well... it's been 20 years since I joined THE QUIREBOYS, precisely in July there will be the anniversary of my first concert with the band. I joined the band thanks to PAUL GUERIN, who is currently one of our guitarists. In the late 1980s PAUL GUERIN was playing in a band called RED DOGS and with that band he had toured the UK with THE QUIREBOYS, who were promoting their first album A BIT OF WHAT YOU FANCY at the time. So he knew SPIKE and the other guys ... In the early 90's I moved from Northern Ireland to London and started playing in various bands and PAUL, who had left RED DOGS in the meantime, joined my band of the time. Then it happened that SPIKE and GUY GRIFFIN returned to London from the United States to do some acoustic dates as opening act for some dates of the CHEAP TRICK's tour and because they wanted to move back to the UK and put the band back together; so in search of musicians they contacted various people including PAUL GUERIN who gave him my name as they were looking for a keyboard player. Then after a couple of years maybe three PAUL GUERIN also joined THE QUIREBOYS and now here we are…
MELODY LANE: We interviewed SPIKE a while back and he told us that THE QUIREBOYS were planning to release a re-recorded version of A BIT OF WHAT YOU FANCY for the album's 30th anniversary and that maybe some member of the original lineup would play on it, can you tell us anything about it?
KEITH WEIR: Oh yes, basically it's all recorded. Because of the pandemic it's been difficult to get things done, very difficult…We all live in different part of the country in the UK so…As soon as we came back from the tour in America the Lockdown came into force. There have been so many problems to meet each other and I don't think any original member will play on it. Maybe some guest,there's some chance, but it's hard, it's really too difficult in this situation. We live in a limbo, like everyone else, we hope to get out of it soon. What I can tell you is that it's almost complete; Of course there is still some work to be done but presumably it will be out for the summer, maybe August or so ... I can tell you that the sound is great, it will be great ... and then we have already started working on a new studio album!
MELODY LANE: Another album? You guys never stop writing music…
KEITH WEIR: When we look back it seems incredible, we have made many albums, about one every year in the last period ... That's our philosophy, always doing new things, always keeping  things going with the band ...
MELODY LANE: About writing music…Tell us something about THE QUIREBOYS' song-writing process…
KEITH WEIR:  Well, let's say most of the work is done by SPIKE and GUY, they have been working together for a long time now and they keep making things go this way. PAUL GUERIN also sometimes contributes to the writing of the songs but still the bulk of the work is done by SPIKE and GUY. They are a very close couple, it's a bit like what happens in ROLLING STONES or AEROSMITH ... SPIKE is a great lyricist and also a great guitarist, Guy collects ideas when we are around, records things and then brings ideas to the studio, where then we work on it and the songs develop and take shape and I can say that in the studio we are quite fast, the work is done rather quickly ... also because we are a traveling band, we are around as much as possible and we never remain closed in a studio for too long.
MELODY LANE: ... When we interviewed SPIKE, he expressed a very interesting thought, because he made us understand what it means to be part of a legendary cult band like THE QUIREBOYS and that it is not easy to be part of it, he said these words: ". ..A LOT OF PEOPLE CAN ROCK BUT A LOT OF PEOPLE CAN'T ROLL ... ". After twenty years you are now part of the soul of the band, what can you tell us about these words from SPIKE ...?
KEITH WEIR:  Quireboys are a great Rock'n'Roll band, a great band to play in ... Clearly like all bands we have 'our moments'  but it's a wonderful band and I think things get better and better as the years go by . And it's true ... "A LOT OF PEOPLE CAN ROCK BUT A LOT OF PEOPLE CAN'T ROLL" ...It is a great saying ...In no way you could explain it better… It's a question of 'swing', I'm talking about the quality of the rhythm… it's a sort of special feeling. It's difficult to explain, because the music of QUIREBOYS is not complicated but you have to 'stay in it', it is a music that's engaging and has its own soul. Yeah… It's a question of feeling. D'you know what I mean?
MELODY LANE: After all these years, if you had to choose, which THE QUIREBOYS' album you played on is your favorite and the one you like least ...?
KEITH WEIR: Oh this is too difficult a question, we are committed and we have given the best of us on every album, but so here on the spot I choose AMAZING DISGRACE, but only because it is the latest, the most recent ... I find it a fantastic album ... The album I like least I don't know, maybe one of the live albums ... but simply because I'm not a big fan of live albums in general ...
MELODY LANE: In the past years you have played with several great bands, I think about GUNS 'N' ROSES, DAVID LEE ROTH, ZZ TOP, WHITESNAKE ... Do you have any particular memories and is there any other band you would love to tour with?
KEITH WEIR: Looking back we have played with so many great bands and it has always been wonderful and very very funny ... and you forgot to mention ALICE COOPER, with whom we have done several concerts. ALICE is a true gentleman!... AXL ROSE has always been nice to us, he and SPIKE are great friends. We opened for GUNS in Switzerland, in Basel, in 2012 ... We played for an hour and a quarter in front of a sold out arena, it was fantastic. You know, I remember backstage, I was chatting with DIZZY REED, the keyboardist of GUNS, just before GUNS took the stage, and AXL jokingly told me off  "... Hey guys cut it short otherwise we'll be late for the show and then everybody will get mad at me as usual ... but I'm never late! "Ah Ah... He was so funny, AXL is really cute and funny… Well it would be great to tour again with the bands we have mentioned so far and I would definitely add CHEAP TRICK to them ... they are great! CHEAP TRICK and THE QUIREBOYS would make a great couple together.
MELODY LANE: THE QUIREBOYS are a band that is almost always on tour … Which are the countries where you have a hard core of fans and have the most requests to play?
KEITH WEIR:We are lucky, over the years we have played in different parts of the world and we still have several requests to play around. We do very well here in the UK and also in Sweden, Ireland, we often play in Spain and Germany too ... and last year's concerts in Australia also went very well. Personally I would like to tour Japan and then go back to South America, where years ago we did some great concerts, I remember in Sao Paulo in Brazil and in Buenos Aires in Argentina, incredible shows, the fans there are wonderful, really passionate and warm. ... Anyway, believe me,  20 years in THE QUIREBOYS have been 20 really busy years, between tours and albums we never stopped ... 20 years flew by in a flash ...
MELODY LANE: You mentioned the shows in Australia, they were among the last shows before the lockdown, right? Speaking of the tour, I recently read that you are starting to reschedule new dates in the coming months ...
KEITH WEIR: Yes, we were in the middle of the AMAZING DISGRACE album tour. We did some shows in Australia, and then we went to the US, it was March of last year ... Our last show was in Louisiana. As soon as we got home, the Lockdown was declared and the world stopped. Now it seems that things are going a little better as far as the pandemic is concerned, and we have shows scheduled in England and further on in Spain and also festivals, like the Steelhouse Festival and HRH Sleaze, have been rescheduled over the summer, but I don't know ... let's hope everything goes the right way ... In March next year we have several dates  already confirmed in Germany... fingers crossed!
MELODY LANE: There are a couple of things I'm really curious about:
- The first one: you played on SPIKE's solo album entitled '100% Pure Frankie Miller' ... On that album there are great musicians like IAN HUNTER, RONNIE WOOD, BONNIE TYLER ... Did you meet them during the recordings?
- Second one: in 2016 you recorded keyboards on four tracks of the album titled SOLAS by the Northern Irish Hard Rock band THE ANSWER, how did the collaboration with CORMAC NEESON and his band born? 
KEITH WEIR: '100% Pure Frankie Miller' is a fantastic album, and so many awesome musicians play on it. Unfortunately, however, we recorded separately, I didn't have the opportunity to meet them. I remember that to record the parts of RONNIE WOOD, SPIKE went to his house, together with the sound engineer. As for THE ANSWER  and my collaboration on SOLAS, it was born because I am part of a sort of small ALL-STARS Northern Irish cover band called THE DIAMOND ROCK ALL STARS and once a year we play for the anniversary of the club which is precisely THE DIAMOND ROCK CLUB in Ballymena; besides me the band is composed of Cormac Neeson from THE ANSWER on vocals, Pat McManus (Ex Mamas Boys & Celtus) on guitar, David Bates (Ex Sweet Savage) on drums and Seamy Donnolly (A Little Bitter) on bass. We play covers and have fun. During one of these shows Cormac asked me to participate and to record some keyboard parts on the album they were recording and which was SOLAS. We went to County Down in the studio of Paul Mahon, the guitarist of THE ANSWER, and we worked a whole day, myself, Cormac and the sound engineer. It was interesting and really fun and then Cormac is an exceptional guy, he has a lot of talent, he is very good ... We are good friends.
MELODY LANE: I read that you played live with DEF LEPPARD on tour in the past, but were you actually their keyboard player? What can you tell me about that experience?
KEITH WEIR: Oh no I wasn't their keyboard player... You know, I played just for three concerts with DEF LEPPARD, it was in 2011. I played with them at the Donington DOWNLOAD Festival, in front of 80,000 people, a unique experience, and then in Dublin and Belfast.  Joe Elliott invited me and I spent a week with them. I went up on stage during the encore to play piano on WHEN LOVE AND HATE COLLIDE, a lovely song. It was a fantastic experience, it was an honor to receive the invitation. For me it had a very special meaning to play with JOE ELLIOTT and the other guys because DEF LEPPARD was the first band I went to see live, my first concert as a spectator in BELFAST in 1983. I was 14 and I stayed speechless and I was blown away from that show, and it's amazing just to think that 27 years later I went on stage with DEF LEPPARD right in BELFAST, an incomparable emotion.
MELODY LANE: Speaking of your other band Down 'n' Outz, how was the band born and how did you get in touch with JOE ELLIOTT ... or did you already know him? What are your plans for the future?
KEITH WEIR: I didn't know JOE ELLIOT ... The band was put together thanks to MICK BROWN, the old manager of THE QUIREBOYS, who at the time worked and still works today with IAN HUNTER and the MOTT THE HOOPLE guys.  In 2009, for THE MOTT THE HOOPLE's  reunion, 5 shows were organized in London, at the Hammersmith Apollo and JOE ELLIOT was asked to do something to open those shows, because JOE is a huge MOTT THE HOOPLE fan. So thanks to MICK BROWN the band was started with me and other musicians including PAUL GUERIN and GUY GRIFFIN as you well know THE QUIREBOYS' guitarists ... We played rare songs from the MOTT repertoire, songs that people had hardly ever heard live or little-known songs and we also added to the setlist songs taken from IAN HUNTER's solo albums or songs from bands that were born through MOTT THE HOOPLE such as BRITISH LIONS ... In short, the setlist was focused on the 'dark side' of the MOTT repertoire ... really really interesting ...It was supposed to be a one off thing , just for once, then instead things started moving, we did more dates, we went on tour with PAUL RODGERS, we recorded a couple of live albums and an album of original material titled THIS IS HOW WE ROLL which was released in 2019. They are songs written by JOE ELLIOTT, a bit far from the style of DEF LEPPARD, it is an album full of piano and for this I love it, but we have not had way of promoting it live because of all the problems we know well. We hope in the future to be able to do something by bringing the songs of THIS IS HOW WE ROLL live, even if it will not be easy to match the dates and programs of our other bands, in any case it is a great side-project, we love it and JOE loves it, so let's hope for the best for the future.
MELODY LANE: Keith we are at the end of the interview, I ask you a question that is a must ... Which musicians were your inspiration and influenced your playing?
KEITH WEIR: Well I've had many, especially among the classics ... Obviously IAN MCLAGAN from FACES, he played on almost every album I listened to when I was growing up…and then NICKY HOPKINS, then surely CHUCK LEAVELL who currently plays in ROLLING STONES and who was a member of THE ALLMAN BROTHERS, then Floyd Cramer who played with Elvis Presley, Little Richard, Johnnie Johnson who played with CHUCK BERRY, Jon Lord, Don Airey, and as a pianist I have always liked Freddy Mercury a lot as well as Elton John...love them…
MELODY LANE: KEITH thanks again for your time. A little message for MELODY LANE readers ... 
KEITH WEIR: Thank you, it's been a pleasure. I really hope to see you on tour soon and we hope to return to play in Italy, we have been missing from your country for quite a while. Stay safe and good luck!