INTERVIEW
WITH
HEAVY
SENTENCE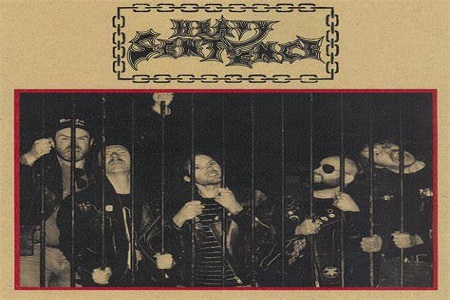 INTERVIEW WITH HEAVY SENTENCE


Melody Lane had the pleasure to have a very interesting interview with 
Tim Horrocks  of 
the emerging British heavy metal band HEAVY SENTENCE! TIM told us about the roots of his band, their plans for the future and the great expectations for their new album "
Bang to Rights" that will be released on 
May 28th internationally via  Dying Victims Productions and Crypt of the Wizard
MELODY LANE: First of all, also if it can sound a bit expected…Can you tell us where does the name HEAVY SENTENCE come from?
Tim Horrocks: Gaz (vocals) came up with the name. I think he nailed it first time. Can't remember there being anything else in the running. Obviously it has associations with prison and crime which fits perfectly with heavy metal as outlaw music. But you could also read more deeply into it. The heaviness of life. And of metal.
MELODY LANE: The line-up of the band is confirmed, is it the same from the beginning of the band…or have you had changes in the last years?Can you tell us anything about the roots of HEAVY SENTENCE? And where the band was born?
Tim Horrocks:The band was started by me and Gaz. We were living near each other at the time and would hang out, listen to music. After a few beers we'd always talk about how good it would be to have a band that played the style of heavy metal we would always default to - typically old punky NWOBHM and power metal. I had a couple of riffs and after a jam (Gaz on drums) at our practise room, we had a couple of songs. Because I also play drums, we were able to record two tracks with just the two of us. They sounded good and Night Rhythms got in touch about doing a release after hearing us on bandcamp. We wanted to do the band properly so recruited Ed, Mike and Bry. Things were going really well until Mike tragically took his own life. He was an absolute life-force in the band and contributed loads of great songs and riffs and he was a close friend. A truly special guy and a huge loss that so many people still feel. We got to tour Europe when he was in the band. Those were truly special and hilarious times - that's how we remember Mike. We wanted to keep the band going - and Mike would too - so now we have Jack on guitar. We knew him anyway from his band Eliminator and he fits in perfectly. We're ready for the band's next chapter.
MELODY LANE: Can you list us 5 songs, from  HEAVY SENTENCE 's discography (including new material), that can define the sound of the band … 5 songs that can help our readers to know HEAVY SENTENCE at the best.
Tim Horrocks:
Protector was where it all started. The first song we wrote and still a favourite.
Broken Hearts - This has a classic Mike Woods riff. The song has all his swagger and energy in it. The title has taken on a different meaning now.
Heavy Sentence - Gaz's tribute to Mike. It's on the album.
Medusa - Twin lead attack. Singalong chorus. A definite live favourite.
Cold Reins - Another live favourite. Simplicity is best.
MELODY LANE: Tell us something about the creative process of your music. Is there a main composer or we can talk about a team work? The songs come from ideas of a single member and then the band works on these ideas in the studio jamming together, or your songs are written in the studio and all the members compose together?
Tim Horrocks: Songs have come together in various ways. To start with it was me and Gaz. Then when Mike joined, me and him would sit in the practise room together working stuff out. Gaz would come down and sing along. Now we generally work on the songs together in the room or me and Gaz will jam together like we used to at the start - that always sparks a couple of new ideas.
MELODY LANE:  Can you tell us something about contents and messages of your last album ? …Can you tell us anything about the whole concept of BANG TO RIGHTS? And plese tell us where does this title come from?
Tim Horrocks: Bang to Rights means that you have no chance of getting away with a misdemeanour you may have committed. Being Bang to Rights could result in a Heavy Sentence. It does in our case. We don't necessarily want to ride the 'Law and Order' theme too hard but the title 'Bang to Rights' for a heavy metal album is too good to pass up.
MELODY LANE:  …After time, are you totally satisfied with your choices about sound and the writing of your previous EPs? If you could… would you change anything? What did you focus on to make the sound better and perfectly consistent with the musical ideas you had in mind?
Tim Horrocks: No I think they're good. I listened to them for the first time in a while when the album was finished as I enjoyed them more now than I did before. It's not healthy to get too precious about recordings - there's always stuff you could change but if you start pulling at that thread you might find yourself without a jumper.
MELODY LANE:  So apart from the covid/pandemic situation…will you tour in the next future? Have you already a touring schedule? Any chance for us to see  HEAVY SENTENCE playing live here in Italy in the next months/year? 
Tim Horrocks: We would love to come to Italy. Some of the best heavy metal is from there. Bulldozer, Mortuary Drape, Black Hole - such a distinct character to Italian metal. If we can get a tour going and in the next year and people in Italy want to put us on, we would 100% be there.
MELODY LANE: Could you tell us two bands, from the actual international scene, you'd like HEAVY SENTENCE to tour with?... Two bands that would represent a perfect line-up for HEAVY SENTENCE  to play with. And why these bands?
Tim Horrocks: Iron Maiden and Judas Priest.  May as well aim high. And we could show their fans that metal lives on.
MELODY LANE: We know that 'to define is to limit'… but how do you define  HEAVY SENTENCE' sound? Are you an HEAVY Metal band…a NWOBHM band… A  Classic Old School Metal band…Or…?
Tim Horrocks: We're a heavy metal band. NWOBHM is inspirational for its raw DIY approach but it ended in the early 80s. I don't like to get too bogged down in genres. We'll leave it to YouTube commenters to decide. I prefer the Lemmy approach of 'it's all just rock n roll'.
MELODY LANE: Which musicians are/have been your main musical inspirations? And which are your favorite bands nowadays?
Tim Horrocks: Black Sabbath, Motorhead, Iron Maiden, Venom, Mercyful Fate etc - that classic era of heavy metal is almost mythical and still fires us up. More recently, Amulet's 'Cut the Crap' EP really got us thinking, too. But there are loads of great bands playing in the underground heavy metal and punk scenes. And it's great when they mix together.
MELODY LANE: As a musician, what has been your biggest achievement to date and what do you want to achieve in the near future?
Tim Horrocks: Touring is always an achievement. It's exhausting but fun - you definitely feel that you've lived afterwards. Even new thing we record feels like an achievement. We're all happy with how the album has turned out and we know that the best things are yet to come.
MELODY LANE: Until today...What was the most important concert for  HEAVY SENTENCE career? And why?
Tim Horrocks: There are a few that stand out. Playing to an absolutely jam packed room at Static Shock fest was great. There were some great bands playing and the whole weekend was a riot. Playing Wolf City Fest in Berlin was similar. We were on a high after a series of great gigs leading up to it and we were on early enough that people were really up for it. Also we hadn't taken full advantage of our rider by that time. We did after.
MELODY LANE: In the end…A message from you to all MELODY LANE readers.
Tim Horrocks: Check out the album and look out for live dates near you…if there aren't any - maybe you could be the one to put that right. Get in touch! 
WEB: https://www.facebook.com/heavysentence
ARTICLE BY: MIKE MATTY