INTERVIEW
WITH
HELLZ
ABYSS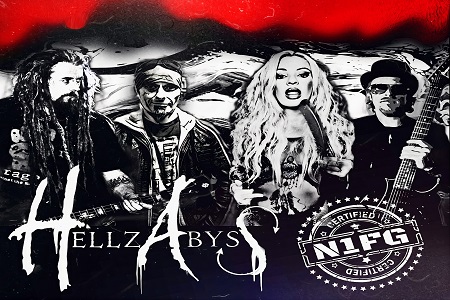 INTERVIEW  WITH HELLZ

MELODY LANE had a great interview with HELLZ, frontwoman of the Australian Hard Rock band HELLZ ABYSS. Their latest album titled "N1FG" 's been released on March 3th via Revenge of Eve Records. Consisting of fourteen breathtaking tracks, this full-on rock and metal beast is a massive statement of empowerment and sheer force! 

MELODY LANE: First of all, also if it can sound a bit expected…Can you tell us where does the name HELLZ ABYSS come from? 
HELLZ: Hellz is the spirit in the music that makes us connect with the song. She takes your hand and guides you back to the light away from the Hell and bad moments in life. Music is connected to our souls. It evokes feelings that sometimes you forgot you had. I have had bad times in my life but something within me has never given up. I keep going. Hellz is part of the strength that keeps me going and when I perform on stage Hellz is the confidence that pushes me to the front and tells me to share a message to the world that we are all strong and we will not be afraid. We are an army of survivors. Most recently I have teamed up with co songwriter and producer Daryl Holden from The Abyss to form what is now known as Hellz Abyss.

MELODY LANE: Can you tell us something about the recording line-up and about the actual line-up of the band …is it the same from the beginning of the band…or have you had changes in the last years? Can you tell us anything about the roots of HELLZ ABYSS? And where the band was born?
HELLZ: The recording and writing Hellz Abyss's new album N1FG is a partnership between myself (Lisa Perry), Daryl Holden and Mark Pollard. This partnership has taken place over the last few months. We equally share a huge passion for writing and producing music. Most recently after many years searching for the perfect band members and Covid continuing to change our touring outlook the Hellz Abyss line up has been rehearsing and preparing like crazy! We are excited to tour Europe in our upcoming UK/ Europe tour in September this year. The band boasts former Screaming Jets drummer Mark Mcleod on drums. Mick Jones on bass, former touring bassist of Canadian Rockers and Warren O'Neil who is not only extremely talented but is Hellz Abyss's very own walking, breathing stage laser light show! Over the years I have worked with some amazing musicians and producers on collaborations for the former Hellz project, including Gorka Alegre founding member of Baron Rojo, Tolo Grimalt from Metalium and Megadeth guitarist Jeff Young. Hellz was founded by myself in 2019, after a meeting and partnership with a well-known American guitarist became a nightmare. I flew to the states to work on a debut album with this guitarist but when I arrived, I learned very fast that he was a monster. Determined to never give up Hellz was born and on the flight back to Sydney I begun writing "Salute" a song about the effects of narcissistic abuse. The song appears on the N1FG album. 
MELODY LANE: Can you list us 3 songs, from  HELLZ ABYSS 's discography (including new material), that can define the sound of the band … 3 songs that can help our readers to know HELLZ ABYSS at the best.
HELLZ: Salute, Liar and Ratatat and Bitch ran away (I know that's 4 lol).Hellz Abyss's music is a new breath of air in the Hard Rock world, I believe it is something new for the ears of millions of listeners. Its hard, its sharp, its slightly acentric. The vocals are powerful but yet dynamic. The music of Hellz Abyss is focused on a story about survival, each song reflects the challenges that we all face and overcome. The music allows the listener to relate their experiences.
MELODY LANE: Tell us something about the creative process of your music. Is there a main composer or we can talk about a team work? The songs come from ideas of a single member and then the band works on these ideas in the studio jamming together, or your songs are written in the studio and all the members compose together?
HELLZ:The most recent debut album by Hellz Abyss which was released on the 3/3/21 was a collaboration between myself, Daryl Holden and Mark Pollard here in Australia. By fusing our different tastes in music in a full songwriting collaboration we have come up with a product that we are immensely proud to call ours! There is a lot of teamwork when it comes to Hellz Abyss and a lot of talent and time that goes into each song. We all come up with ideas. The songs have both started their life in the studio and by jamming. One song called Vicious which is on the N1FG album I wrote on the piano when I was 14 years old. I sent it to Daryl Holden and he produced the song and brought it to life! With all, I do feel there is a massive involvement from many people in this band which contributes to our success.  
MELODY LANE:  Can you tell us something about contents and messages of your last album ? …Can you tell us anything about the whole concept of "N1FG"? And please tell us where does this title come from?
HELLZ: N1FG is Technically Not One Fuck Given. It says, try to stop me and ill punch you in the face. It says, knock me down and I'll claw you down to get back up. It says, each challenge and every bit of heart ache I face makes me try harder to succeed. I thrive on a challenge, so be it! It screams, Not 1 F*** Given! It's the official soundtrack to the art of not giving a ****. Its moody, strong, dynamic hard rock! With screaming guitar solos, crunching guitar and thumping bass, it's that kind of music that makes you want to strut with a stomp and a feisty grin. Vocals that sing, scream, growl and grunt with a little raunch and sleaze… it is all there, a complete assault on every emotion.
MELODY LANE:  Now that your album is released…After time…are you totally satisfied with your choices about sound and the writing? If you could… would you change anything? 
HELLZ: I am extremely happy with N1FG. The production of the album is great. I love how everyone seems to be picking a different favorite track to each other. There really is something in that album for everyone to enjoy. At first, I was worried a little about letting loose and swearing on some tracks, but I feel that this adds to the rawness. Its real, the album is about very real emotion that we all encounter in life. To connect with emotion and my listeners is my number one goal as an artist.

MELODY LANE:  So apart from the covid/pandemic situation…will you tour in the next future? Have you already a touring schedule? Any chance for us to see  HELLZ ABYSS playing live here in Europe/Italy in the next month's/year?
HELLZ: Hellz Abyss has some major tours booked with Global Unity Tours on the International Women of Rock Tour with Global Unity Tours, which will be visiting Europe, Australia, New Zealand in 2021 and Japan in April 2022. Our Europe/ UK Tour begins on Sept 25 through to October the 17th  2021 and we cant wait to get on that plane to come visit! We will be touring alongside Edge of Paradise, Alia Tempora and Control the storm. Keep an eye out on the Official Hellz Abyss facebook at www.facebook.com/hellzabyss for more updates and ticket sales! 
MELODY LANE: Could you tell us two bands, from the actual international scene, you'd like HELLZ ABYSS to tour with?... Two bands that would represent a perfect line-up for HELLZ ABYSS to play with. And why these bands?
HELLZ: I would love to open for AC/DC and I believe with enough hard work and dedication I may make that happen! Another awesome opener would be for Motley Crue. I believe in making a massive statement that we need to continue our love for Hard Rock. The flame needs to keep burning after the masters of this awesome music genre retire. I want to hold that torch. I also want to show the world that a good tough female Aussie gal can kick ass with the finest of them on that stage!
MELODY LANE: We know that 'to define is to limit'… but how do you define  HELLZ ABYSS sound? Are you an HARD ROCK band…a MODERN Metal band… an Heavy Metal band…Or…?
HELLZ: Hellz Abyss is Hard Rock with a hairline of metal. It's a fusion of genres. In a world where stereotyping is so common. I like to say that Hellz Abyss sits on the electric fence! 
MELODY LANE: Which musicians are/have been your main musical inspirations? And which are your favorite bands nowadays?
HELLZ: I absolutely adore Freddie Mercury, he was a champion musician with a stage charisma unchallenged by performers everywhere! The voice, the presence, the personality and the talent that man had was unmatched in my opinion. AC/DC, Black Sabbath and Led Zeppelin are also an inspiration to me. Nowadays, I love the voice of the sadly departed Chris Cornell the chops of God Smack and I still love the long-time British rock band Thunder. Furthermore, I'm inspired by emotion. I deeply feel the pain of others and I have been through quite a lot myself in my time. I believe a song that connects with you personally is a channel to your soul, it connects and helps you let out some of that pain. Music has the power to heal.
MELODY LANE: As a musician, what has been your biggest achievement to date and what do you want to achieve in the near future? 
HELLZ: My biggest achievement to date is building the Hellz brand starting with nothing but my bare hands. People often don't realize that I make all the music videos and promotion and created Hellz Abyss's label Revenge of Eve. I have worked 6am – 12pm every day of the week for the last 2 years to push this project. You know, my journey through this battlefield and every moment both good and bad has helped me find myself. It has taught me how strong I really can be. It taught me to say NO confidently. It taught me that I do matter and that every one of us matters. Our feelings, fears and joy are valid. I have learned that mistakes are to be celebrated as lessons that make us who we are and every lesson we learn is part of who we become in life. I have also learnt that there are a lot of damn snakes on this path… best just wear tough boots and kick them aside as you cross paths with them!
What do I aim to achieve in the near future??? Haha world domination! 
MELODY LANE: Until today...What was the most important concert for  your career? And why?
HELLZ: In Australia we have the Big Day Out Festival where the biggest acts around the globe have come to play, I was fortunate enough to be asked to play there. I also Played on the mainstage at the Sydney International Regatta centre, Australia day celebrations in front of 40, 000 2 years running. What an amazing experience!
MELODY LANE: In the end…A message from you to all MELODY LANE readers.
HELLZ: Yes, Absolutely! I want them all to know that they are bloody awesome and that if they would love to uncontrollably stomp around like a demented camel with me they should get the new album by Hellz Abyss called N1FG for (not 1 f*** given) and join the Hellz Army on Facebook! Also, look out for me on the International women of rock tour with Global unity tours! We will be touring well most of the world in 2021 / 2022. The hard copy of N1FG can also be bought signed from our website at house of Hellz.

WEB: https://www.facebook.com/hellzabyss
ARTICLE BY: MIKE MATTY