INTERVIEW
WITH
CELLAR
TWINS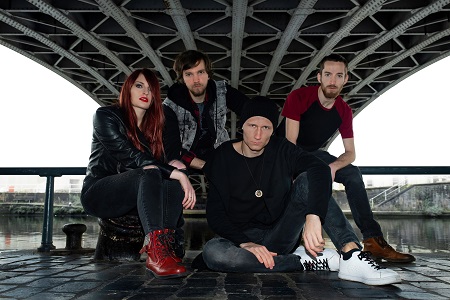 INTERVIEW WITH 
CELLAR TWINS 
MELODY LANE had a very interesting interview with the Belgian Modern Metal band CELLAR TWINS!  "...Our sound is a blend of raging modern instrumentals with powerful yet clear vocals resulting in a combination of powerful and catchy tunes as well as deep soul trips..."
Don't miss 'Duality', CELLAR TWINS' album that's just been re-released via ROCKSHOTS RECORDS last January 29th. 
Band highly recommended to fans of  Bullet For My Valentine, Asking Alexandria, Avenged Sevenfold, Trivium
MELODY LANE: First of all, also if it can sound a bit expected…Can you tell us where does the name Cellar Twins come from?
CELLAR TWINS : Hi everyone! Choosing a name was a huge brain grinder but eventually, "Cellar Twins" was adopted. On the one hand, it had a classy and enigmatic quality to it that we really liked. On the other hand, it seemed like a good choice for what first started as a headbangers duo rehearsing in a basement.
MELODY LANE: The line-up of the band is confirmed, is it the same from the beginning of the band…or have you had changes in the last years? Can you tell us something about the roots of  Cellar Twins? And where the band was born?
CELLAR TWINS : We settled on our current (and hopefully our final) line-up in July 2020 with the addition of David as our new drummer. Before that, we cycled through several singers and rhythm guitarists, but that was in 2017 so who cares?
It all started with Jeff and former drummer Francesco initially knew each other from a previous softer indie project for which Jeff was asked to fill in. Given their respective tastes for heavy music, the duo naturally pushed towards upping the energy to a level beyond the tolerable limit for the other members at that time. While this choice led to the end of the initial project, it also served as a fertile ground for the duo to thrive on and the band Cellar Twins was born.
MELODY LANE: Can you list us 5 songs, from  Cellar Twins' discography (including new material), that can define the sound of the band … 5 songs that can help our readers to know Cellar Twins at the best.
CELLAR TWINS : In Cellar Twins, we like having different atmospheres throughout our songs, some being hard and violent, others more soft and melodic. With this in mind, 5 songs from our latest album come to mind to illustrate Cellar Twins' palette: Millenium, Selfear, Molotov Parade, $olace, Promesse.
MELODY LANE: Tell us something about the creative process of your music. Is there a main composer or we can talk about a team work? The songs come from ideas of a single member and then the band works on these ideas in the studio jamming together, or your songs are written in the studio and all the members compose together?
CELLAR TWINS : The typical writing process we follow is that Jeff brings riffs and ideas for different parts that are then arranged into songs by the band as a whole. A few songs with more personal meanings are sometimes written by a single member of the band, but these are more exceptions since we want to maintain a strong team spirit.
MELODY LANE: Who writes lyrics and words in Cellar Twins? Can you tell us something about contents and messages of the lyrics of your songs?
CELLAR TWINS : The lyrics are written by Carl and Jeff. Lyrics originate from a wide range of personal life experiences which we rather keep untold. All we can say is that the inspiration for the record was not obtained vicariously but is the result of hard learned lessons. Also, while our songs have a strong personal meaning, we purposely choose to be implicit so that people with different experiences can relate in their own ways.
MELODY LANE:  After time, are you totally satisfied with your choices about sound and the writing of your previous albums? If you could… would you change anything?CELLAR TWINS : We are very satisfied with what we've released so far. Of course there's always room for improvement in everything, but looking back at it, we couldn't have hoped for better !
MELODY LANE:  So apart from the codid/pandemic situation…will you tour in the next future? Have you already a touring schedule? Any chance for us to see  Cellar Twins playing live here in Italy in the next months/year? 
CELLAR TWINS : Touring will definitely be a priority as soon as we can do it. We are currently working with our booker to plan things ahead, and since europe is our objective, we hope to hit the stage near you guys very soon !

MELODY LANE: Could you tell us two bands, from the actual international scene, you'd like Cellar Twins to tour with?... Two bands that would represent a perfect line-up for Cellar Twins to play with. And why these bands?
CELLAR TWINS : Given our alternative metal roots, we'd love to share the stage with Alter Bridge and Shinedown.
MELODY LANE: We know that 'to define is to limit'… but how do you define Cellar Twins' sound? Are you a Modern Metal band…an Alternative Metal band… Or…?
CELLAR TWINS : Our sound is a blend of raging modern instrumentals with powerful yet clear vocals resulting in a combination of powerful and catchy tunes as well as deep soul trips. So, if we had to choose only 5 words, we'd say modern rock with metal flavors!
MELODY LANE: Which musicians are/have been your main musical inspirations? And which are your favorite bands nowadays?
CELLAR TWINS : We all have different music tastes in the band, but we all revolve around modern and alternative metal. Jeff really likes Alter Bridge while Elodie has a soft spot for Bring me the horizon. Carl is a huge Avenged Sevenfold fan and David worships Devin Townsend.
MELODY LANE: As a musician, what has been your biggest achievement to date and what do you want to achieve in the near future?
CELLAR TWINS : This might sound cheesy, but releasing our album Duality on Rockshots Records really was a huge milestone for us. Now we can't wait to tour the world and see you all on stage.
MELODY LANE: Until today...What was the most important concert for  Cellar Twins' career?
CELLAR TWINS : By far our best concert was the album's release party (during which we shot the video clip for Molotov Parade which you can find on Cellar Twins' youtube channel). We sold out the venue and people were just wild singing back our lyrics. It was the greatest feeling !
MELODY LANE: In the end…A message from you to all MELODY LANE readers.
CELLAR TWINS : Thanks a lot to all of you guys for taking the time to discover our universe! Make sure to follow us on youtube, facebook, twitter, and instagram, and see you soon on stage !
Web: www.facebook.com/cellar.twins
Interview by: MIKE MATTY