INTERVIEW
WITH
MAGICK
TOUCH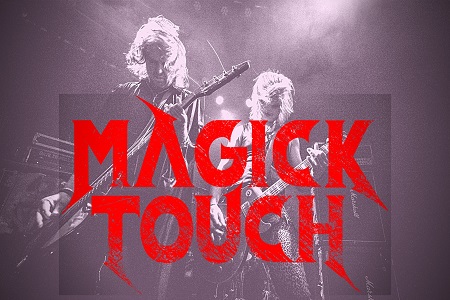 INTERVIEW  WITH CHRISTER OTTESEN 

MELODY LANE had a great interview with Christer Ottesen, singer and bass-player of the Norwegian hard rock power trio MAGICK TOUCH!
Don't miss 
Magick Touch
 latest album 'Heads Have Got to Rock'n'Roll' released on June 2020 via 
EDGED CIRCLE PRODUCTIONS.
Band highly recommended to fans of Saxon, Thin Lizzy, Judas Priest and Kiss.
MELODY LANE: First of all, also if it can sound a bit expected...Can you tell us where does the name MAGICK TOUCH come from?
CHRISTER OTTESEN: It comes from the Gods of thunder and rock'n'roll and Mister Crowley, of course. The name should bring several images to any self respecting hard rockin' music fan! That was the intention, at least.
MELODY LANE: The line-up of the band is confirmed, is it the same from the beginning of the band...or have you had changes in the last years? Can you tell us something about the roots of MAGICK TOUCH ? And where the band was born?
CHRISTER OTTESEN: The line-up is rock steady. The roots of Magick Touch go back to another band, which I guess Google can help people find if they must, around 2015. The three guys who refuse, or are too stupid, to give up are HK rein on guitar and vocals, Bård "Heavy" Nordvik on drums and vocals, and Christer Ottesen, bass and voice.
MELODY LANE: Can you list us 5 songs, from MAGICK TOUCH discography (including new material), that can define the sound of the band ... 5 songs that can help our readers to know MAGICK TOUCH at the best.
CHRISTER OTTESEN: Ok, this isn't easy but I'll give it a go. In no particular order: "Trouble & Luck" (from Electrick Sorcery) "The Great Escape" (from Blades, Chains, Whips & Fire) and "To The Limit", "This Isn't Your First Rodeo" and "Watchman's Requiem" from our latest album.
MELODY LANE: Tell us something about the creative process of your music. Is there a main composer or we can talk about a team work? The songs come from ideas of a single member and then the band works on these ideas in the studio jamming together, or your songs are written in the studio and all the members compose together?
CHRISTER OTTESEN: We are all about teamwork. All of us can play guitar so we sit at home and noodle, then we bring the riffs to the rehearsal space and build the songs from there. There we play the riffs and jam, record it and tweak the songs further at home until we meet next time. And so on.
MELODY LANE: Who writes lyrics and words in MAGICK TOUCH ? Can you tell us something about contents and messages of the lyrics of your songs?
CHRISTER OTTESEN: We all write lyrics as well. Not too deep, but not too shallow. I tend to write about human relations, the other guys tend to write about the power of rock...and the power of their rockets. Next album we are trying to come up with a grander concept. We shall see if that is possible.
MELODY LANE:  After time, are you totally satisfied with your choices about sound and the writing of your previous albums? If you could... would you change anything?
CHRISTER OTTESEN: There is always something left to desire. We leave it like it is and try to perfect the result next time. Most of us don't perform plastic surgery on our kids, we try to love them as they are! Our latest album was made to play live, and for the most part recorded live, and then we ended up with no touring at all, that was a bit of bummer I must admit. Still, it sounds fresh and a little less polished than our two previous records.
MELODY LANE:  So apart from the codid/pandemic situation...will you tour in the next future? Have you already a touring schedule? Any chance for us to see  MAGICK TOUCH  playing live here in Italy in the next months/year?
CHRISTER OTTESEN: The live situation seems pretty impossible these days. But if anyone in Italy wants to see us, we will fight hell to get there of course. My guess is touring will be back on in 2022. I wonder what Nostradamus said about these sad state of affairs.
MELODY LANE: Could you tell us two bands, from the actual international scene, you'd like MAGICK TOUCH  to tour with?... Two bands that would represent a perfect line-up for  MAGICK TOUCH  to play with. And why these bands?
CHRISTER OTTESEN: Interesting question! Can I choose any band in the world? Then I would have Entombed with Nicke Anderson on drums and Kiss ca 1977. More realistic… It's always a pleasure to tour with Audrey Horne and maybe we could also team up with Spidergawd, because they rock.
MELODY LANE: We know that 'to define is to limit'... but how do you define  MAGICK TOUCH sound? Are you an Hard Rock band...an Heavy Metal band... A 70's Rock band Or...?
CHRISTER OTTESEN: We are all of those, and more! If we absolutely have to, we like to call ourselves a hardrock band. We have a vast source of influences both old and new which we blend as good as we can within our power-trio limits.
MELODY LANE: Which musicians are/have been your main musical inspirations? And which are your favorite bands nowadays?
CHRISTER OTTESEN:  As a bass player my biggest influence has been Gene Simmons. There's a lot not to like about Gene the business-man, but  I think he has always delivered original and tuneful 4-string lines. Even when they're being played by Paul Stanley! ha ha. (… like on Love Gun, Magic Touch, Easy As It Seems, I'm A Legend Tonight, Tears Are Falling, Heaven's On Fire…) My fave bands these days are Thin Lizzy, Tribulation, Phoebe Bridgers, Type o Negative, Spidergawd and Kvelertak. And Bon-era AC/DC never goes out of style.
MELODY LANE: As a musician, what has been your biggest achievement to date and what do you want to achieve in the near future?
CHRISTER OTTESEN: My biggest achievement is still having the urge to continue after so many years in music , to still be recording and playing gigs. I'm proud of the three albums we have made as Magick Touch,and now we are carefully starting on the next one. I am looking forward to that.
MELODY LANE: Until today...What was the most important concert for MAGICK TOUCH's career?
CHRISTER OTTESEN: The tour we did with Mammoth Mammoth and Dead City Ruins in November 2019 was pretty important, and where we really tested our limits both off and on stage. But as for right now, I will have to say the last one we did, in our hometown of Bergen at USF in the midst of Corona, October 2nd 2020. It was rescheduled and almost cancelled, but then for a brief two week period shows were allowed in Norway. Strictly a seated audience and max. 200 tickets sold but we delivered our biggest  show yet with excellent help of the crew at the venue. As it was such a rare gig we filmed it and we will release the highlights as a mini-movie in February 2021.
MELODY LANE: In the end...A message from you to all MELODY LANE readers.
CHRISTER OTTESEN: Dear Melody Lane readers - stay healthy, stay heavy and we hope to see each and everyone of you from  stage and up close and personal as soon as humanly possible!
Article by: Mike Matty