INTERVIEW
WITH
ONSÉGEN
ENSEMBLE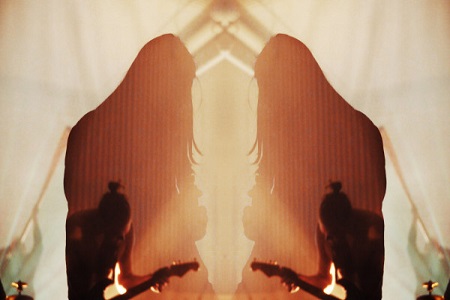 INTERVIEW WITH ESA JUUJARVI 
MELODY LANE had a great interview with ESA JUUJARVI member of the Finnish Psychedelic/Prog band ONSÉGEN ENSEMBLE! Their new album FEAR' s been released on November 20th via SVART RECORDS. 
"...The latest work by the long-running northern Finnish group is a mystical trip through instrumental spaghetti western landscapes and psychedelic, progressive atmospheres..." 
MELODY LANE: First of all, also if it can sound a bit expected…Can you tell us where does the name Onségen Ensemble come from?
Esa Juujarvi: The name itself has roots in the Russian avant-garde. Today Onségen represents an idea of internalizing something non existing. When you'll get closer to it, it moves farther. Even if you cannot achieve it, it gives you a direction to your journey.  At the same time it's nothing and everything. It's eternity, it's singularity. It's beyond ones imagination, beyond enlightenment or supreme. There are no two similar interpretations of it. The Ensemble is basically a group that is approaching it through their actions, which happens to be music at this time and place. 
MELODY LANE: The line-up of the band is confirmed, is it the same from the beginning of the band…or have you had changes in the last years? Can you tell us something about the roots of Onségen Ensemble? Actual members…And where the band was born?
Esa Juujarvi: We don't think that naming members is essential part of an artistic experience. The work of the ensemble is art itself. There have been many members involved during the years, some were more closely involved than others. It's kind of big family, each of us have some Onségen in our blood. The ensemble was born in 2004 in northern Finland with completely different line-up that it is now. If you are interested our actual members, you'll find the names on the album covers and our website, it's not big secret either.
MELODY LANE: Can you list us 5 songs, from Onségen Ensemble discography (including new material), that can define the sound of the band …5 songs that can help our readers to know Onségen Ensemble at the best. 
Esa Juujarvi: This is hard one, each song has its own little life and purpose as a whole. If i have to put our work in 5 different category it could be following: Earthless represents our folk-like side, Non-Returner is more heavy and fuzz, Lament of Man wants to break everything with fierce and violent grip, Sparrow's Song would be our spaghetti prog approach and Stellar leads you to the next state of consciousness. All examples were now from our latest album, but i think it gives you a good overview. Maybe i'm not the right person to analyze this anyway.
MELODY LANE: Tell us something about the creative process of your music. Is there a main composer or we can talk about a team work? The songs come from ideas of a single member and then the band works on these ideas in the studio jamming together, or your songs are written in the studio and all the members compose together? What about messages and subjects of your lyrics?
Esa Juujarvi: Let the lyrics speak for themselves. Everything we do is team work, everyone involved makes their own contribution to the music. Some of the songs are like a revelation, they just need to pickup and technically implement for the band. Some of the songs requires more effort to be born.
MELODY LANE:  Apart from the all the problems and troubles related to the pandemic COVID-19 , any chance for us to see Onségen Ensemble playing live here in Italy/Europe in the next months/years? Maybe summer festivals?Any plans?
Esa Juujarvi: Yes, situation strongly reminds us of our mortality. We would be happy to play live everywhere we are asked - as soon as this covid-19 calms down. If you want to see Onségen Ensemble live, please ask your local festival organizers and venues for it.
MELODY LANE: Could you tell us two bands, from the actual international scene, you'd like  to tour with?... Two bands that would represent a perfect line-up for Onségen Ensemble to play with. And why these bands?
Esa Juujarvi: That's quite impossible to tell. I could say every band we have toured with. More important would be to find right events and places with candid and open-minded audience.
MELODY LANE: We know that 'to define is to limit'… but how do you define Onségen Ensemble sound? Are you an Alternative Prog band? Experimental rock band? …Psychedelic  rock band?...Or…?
Esa Juujarvi: I think that's not our job to define our sound. Probably we are everything you just mentioned and more. You are right, if you listen to music through a certain perspective it affects how you approach it and that should not be the case.
MELODY LANE: Which musicians are/have been your main musical inspirations? 
Esa Juujarvi: Well, there have been over 20 members in the band and everyone has their own musical inspirations. We consume music on a very large scale, i could say that there is not one genre that has not somehow affected us. The inspirations often comes outside of the musical field, in nature, literature, arts etc.
MELODY LANE: Which are your favorite bands nowadays? Is there any musicians you'd really like to collaborate with?...and why?
Esa Juujarvi: There are so much great bands and musicians nowadays and as i said it's quite impossible to list and put them in specific order. Maybe we are so inbred that our ensemble is enough for us to collaborate with, hah.
MELODY LANE: Until today...What was the most important concert for Onségen Ensemble's career?
Esa Juujarvi: I think the best live experiences has been The Nights of the Arts in Oulu. It's yearly event and we have been playing there several times. There is always some extra vibes and twist on these events.
MELODY LANE: As a musician, what has been your biggest achievement to date and what do you want to achieve in the near future? 
Esa Juujarvi: All in all, the biggest achievement is the possibility to create and play music. I have never considered this as a career and setting the goals is secondary for me. The music is all that matters. Of course when you have finished successfully something you have done for years it's an honor and elevating to hear that the music has touched someone and enriched their life. After creative process, everything is quite technical routine, releasing albums, distributing them, selling gigs to fancy festival etc. That how it goes, i hope in the near future we are able to get deeper with our new music, release albums, play gigs and meet nice people.
MELODY LANE:  After time, are you totally satisfied with your choices about sound and the writing of your previous albums? If you could… would you change anything? 
Esa Juujarvi: I haven't listen to it after it's been ready. No, i don't think that there would be major things to change on all our previous albums. I consider looking ahead more important than thinking what we could have done better. 
MELODY LANE: In the end…A message from you to all MELODY LANE readers.
Esa Juujarvi: The only way to have peace is to live it. The only way to have an unarmed world is to live unarmed. Take care of each other. Thank you for interview.
Cheers,
Esa / Onségen Ensemble