INTERVIEW
WITH
PARANORMALES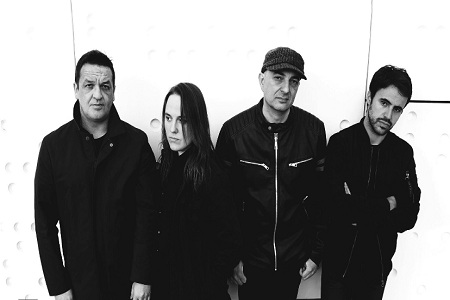 INTERVIEW  WITH PARANORMALES 

MELODY LANE had an interview with the Barcelona based Post Punkers PARANORMALES! A great band highly recommended to fans of Joy Division, The Cure, Bauhaus and Depeche Mode. Their latest album CONTRA's been released on june 2020 via CLEOPATRA RECORDS. Don't miss it! 
MELODY LANE: First of all, also if it can sound a bit expected…Can you tell us where does the name PARANORMALES come from?*
PARANORMALES: We are huge fans of horror and movies. We are very fond of John Carpenter, Rob Zombie, David Lynch, Alfred Hitchcock. The name came out very naturally.
MELODY LANE: The line-up of the band is confirmed, is it the same from the beginning of the band…or have you had changes in the last years? Can you tell us something about the roots of PARANORMALES ? And where the band was born?*
PARANORMALES: Paranormales was formed in 2016. We knew each other because we had played together on other projects. We shared ideas and we were looking for the same sound and style, and here we are, with two albums already!
MELODY LANE: Can you list us 5 songs, from PARANORMALES  discography (including new material), that can define the sound of the band …5 songs that can help our readers to know PARANORMALES at the best.* 
PARANORMALES: Right now we are very happy with the sound of our latest album and with all the songs. Just to name a few, - Doctrina, Disciplina, Vértigo, Camino and Harakiri.
MELODY LANE: Tell us something about the creative process of your music. Is there a main composer or we can talk about a team work? The songs come from ideas of a single member and then the band works on these ideas in the studio jamming together, or your songs are written in the studio and all the members compose together?PARANORMALES: JC is the main composer. He is in charge of the synths and basses. Normally, he comes out with some idea, and then we listen to it together, discuss, make changes. Once he convinces the three of us, we start working on the melody and lyrics together. Ah, and David is in charge of the guitars.
MELODY LANE:  Apart from the all the problems and troubles related to the pandemic COVID-19 , any chance for us to see PARANORMALES playing live here in Italy/Europe in the next months/years? Maybe summer festivals?Any plans?*
PARANORMALES: The idea is to start our tour in March, to go to Italy, Germany, France, Switzerland ... but right now it is difficult to say whether it will be possible to implement this original plan. At the moment we have Barcelona and Madrid for May and July, and in September we will go to Mexico for a week.
MELODY LANE: Could you tell us two bands, from the actual international scene, you'd like  to tour with?... Two bands that would represent a perfect line-up for PARANORMALES to play with. And why these bands?
PARANORMALES: Boy Harsher and Soft Moon. We like them and we share a producer. Maurizio will be our coach if everything is all right.
MELODY LANE: We know that 'to define is to limit'… but how do you define PARANORMALES sound? Are you a post-punk band? Dark-wave band? …Goth coldwave band?...Or…?
PARANORMALES: Sound crafts of the 21st century
MELODY LANE: Which musicians are/have been your main musical inspirations? 
PARANORMALES: Philip Glass & Wendy Carlos
MELODY LANE: Which are your favorite bands nowadays? Is there any musicians you'd really like to collaborate with?...and why?
PARANORMALES: We would like to collaborate with Trentemøller, we really like their work.
MELODY LANE: Until today...What was the most important concert for PARANORMALES 's career?
PARANORMALES: Definitely Café la palma in Madrid. Thanks to that concert we convinced a great manager to help us moving forward. A greeting to our friend Javi Garcia!
MELODY LANE: As a musician, what has been your biggest achievement to date and what do you want to achieve in the near future? 
PARANORMALES: The greatest achievement is being able to make music in a self-financed way, we already have two albums and we are going to for the third one shortly.
MELODY LANE:  After time, are you totally satisfied with your choices about sound and the writing of your albums? If you could… would you change anything? 
PARANORMALES: We are very satisfied with what we achieved with our two albums. You can always do better and that's what inspires our further work. We are looking to give our sound a twist and explore new ways.
MELODY LANE: In the end…A message from you to all MELODY LANE readers.
PARANORMALES: Keep calm, we'll get out of this.
interview by MIKE MATTY