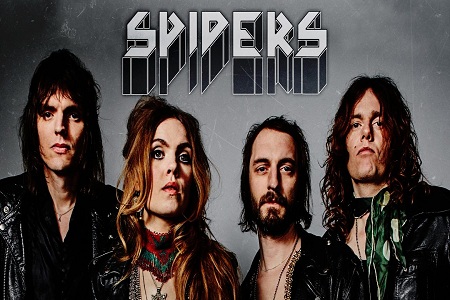 INTERVIEW WITH SPIDERS
MELODY LANE had a great interview with RICARD HARRYSON , drummer of the Swedish garage/sleaze rock'n'roll band SPIDERS! A great band highly recommended to fans of ALICE COOPER, MICHAEL MONROE, THE STOOGES and NEW YORK DOLLS. "...
The roots of Spiders…If you mean musically I would say, punk, rock with a pinch of soul and blues, plus a bit of glam!
..."
MELODY LANE: First of all, also if it can sound a bit expected…Can you tell us where does the name SPIDERS come from? 
Ricard: When John and Axel started the band back in 2010 they drank a lot of a local beer called "Spider", hence the name Spiders…
MELODY LANE: The line-up of the band is confirmed, is it the same from the beginning of the band…or have you had changes in the last years? Can you tell us something about the roots of SPIDERS ? And where the band was born?
Ricard: From the beginning, back in 2010, it was John Hoyles, Axel Sjöberg, Ann-sofie Hoyles and Matteo Gambacorta. Then Axel quit and I took over the drum stool. Then Matteo decided to call it a day just before the release of Shake Electric and Olle came a long. Then we decided we needed one more guitarist and called our good friend Rickard Hellgren. The roots of Spiders…If you mean musically I would say, punk, rock with a pinch of soul and blues, plus a bit of glam!
MELODY LANE: Can you list us 5 songs, from SPIDERS discography (including new material), that can define the sound of the band …5 songs that can help our readers to know SPIDERS at the best.
Ricard: 
Gracious Man (2010)
Rules Of The Game (2012)
Shake electric (2014)
Hard Times (2014)
Why Don't You (2015)
Killer Machine (2018)
MELODY LANE: Tell us something about the creative process of your music. Is there a main composer or we can talk about a team work? The songs come from ideas of a single member and then the band works on these ideas in the studio jamming together, or your songs are written in the studio and all the members compose together?
 Ricard: In the beginning of the band John would write all material. Over the years Ann-Sofie has written a couple of floor fillers. Olle has also penned down a bunch of number ones! And sometimes someone in the band comes up with a riff or idea for a song and then we jam on it in the rehearsal room until we find a structure for a song.
MELODY LANE:  Apart from the all the problems and troubles related to the pandemic COVID-19 , any chance for us to see SPIDERS playing live here in Italy/Europe in the next months/years? Maybe summer festivals?Any plans?
Ricard: We had a couple of tours planned, but like so many others we had to cancel end reschedule. Hopefully we'll be able to to some shows during 2021, but everything is uncertain at the moment. We have a tour in Germany February 2021, but who knows what will happen…
MELODY LANE: Could you tell us two bands, from the actual international scene, you'd like  to tour with?... Two bands that would represent a perfect line-up for SPIDERS to play with. And why these bands?
Ricard: The most important thing when you're on tour with other bands is: Is there a potential good chemistry between the bands? You are going to hang with this people almost 24/7 for a couple of weeks, so you need to find bands that you like hanging out with. Like Blues Pills, for example. They are both a fantastic band and fantastic to hang out with.  I would also like to open for Lady Gaga, that would be awesome! She's a true punk and genius. She walks between genres and are hard to place in a category. Just like we do, in a way. 
MELODY LANE: We know that 'to define is to limit'… but how do you define SPIDERS sound? Are you a Garage Rock band? Sleaze glam band? …Vintage punk band?...Or…?Ricard: I think we are all of that: Garage, glam, punk, soul, pop, blues…That's what I like about the band, we have a versatile sound. 
MELODY LANE: Which musicians are/have been your main musical inspirations?
Ricard: Abba, Alice Cooper, Nina Simone and Kiss. 
MELODY LANE: Which are your favorite bands nowadays? Is there any musicians you'd really like to collaborate with?...and why?
Ricard: I listen to a lot of different music: From The Knife and Fever ray, to old Swedish 90's punk bands and black metal. Any musicians we, or I, would like to collaborate with…? Benny Andersson. Why? Doesn't need an explanation haha!
MELODY LANE: Until today...What was the most important concert for SPIDERS 's career?
Ricard: Each concert. Since it has brought us to towards where we stand and are today. 
MELODY LANE: As a musician, what has been your biggest achievement to date and what do you want to achieve in the near future?
Ricard: I think our biggest achievement is that we're still going. We've never earned any money from playing music.  We have invested tons of time, blood and sweat to get to where we're at today. And we're still friends, even though it's been a few bumps on the road. We still have fun, and love each other and what we're doing. That's the biggest achievement in my opinion. 
MELODY LANE:  After time, are you totally satisfied with your choices about sound and the writing of your albums? If you could… would you change anything?
Ricard: One are never satisfied with anything one does. Cause if you are, you lose the nerve and striving towards something new. The aim is always ahead. I'm extremely proud of our previous records. But our next record will, like the previous three, be the best yet! 
MELODY LANE: In the end…A message from you to all MELODY LANE readers.
Ricard: Hang in there, be safe and take care of each other! I hope we'll see you soon. Hughs /Ricard
Interview by MIKE MATTY