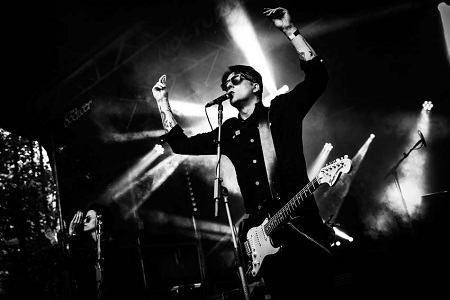 INTERVIEW WITH JASON CORBETT   


MELODY LANE had a great interview with 
Jason Corbett, leader of the 
Vancouver's brilliant post-punk/new-wave quartet ACTORS.
"...
I hope people feel less alone listening to ACTORS...When people like the songs I feel like we are sharing something special. ..."
Interview not to be missed!
MELODY LANE: First of all, also if it can sound a bit expected…Can you tell us where does the name ACTORS come from?  
Jason Corbett: Its an innocuous name that doesn't lock us into any one sound. I wanted that freedom. No preconceived ideas from the general audience. 
MELODY LANE: The line-up of the band is confirmed, is it the same from the beginning of the band…or have you had changes in the last years? Can you tell us something about the roots of ACTORS? And where the band was born?
Jason Corbett: Aside form Adam (our drummer) and myself, the line-up has changed over the years. Since the release of It Will Come to You in 2018 it's been the same group up until recently. Our bass player and good friend Jahmeel is no longer with the band. Our current bass player is now Kendall Wooding. She's great and it's exciting to have two women in the band. 
MELODY LANE: Can you list us 5 songs, from ACTORS discography (including new material), that can define the sound of the band … 5 songs that can help our readers to know ACTORS at the best.
Jason Corbett: PTL (Post Traumatic Love), How Deep is the Hole, Slaves ,Face Meets Glass, We Don't Have to Dance 
MELODY LANE: Tell us something about the creative process of your music. Is there a main composer or we can talk about a team work? The songs come from ideas of a single member and then the band works on these ideas in the studio jamming together, or your songs are written in the studio and all the members compose together?
Jason Corbett: ACTORS is very much a band but the music is written and produced by me at my studio Jacknife Sound. Adam plays all the live drums on the songs and Shannon contributes her beautiful voice. I typically do the rest. 
MELODY LANE: Who writes lyrics and words in ACTORS? Can you tell us something about contents and messages of the lyrics of your songs?
Jason Corbett: I write all the lyrics and music. I don't know if there is a message. I hope people feel less alone listening to ACTORS. The songs happen in a very natural way and the lyrics reflect who I am. When people like the songs I feel like we are sharing something special. 
MELODY LANE:  After time, are you totally satisfied with your choices about sound and the writing of your old albums? If you could… would you change anything? 
Jason Corbett: I wouldn't change a thing. Picking apart past releases is a sure way to drive yourself crazy. 
MELODY LANE:  Apart from the all the problems and troubles related to the pandemic COVID-19 , any chance for us to see ACTORSplaying live here in Italy/Europe in the next months/years? Maybe summer festivals?Any plans?
Jason Corbett: We have plans on coming back to Europe as soon as possible. So many of our scheduled tour dates have been cancelled due to the pandemic. 
We've been keeping busy making the new album and shooting videos!
MELODY LANE: Could you tell us two bands, from the actual international scene, you'd like ACTORS to tour with?... Two bands that would represent a perfect line-up for ACTORS to play with. And why these bands?
Jason Corbett: Cold Cave and The Soft Moon. We could do all our black laundry together and save time. 
MELODY LANE: We know that 'to define is to limit'… but how do you define ACTORS sound? Are you a Post-Punk band…a Darkwave band… A dark/Alternative band Or…?Jason Corbett: We are Post-Post-Punk haha. There's a nod to the past but we are very much rooted in today's production and sound. I like Darkwave too because there is definitely a darkness to our music.  
MELODY LANE: Which musicians are/have been your main musical inspirations? 
Jason Corbett: David Bowie, Killing Joke, Joy Division, and so many more. I have also spent many hours watching David Lynch movies. I'm very inspired by movies. 
MELODY LANE: Which are your favorite bands nowadays? Are there any musicians you'd really like to collaborate with?...and why?
Jason Corbett: The Soft Moon. Vancouver's Gang Signs. New York's Bootblacks. Toronto's Odonis Odonis. Chicago's Wingtips. And so many more. I'm always listening to a wide variety of artists.  I would like to collaborate with The Horrors. I think that would be fun. 
MELODY LANE: What was the most important concert for ACTORS' career? Why?
Jason Corbett: Playing Terminus Festival in Calgary, Alberta was a pivotal event. It really got the ball rolling for us internationally. 
MELODY LANE: As a musician, what has been your biggest achievement to date and what do you want to achieve in the near future? 
Jason Corbett: This is a good question. I think being able to exist and thrive feels pretty good. Artoffact Records has been great to work with and our fans are the best. 
MELODY LANE: In the end…A message from you to all MELODY LANE  
Jason Corbett: Hang tough, we will get through this together. There will be a silver lining.   
Interview by MIKE MATTY