INTERVIEW
WITH
THE
PSYCHEDELIC
FURS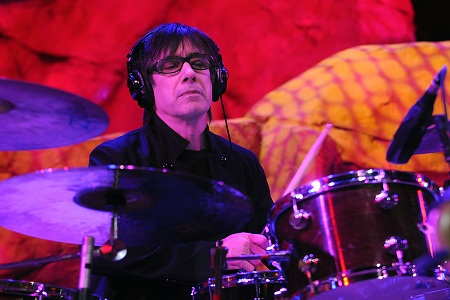 INTERVIEW  WITH PAUL GARISTO 

MELODY LANE had a great interview with PAUL GARISTO, drummer of the legendary Post-punk/Dark wave English band THE PSYCHEDELIC FURS!
"...

I said yes even though these situations were out of my comfort zone…

All of these projects made me a better player. In turn this mentality has provided me with an ability to be more versatile as a musician and in turn be proficient and available for a variety of musical situations..."
PAUL told us about MADE OF RAIN, the first THE PSYCHEDELIC FURS' album in nearly 30 years and shared with us great Rock 'n' Roll stories about being a member of the IGGY POP's band, his working with STEVE CONTE's CROWN JEWELS and SAMI YAFFA's MAD JUANA and recording with DAVE GAHAN, RYAN ADAMS and JESSE MALIN...
INTERVIEW NOT TO BE MISSED!!!
MELODY LANE: Paul, how long have you been back in THE PSYCHEDELIC FURS  and  when was the idea of a new album born?
PAUL GARISTO: It's about eleven years that I'm back in the band and... 8 years into my return, I started to feel the necessity to create something new and I really was hoping that PSYCHEDELIC FURS would do another record. Around the same time I started to send RICHARD BUTLER some of my music and RICH GOOD, our guitarist, was doing the same and RICHARD got excited about it at that time but…it took other five years or so, actually because we started talking about it but we were touring a lot too and we all live in different areas of the States, so we didn't really have the time …You know, it's not like getting together and walking down in a studio, we are all spread out…Anyway It's the first record in 30 years, so we are all really excited about it…
MELODY LANE: It took so long...maybe too long...
PAUL GARISTO: Well I can only speak since I've been back in the band… so in the last eleven years …We did a lot of touring and we've built up a really strong show for the fact that we've been playing together for so many years…But RICHARD BUTLER was painting a lot; you know…when not on tour he kind of put music on the side and he does his art-work so…I can say that for a long time we didn't really feel the need to make new music… but then…you know…   some of us…we were a bit bored playing the same songs; of course they are great songs…but the same old songs so…We wanted to perform new music, we want to create and keep moving forward …
MELODY LANE: So…what can you tell us about the song-writing of your new album MADE OF RAIN? Can we define it a team-work?
PAUL GARISTO: Yeah, it's a sort of team effort. I know that I got about four or five of my songs recorded and mastered and I think three will end up on the record and I'm so happy about that. RICH wrote four or five of the tracks, and of course RICHARD BUTLER wrote all the lyrics, but as a team me, RICH GOOD and TIM BUTLER we all wrote the music for about three or four songs each and that's how it came about and it was really a painless effort to record once we got going… We recorded down in St.Louis and the album is co-produced by THE PSYCHEDELIC FURS and RICHARD FORTUS, guitarist from GUNS ' N' ROSES. RICHARD is a great musician and person to work with, he's very easy and diplomatic and allows people to do what they do best…It's been a great experience.  
MELODY LANE: I've heard the first four singles that have been released and I really loved them. It seems it's going to be an 'all killer no fillers' album…
PAUL GARISTO: Thanks and believe me…the best is yet to come. The rest of the record is really good and a bit different from what you've heard so far…Usually I'm a bit of a harsh critic of my own playing. I find it hard to listen to my playing sometimes, but I forget I'm the drummer when I'm listening to it…I really enjoy the record. It's something I would listen to even if I had not been involved…And…You know…RICHARD BUTLER's written so many beautiful songs in his career and this time was no exception. I'm really impressed, he did  a great job, he keeps on writing timeless lyrics; and musically I guess that…there are some elements that we retained but the sound's moved forward in some way, it's an honest sound…
MELODY LANE: Considering the dark modern sound and the lyrics…I guess your new album is going to be really well received…Are you planning to tour a lot in way to support the release and to enlarge your fan-base?  
PAUL GARISTO: Well…It's been very hard but there's been a sort of 'resurgence' in the last years,  and now the audience keeps growing in the States and in Europe…In Europe we've got really 'die-hard' and  hardcore fans, but I think that everywhere we play the interest seems to be growing and we are reaching a younger audience now too…So, yes…Touring…That was the plan before everything went down. The FURS had shows booked in New York and then THE ROYAL ALBERT HALL in London which is now been moved in 2021…Definitively we were planning to tour to support the album but now we have to wait…no one knows what will happen…
MELODY LANE: Let's focus now on your huge career and on your past…Is it true that before joining THE PSYCHEDELIC FURS you had been playing with BILLY IDOL?
PAUL GARISTO: Well…as a matter of fact I got the audition with THE PSYCHEDELIC FURS through BILLY IDOL's management. You know…at that time  I was very driven, I knew that I wanted to somehow break into the scene in New York City, I knew no shame;  I  would call managements and cold call managers to see if anyone needed a drummer, it's not something I would ever do but, for some reason, during that time, I was driven and  I just didn't care; and I got through BILLY IDOL's management and plug them for, I don't know how long, maybe a couple of months, because I'd heard that the drummer who had been playing with BILLY might be leaving but that was up in the air…Finally they started auditions for drummers and bass players, and I worked for them for about two weeks; I went  down every day to the auditions, I was a kind of in the running but TOMMY PRICE, a fantastic drummer, came back and he had played on the record that BILLY IDOL was about to support with a tour so…he decided to come back and play with BILLY… that's when I moved on and that's when they passed my number to THE PSYCHEDELIC FURS and I got the first audition with them…  
MELODY LANE: …And you recorded with them MIDNIGHT TO MIDNIGHT, a real commercial success… 
PAUL GARISTO: Yes but you know…It took two years to make that record, we didn't really have the songs. We were rehearsing in England, in a beautiful studio; we lived there, we could rehearse 24/7 in the middle of nowhere, but we didn't come up with anything. We had studio time booked but no producer, and so…at that point DANIEL LANOIS got involved; he was going to produce us and came down to work with us for two or three weeks, but he left because really we didn't have the songs and he was right...stuff like that postponed the actual recording and that's why it took so long to make that record...I had a lot of back and forth with RICHARD at the time  because he had a sound in mind and he wanted to make an attempt to record a more commercial album in way to reach a wider audience. In my opinion, we should to stick to what THE PSYCHEDELIC FURS had done in the beginning, and I was not talking about the sound 'per se' but about the heart, the soul of what they had done on the first couple of records. In my opinion, writing music for that stayed true to the band's past would have been a better way to go because eventually people would have come around to THE PSYCHEDELIC FURS because they wrote some great songs... but whatever... like you said…the album was a commercial success... 
MELODY LANE: After the album and the tour you left THE PSYCHEDELIC FURS and joined the IGGY POP's band. Tell us something about this very important period of your career…
PAUL GARISTO: As a drummer I've never been a technician by any stretch of imagination; on the drums I'm just kind of someone who likes to come up with interesting beats and support the songs, I'm really more into bands than into like 'drummers per se'. I had been with PSYCHEDELIC FURS for about five years at that time, I felt like I had a lot more to give than just being a side player and they also offered me a percentage of the band but the situation was just too convoluted. Short answer is: business got in the way and so I decided to quit and take my chances. A couple of weeks later I played a one night only show, in NEW YORK CITY, and IGGY was there, and he saw me play and that night he asked me to play with him. I played this benefit show with STEVE JONES from THE SEX PISTOLS on guitar, KENNY AARONSON who's bass player from BOB DYLAN and BILLY IDOL and others, CHARLIE SEXTON and other guys...it was a great band...After the show a friend told me "Hey IGGY wants to talk to you downstairs, he wants you to be in his band...". I couldn't sleep that night with excitement. I played on the album INSTICT and it was the second 'major' full-length record that I recorded, pretty cool at that stage of my career. I was so lucky...nothing to say about that...the timing and being in the right place at the right time... really lucky...
MELODY LANE: Talking in hindsight, what do you think IGGY found in you?
PAUL GARISTO: I think it was an unspoken understanding...You know, IGGY originally was a drummer and you can see it in his body when he performs, he's all about the rhythm and he uses his body like an instrument…you know…it's just like playing with what you're feeling in that moment, it's what he kind of does and what he, I would imagine, looks for in other people ...It's playing with feel, not thinking about it too much, it's like getting in there and playing from the guts, playing from the heart... I think that's what he saw in me and I'd guess that is what he looks for in any musician on whatever instrument...
MELODY LANE: So you were playing a benefit show with a band with STEVE JONES on guitar and then STEVE JONES was the studio guitarist for INSTINCT…so was he the connection between you and IGGY?
PAUL GARISTO: No…oddly at that time, STEVE JONES was not the first choice to come in and do the record; there was another guitarist that started to record the album with us and he was a great guitarist and a really good producer but he was not really right for the situation... and then they brought STEVE JONES in, but after I had recorded all my drums. STEVE came in and more or less he saved that record because you know...IGGY was great lyrically but we weren't really thrilled about how things were going musically...I don't know...when I came back, after not hearing the songs for a couple of weeks, it was just a surprise, because STEVE JONES turned the record around, he brought his glue to the whole rhythm section and he played these chunky chords, nothing flashy... and it was all really solid and that's what that record needed...
MELODY LANE: And then the INSTINCT world tour…A legendary tour, a wild band. You were the only member of the studio line-up that went on tour with live line-up right? And what about ANDY McCOY? So many things said and written about that tour…
PAUL GARISTO: Well…no…I can't remember but I think that also SEAMUS played on a couple of tracks on the record...Anyway, yeah… it was a great live band, nothing preconceived...As for ANDY...he was sober at the time and IGGY was giving him a shot because I'd guess he saw something in ANDY's playing. ANDY is a great guitarist, he was very creative...a great live guitarist and he was really wild up on stage, but... Let's put it in this way...a that time he was a bit difficult to work with...
MELODY LANE: Apart from ANDY's being difficult…do you think that IGGY had ever considered to write new music with him? ANDY 'd been the main composer in such important bands like HANOI ROCKS and THE CHERRY BOMBZ…
PAUL GARISTO: I don't really know about that and never heard about that. But I don't think... At that stage of his career IGGY wanted to do that kind of record and he wanted to do that tour; That was his project...I think it was pretty clear on where ANDY was at that time and IGGY was just giving him another chance so... like I said... Andy was a bit difficult so... who needs all the negative things that come with that?...but I don't know...no real time to write songs together or anything like that, it was just non-stop touring and party time...After that tour IGGY got a whole new band so...
MELODY LANE: But after that tour you worked again with ANDY McCOY, in the band SHOOTING GALLERY. Tell us something about this sort of 'wild/cult band'…
PAUL GARISTO: SHOOTING GALLERY…well…I like that album only because it was an opportunity for me to play straight ahead rock 'n' roll, playing drums with attitude; I mean I did it with IGGY as well but this was more a band situation. I was not doing much when I got a call from ANDY, in the middle of the night, he'd just fired his drummer and he said " Hey why don't you come down in L.A.? I got a deal, we split it five ways..." . I'd lived with him for a couple of years during the IGGY's tour, so I knew what to expect but I didn't really see the craziness into I went back out there... So I did SHOOTING GALLERY; we recorded the album and then… the tour that we did… it was fantastic...just joking... We toured with KISS, we opened up for KISS. When you open up for KISS and nobody tells the audience that there's another band on before KISS, when the lights go down and nobody in the audience is expecting you...and nobody knows who the hell you are...and they are expecting KISS...Man the worst tour of my life! They were just hardcore KISS fans...People booed us from the beginning to the end of our set, every single night. They really didn't want to listen us…
MELODY LANE: If I'm not wrong JO DOG, guitarist from THE DOGS D'AMOUR, joined SHOOTING GALLERY…
PAUL GARISTO: Oh yes…He joined us just for the tour…He was a kind of a saving grace, genuine nice person...he was never into the crazy shit that went on and he's a great player… 
MELODY LANE: …A wild band out of control…
PAUL GARISTO: It was a wild and dangerous band only because we did stupid stuff you know…We were just younger and thinking we were gonna live forever. We didn't really care and some of us were fighting their demons…On the way back from that tour with KISS, we were scheduled to play some headlining shows, but at the very first show we did by ourselves, some guy in the audience yell something at ANDY and ANDY jumped off the stage and started punching the guy. That was the end of SHOOTING GALLERY.  We all got on the bus and once we got back in Los Angeles, I quit, the rest of the band quit, and that was the end of that band…
MELODY LANE: But then you formed a new band called SLUMLORDS with  BILLY G. BANG and DAVE TREGANNA, SHOOTING GALLERY's singer and bass player respectively…What about this band?
PAUL GARISTO: I started SLUMLORDS with guitarist TAKASHI O'HASHI from CATS IN BOOTS. I'd been writing with TAKASHI in upstate of NEW YORK, in my house out there, so we had a couple of songs and we were just writing as I was doing other things. SHOOTING GALLERY broke-up, there was this opportunity, so I called BILLY G. BANG and DAVE TREGANNA and I proposed them to get together with TAKASHI and doing a record and we did…but nothing much came from that, same deal…You know, people got egos and the same old nonsense…stupid stuff…We toured about a couple of weeks in Japan, and probably we did some stuff out in Los Angeles but nothing more…that was it.
MELODY LANE: Reading the huge list of your collaborations I found a couple of them quite interesting…You recorded some tracks on DAVE GAHAN's first solo record PAPER MONSTERS and you recorded a couple of tracks on CROWN JEWELS album LINOLEUM. I like to remember that CROWN JEWELS is a STEVE CONTE's band, STEVE's mainly known on our magazine as songwriter and guitarist for MICHAEL MONROE and NEW YORK DOLLS…Tell us something about these collaborations…
PAUL GARISTO: Well I believe that the connection with DAVE GAHAN was probably through KNOX CHANDLER, who's a guitarist, composer and producer who worked also with THE PSYCHEDELIC FURS. He co-wrote all the tracks with DAVE GAHAN for DAVE's first solo records and as for me…it was just a one-off recording session…About CROWN JEWELS…well…STEVE is a fantastic guitarist and singer too. It was an interesting time, while in New York I got to work with him and his brother JOHN CONTE. We went up to in my house, in upstate New York, and we recorded a couple of songs up there and again it was quite interesting because we were using the tape machine as a kind of another instrument as a writing tool I mean…We created on the spot, it was a lot of fun, fine tunes, and I think one or two of those tracks made it on their album…It was not a band, there was the possibility of a band, but we never got far enough to name the project because, at that time, I was doing something else that I felt a little more at home with, so I decided to do that. It was great music and all that, but I just preferred this other thing that I was doing which was a band situation…The project that we started with STEVE CONTE and JOHN was basically CROWN JEWELS but soon we started writing different music, I guess because of my influence... it was different sounding, so it was gonna be a whole separate project but that never really came to light. Recently, a couple of weeks ago, I spoke with STEVE and he said that he had just come across  a bunch of tapes that we made in upstate NEW YORK and he was working on them, trying to get them in shape, in way to release them; that should be really nice, I loved to hear that…But I don't even remember what we did, it was 20 years ago…
MELODY LANE: Can you tell us anything more about this 'other thing' you were playing with?
PAUL GARISTO: While I was playing with STEVE CONTE and his brother JOHN, at the same time, I was playing with this band called DRAGMULES and it was a real band situation. We were all writing together, everything was split five ways. We had every major label chasing us trying to sign us and eventually we signed with Atlantic Records. In the end with the DRAGMULES we recorded two records:the first one was released and it's called "2A" while the second record never got released...
MELODY LANE: You collaborated also with another member of the MICHAEL MONROE's band and ex HANOI ROCKS…SAMI YAFFA. You joined him in his project MAD JUANA. Tell us something about that…
PAUL GARISTO: I loved the MAD JUANA days...First off, SAMI is one of the nicest people on the planet and a fantastic bass player/songwriter. I accepted the role as their drummer even though at the time the band wanted all percussion and hand drums for the recordings. I didn't really play hand drums at the time, those instruments require a dedication like any other instrument. Regardless of my lack of study, I made it up as we recorded. I just played what I thought sounded good and it worked. Or at least I think it worked ...
MELODY LANE: Throwback. The beginning…How did you get involved with music and tell us something about your background…
PAUL GARISTO: My background really comes from my father and my grandfather, they were professional musicians. When I was very young, my father would take me to the recording studios in New York City. When my father would record , I was sitting there watching him play sessions, he was a recording session guy, and I fell in love with the studio at that point, and afterwards he would take me out to this bar called JIM & ANDY'S in NEW YORK, which was where every major session musician, jazz musicians and major labels people would hang out, so I was around all these great players and it made me an impression, I didn't even realize what was going on, I was just five or six years old, but just being around that lifestyle and seeing the studio and being around the players as they relaxed in the bar later on at night... it was something that hooked me in. In the beginning I listened to a lot of bands, but I was never into one particular drummer or in another, I was more into bands that made me feel something at the time. Then after a while I started to listen to a lot of different session drummers and that opened me up, I didn't want to focus on just one style, I just wanted to play, I just didn't care what I had to do and that forced me to be more versatile I guess…
MELODY LANE: What impresses me about your career is that in the years, you've played and recorded with so many different artists and different songwriters and…you've moved from one musical style to another always keeping up the level of your works…It must not be easy…IGGY POP…DAVE GAHAN…THE PSYCHEDELIC FURS…RYAN ADAMS…so different from each other…  
PAUL GARISTO: I feel like I've always been locked in between bands and sessions. The fact is… I think that I could be skilled enough to be considered a session guy, just doing sessions for living which I adore doing… but honestly I don't find it very interesting because what I like the most is to keep my head always on the creative side of rock music, the writing, you know what I mean… so…I think that it allows me to be more versatile and open to listen to so many different styles of music and drummers … I think the reason is I have been open minded to all musical situations as I was coming up and starting out in NYC right up to the present moment. When I moved back to Brooklyn to start my career years ago, I joined about 4- 5 different bands playing everything from full on country to punk. I played in a band called Helen Wheels, kind of punk thing but with musicality and great players...there was also Shawn Colvin, who later went on to win a Grammy, Martha Reeves, Khmer Rough, and others that I said yes too even though these situations were out of my comfort zone. By saying yes to the situations without prior experience in the genre of music, I was forced to do a 'crash course' on whatever style of music I was playing at the time, kind of an earn while you learn situation on stage in real time. All of these projects made me a better player. In turn this mentality has provided me with an ability to be more versatile as a musician and in turn be proficient and available for a variety of musical situations....
MELODY LANE: Name me some drummers that you like today or that have been important in your musical background… 
PAUL GARISTO: Oh there are so many people that I hear or that I've fallen in love with in the years… I'd say STAN LYNCH, TOM PETTY's drummer, I really love the way he plays and also THE PRETENDERS' drummer, MARTIN CHAMBERS, who's really powerful and straight-ahead… That was kind of my background, then I think, my career progression has started to be a little more creative and I got away from the two or three things I was doing and I started playing different things and different styles…Today I love JOJO MAYER, he is not only a rock guy but he is a freak of nature…He does his own projects... he's incredible.
MELODY LANE: Among all the great song-writers you worked with in the years…Which one impressed you in particular?
PAUL GARISTO: Well RICHARD BUTLER definitively he's such a great lyricist and writer, and he can turn anything into a song, he's incredible; if I banged on this table in time like this, he could consider singing on it…I love his writing. RYAN ADAMS really impressed me when I did his record. We got in the studio and he had several ideas but then, when we started recording, the guy was a real "non-stop ideas machine"…You know...I'm just lucky, all these guys…IGGY, RYAN, RICHARD…JESSE MALIN he creates his own work, I really admire him, he's constantly moving and he's always doing benefit for other people and he's impressive…I love JESSE…So lucky to work with all these great artists...
MELODY LANE:  One last question…After all these years spent through bands, sessions, concerts, music business…What's your relationship with music today?  
PAUL GARISTO: Well…I can't believe that 40 years down the road I still love drumming and love listening to music to the same degree as I did when I was a kid. It's a real gift, and when you have that in your life,it presents opportunities to continue learning and to become a better musician…I love to play, it's been my friend for years…when I'm feeling bad I go play my drums, when I 'm feeling good I go play my drums....do you know what I mean? It's such a huge and important part of my life and hopefully because of that, I can keep an open mind and immerse myself in different musical styles, situations and experiences …
MELODY LANE:  Thank you for your time with us Paul… 
PAUL GARISTO: Thank you guys, be well and stay safe!
Interview by MIKE MATTY