INTERVIEW
WITH
ALVIN
GIBBS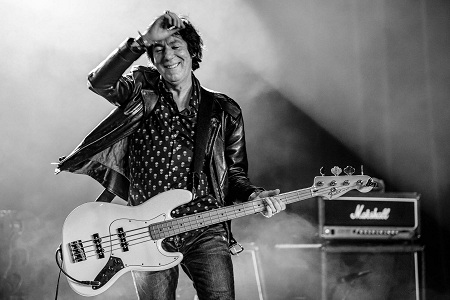 INTERVIEW WITH ALVIN GIBBS interview by MIKE MATTY


MELODY LANE had a great interview with ALVIN GIBBS, legendary bass player for UK SUBS, CHEAP & NASTY and IGGY POP's band during the "Instinct World Tour".
ALVIN shared with us rock'n'roll stories and told us about his new solo project ALVIN GIBBS & THE DISOBEDIENT SERVANTS and a possible 
CHEAP & NASTY reunion.

MELODY LANE: Well Alvin your new EP 'History' is finally released…
ALVIN GIBBS: Yes, the release of the EP was postponed because of COVID19.  Record company was worrying about sending out the records, but now, after the lockdown, in the UK the post offices are open, so the new EP can be delivered.
MELODY LANE : Will these four new tracks be included in your next album? 
ALVIN GIBBS: It's an EP, 4 tracks, but these four tracks will not be included in the next album. I'll record, I think, 12 new songs for the next album. In this months, during the lockdown, I've had a lot of time to write stuff, so  I'll record them in November, I've already booked a studio in London, hoping there won't be a second wave of the virus. So we will record the new album in South London, in the same studio where we recorded the four tracks EP, and the studio is run by PAT COLLIER who was the original bass player for the English punk band THE VIBRATORS.
MELODY LANE: Is the line-up of the DISOBEDIENT SERVANTS confirmed?
ALVIN GIBBS: Yes the line-up it's going to be me on vocals and bass, LEIGH HEGGARTY from RUTS D.C. on guitar and vocals, and JAMIE OLIVER, from my other band U.K.SUBS, on drums. But like on my first record, I'll have some guest guitar players; one of them will be CAPTAIN SENSIBLE from THE DAMNED and then STEVE CRITTALL from THE GODFATHERS will be playing on it, STEVE will also co-produce the album with me, and  other people I'm going to contact. So LEIGH, myself and JAMIE will be the core but there will be other musicians involved, a track here a track there, so to put a little more kind of interest in it and to get a different angle, a different point of view on some of the songs.
MELODY LANE: Talking about the song-writing process, how do you decide if a song is going to be used  for your solo project or for UK SUBS? And for what concerns your album, did you write the song from scratch or did you include in the album songs already written but that were not released in any UK SUBS record?
ALVIN GIBBS: Yeah, That's exactly right. I kind of, well a bit of both, I wrote some songs for my solo album because I thought they would be right for my solo album, then I had some songs I had written and I thought " …Well, this song is more like the sort of thing I'm doing with the DISOBEDIENT SERVANTS…". I never tried them with the SUBS … that's not to say that none of the songs I had written for the UK SUBS wouldn't have worked on my solo album, because there are songs I wrote for the UK SUBS that are not just like straight punk … there are songs that I've written for the SUBS that are quite rocky and not just stereotypical punk, you know… not obvious punk. It's a good advantage you know…In the album we used also keyboards and piano…so there's  a lot of atmosphere and  I think in the album you  can find all my influences over the years, you know… before punk came along I was into glam rock so bands like ALICE COOPER, T-REX,BOWIE or SLADE and then I went to see LED ZEPPELIN, BLACK SABBATH  and THIN LIZZY and so yes…I think that some of their influences can be heard on the record…
MELODY LANE: Why a solo project now, at this point of your career? Did you start feeling the need?
ALVIN GIBBS:  Actually, for about ten years, people 's been saying to me "Alvin you should do an album, because we like your songs  on UK SUBS records" … you know occasionally I sing some songs on UK SUBS records, so a lot of people said to me  " we like your voice and the songs that you write…why don't  you do a solo album?" …and also CHARLIE HARPER, you know, who's  the original singer and founder of the UK  SUBS, told me to think about a solo album. Then every year with the UK SUBS, we have a European tour, generally in January and February, and we always play in Poland and there's a promoter called GREG who, in the last years ,every time I've seen him, has always told me  that I should have recorded a solo album because people in Poland really love my songs…so this was two years ago, and I was turning sixty and said "Ok, it's now or never".  So I wrote a lot and recorded and finally released my first album. I'd got lots of friends and  guests involved playing on it, you know…BRIAN JAMES from THE DAMNED, LEIGH  HEGGARTY from RUTS DC, JAMES STEVENSON from GENERATION X, MICK ROSSI on keyboards who lives in America but he happened to be in London, and TIMO CALTIO who played with me in CHEAP & NASTY…so…in the end it turned out much better than I thought, so I was really pleased that  I'd did it and the album got really good reviews and  the first pressing was  sold out in two weeks and we had to re-press more so…
MELODY LANE: And what about the tour? You did several shows…
ALVIN GIBBS:  Yes, because we had to come out and promote the record, so I put together a tour and we did shows in the UK and a festival in Poland, and it turned out much better than I thought again; we also headlined the 100 CLUB and it was great, and the weather was miserable for the entire week, raining all days, but we always got really good audiences everywhere we played; and  we also played THE REBELLION FESTIVAL at the WINTER GARDENS in BLACKPOOL,  in august, it's a huge punk festival, ten thousand people over the weekend, and I played with the UK SUBS on Saturday and on the Sunday I played my own show with the DISOBEDIENT SERVANTS…
MELODY LANE: And what kind of set-list did you use to play with your solo thing?
ALVIN GIBBS:  Well…I mixed it up a bit, because I always try to cover my whole career, present and past. We played songs from the new album and then we played a couple of songs from UK SUBS that I sang on the albums that are "DRAG ME DOWN" and "BORDEAUX RED" from YELLOW LEADER album,  and we played a couple of IGGY, you know I've been in IGGY's band for a couple of years by the end of the eighties so…We played 'DOWN ON THE STREET' and 'I GOT  ALRIGHT'. We played live shows always with the three piece line-up, with LEIGH and JAMIE…  but for one show  STEVE CRITTALL joined us on guitar and for the  100 CLUB show we had three guitarists, apart from STEVE CRITTALL, we had Barrington Francis from Australian band THE SAINTS and he played on my album as well, and  we had TIMO CALTIO ,from CHEAP & NASTY and HANOI ROCKS, that played guitar and bass too.
MELODY LANE: Of course as a musician you have a lot of experience and you have a very important musical background…but when you are on stage with 'your band'…do you feel any particular pressure?
ALVIN GIBBS:  Oh yes it's a harder work, because I have to sing for the all show while playing bass, and I have to remember the words and I have to try to communicate with the audience and I have to keep an eye on the band and it's a really hard work for me, because I use to play bass quite freely, I like to move around with my hands on bass neck, but because I'm singing I have to keep it simpler and it's not natural to my usual playing  and it's a bit frustrating  sometime…so I'm a bit nervous about it…naturally…  
MELODY LANE: Now that you've recorded a solo album and an EP…talking about your next album, is there anything you want to do in a different way or something that you'd like to maintain because it's worked well on the first album?
ALVIN GIBBS: Thinking about the songs I'd like to mix them up like I did on the first album. I've written slow songs and fast songs, I wanna keep it the same, I wanna mix them up in the track-list, a varied track-list…and I'd want it to be really rock-sounding and maintain the garage/punky sounding as well. What I really want is to keep high the level of the songs, I want to keep up the quality.  I have my guitar, I have my phone and I record ideas and I record them all the time. Then I listen to these ideas and I work only on those that sound really interesting to me, because I want to keep the 'quality control', a very good song-writing, that's my main concern; and the other one is my voice, because I know I'm not a great singer, I'm not an actual singer, but people tell that my voice has the right character and that it is distinctive for the kind of songs that I write…I try to use it like an instrument in a way, I try to use it like a sound… I do a constant work on it.
MELODY LANE: What about inviting some guest singer on your next album?I'm a great fan of MICHAEL MONROE and he recorded a couple of great UK SUBS covers  back in the days. He did ENDANGERED SPECIES on DEMOLITION23 album and WON'T LIE DOWN AND DIE on his solo album WATCHA WANT. I think he's really into your music…
ALVIN GIBBS: I wouldn't mind getting somebody singing on some of the tracks; but I can write songs for myself but I don't know if they could be good for somebody else. But that's a good idea, I love MICHAEL MONROE, I should send him a copy of my album…You know, about five or six years ago we played in TURKU, the city where MICHAEL MONROE lives, and he came to the venue while we were sound-checking and we talked and then we invited him on stage to sing ENDANGERED SPECIES …and everybody went crazy…he was brilliant…it was wonderful!
MELODY LANE: Years ago you toured with MISFITS… two legendary punk bands together …a great punk show, can you tell us anything about?
ALVIN GIBBS: Yes we played with MISFITS, we did tours in Europe and in America with them…We played with MISFITS, THE ADICTS, JUICEHEAD and another band that I can't remember…I really enjoyed it and we've become really good friends with JERRY ONLY and DEZ CADENA …A few years ago they came here, right in my house, because they played in a festival here in France and JERRY called me and said "Hey we want to drink a good wine, we come and visit you!" . So there was this huge black tour-bus outside my house and we had great time together drinking wine and telling stories…I love those guys, they're great.

MELODY LANE: Let's focus now on a song that I think in the years, thanks to GUNS'N'ROSES, has become one of your most famous song: DOWN ON THE FARM. Have you ever talked with the GUNS guys about that song? About their cover?
ALVIN GIBBS: Well…at that  time, I found out they were playing DOWN ON THE FARM but not that they were going to record it. I left IGGY POP's band and came to London to join CHEAP & NASTY and IGGY POP called me up… I got this phone call and it was IGGY and he said: " Hey ALVIN,I played FARM AID FESTIVAL with GUNS 'N' ROSES, and in their set they  played one of your songs, a UK SUBS song…!"…I thought it was great! And if you go on YouTube you can see the video of their performance, they did it great!...And then they recorded DOWN ON THE FARM for 'THE SPAGHETTI INCIDENT?' album and that album's sold millions of copies so…as you can image, it was very important for me…and then GUNS'N'ROSES played at Wembley Stadium and my band CHEAP & NASTY got invited to the concert, you know TIMO CALTIO, who played with me in CHEAP & NASTY, is the guy who co-wrote RIGHT NEXT DOOR TO HELL with IZZY STRADLIN, that song is on USE YOUR ILLUSION part one…so we had backstage-passes…and we hung out with them and had drinks …and I asked IZZY how they had wound up playing DOWN ON THE FARM and he told me that when he and AXL left Indiana and moved to Los Angeles to start a band, they didn't have much money and slept on the floor of a guy they knew in Los Angeles, and this guy only had two records: a BLACK FLAG album and ENDANGERED SPECIES by the UK SUBS; so they played these records over and over… and eventually they founded GUNS 'N' ROSES, and they became such a big band and then they were invited to play this big festival that's called FARM AID. Every band had to play two songs, and AXL and IZZY remembered that song and thought that it had been perfect for a festival called FARM AID. So they bought the record, they learnt the song and played it and they liked it so much that they decided to record it and put it on their cover album.
MELODY LANE: Let's talk now about the 'cult' band CHEAP & NASTY. Tell us something about the roots of the band…How did it all start?   
ALVIN GIBBS:  NASTY started the band with TIMO CALTIO and LES RIGGS in Los Angeles and they had on bass an American  guy called MIKE FINN...and I knew TIMO because I was in a band with him before CHEAP & NASTY and before I ended up playing with IGGY POP. Then NASTY decided to move back to London. I really enjoyed playing with IGGY, I got paid really well and IGGY was paying me money just to remain available to play with him again for months and months but nothing was really happening. NASTY called me up and told me that they'd moved the band to London and they had a management and there were a couple of record companies interested in signing them, but they needed a bass player that could help also with the song-writing and so he asked me if I was interested in moving back to London and joining them. My wife at the time was American but she hated America, I had met her in London but then we moved to Los Angeles, but she wanted to go back in London. So for me it was an opportunity I thought " she'll be happy and I'll be part of a band and I can write my songs". So I left the IGGY POP's band, I left Los Angeles and came back to London. We started recording demos with NASTY, TIMO and LES RIGGS and then, after about three or four months, we got a record deal with CHINA RECORDS.
MELODY LANE: And you recorded two great albums…
ALVIN GIBBS:  I think the second album is better than the first one, at least the production is better. I like the songs on BEAUTIFUL DISASTER but I don't like the production, it is a bit weak...
MELODY LANE: What about CHEAP & NASTY tours? …And how did it all end?
ALVIN GIBBS:  We played a lot of shows, we did UK tours supporting THE ALMIGHTY and ENUFF Z' NUFF then we did festivals and we played a lot in Japan. The thing was that NASTY had some problems...private situations... and he wanted to stay in Japan while the rest of the band went back to London. And we got a new management, and we were talking to a Japanese record company for a new album, the third album... but NASTY didn't want to do it but he ended up recording his solo album instead, VINEGEAR BLOOD; on that album there's a song I wrote with NASTY and there are a couple of songs LES RIGGS wrote with NASTY...so it was a sort of CHEAP & NASTY album without me, TIMO and LES playing on it...then we heard he was playing with MICHAEL MONROE and that was the end of CHEAP & NASTY...     
MELODY LANE: Are you in contact with the guys?
ALVIN GIBBS: Yes absolutely. Recently we got in contact and we've been talking about a CHEAP & NASTY reunion, maybe doing a record and doing some shows...the problem is that LES RIGGS, our drummer, now lives in America and has got a full time job and NASTY works for a pharmaceutical company and he also has got a full time job, so it's a bit difficult to plan and schedule the works, but you know... never say never...I think that at the time NASTY was a bit doubtful about the quality of the band, you know he'd played in HANOI ROCKS that had been such a great band... but recently there was a video on the web of CHEAP & NASTY playing in a festival in Finland in 1991... and it was great! so I messaged him "I didn't realize we were that good!"  and he replied " Yeah man we rocked!".
MELODY LANE: A lot has been said and written about your time in the IGGY POP's band…but I'd like to ask you how did you end up playing with IGGY and was really ANDY McCOY " the root of all evil"? 
ALVIN GIBBS: I think we were a really good rocking band, a lot of people and a lot of IGGY's fans said to me that…that was the last really rocking band IGGY's had...ANDY is ANDY…with ANDY… you just don't know how things are gonna go, all the time, all the days, it was a worry; he suggested me to IGGY, you know we both lived in Los Angeles. I was playing in a band called THE BROKEN GLASS and we got a deal with CHRYSALIS RECORDS. I had heard that Andy had come in Los Angeles and he had an L.A. management and he was trying to put a band together. He got my number, I don't know how, and he phoned me up and started telling me he was playing with IGGY POP and they needed a bass player. In the beginning I didn't believe him, but he got my address… and half of an hour later his Limousine turned out and  Andy came out and knocked on my door. And he said " Let's meet JIM!"...you know...If you get to know IGGY he says "Call me Jim" .  So I thought " Maybe this is real!"...So we met IGGY and we talked about music and my equipment and he'd heard good things about my playing…Then he had to go and asked ANDY to join him outside. A few minutes later ANDY came back saying " You're in man, Jim likes you…it's gonna be cool!"
MELODY LANE: Thank you ALVIN for your time and for the rock 'n' roll stories you shared with us. ..Last question…Apart from music, and without being intrusive, how is your life today? 
ALVIN GIBBS: Well, lately I've become a bit cynical, actually maybe because I'm aged, but sometime I wake up and it seems to me that the world 's going crazy…Brexit, what's happening in the United States, pandemic, wars, cruelty to animals…the world's getting worse and worse…I turned 62 so I've become more aware and sensitive to all these kind of issues and that's because you can find a kind of cynicism and disenchantment in some of the lyrics of my songs… But, in spite of this, I think I'm lucky…you know… I live in the middle of Bordeaux wine region in France, I like to drink red wine, I enjoy life, I got a lovely house so I'm really very lucky; and I'm a professional musician still at the moment, of course I'm getting a bit worried because we don't know when we can play again and if we don't play we don't earn money, that's the thing…but I'm ok, I got my health, I have got good friends that surround me…so life's good.
MELODY LANE:  In the end a message to our followers and readers…
ALVIN GIBBS:  Thank you guys, take care and I hope to see you around really soon.