INTERVIEW
WITH
JIMMY
ASHHURST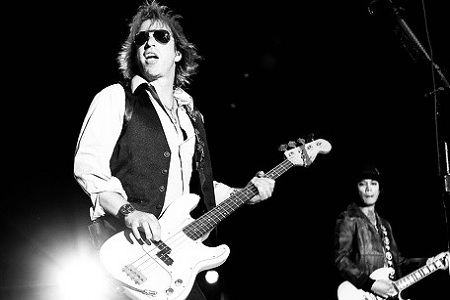 INTERVIEW  WITH JIMMY ASHHURST Interview by MIKE MATTY

MELODY LANE had a great interview with Jimmy Ashhurst, legendary bass player for IZZY STRADLIN & THE JU JU HOUNDS, THE BROKEN HOMES and BUCKCHERRY!

"…I'm a band guy, I don't work as a bass player and I don't work as a hired sideman for someone who wants to hire band members. I've got a different idea of being in a band…a band like a gang. When I'm a in a band I'm really connected with the other guys, for  this reason I got long period of inactivity between a band and another, because it's not just a work…"
MELODY LANE: Jimmy  let's start this overview on your career talking about the old days…
JIMMY ASHHURST: When I started in the '80s this was a city of artists, Los Angeles;  everybody here was in a band; there was a business but it was unknown to us. We didn't start playing because of the music-business, we started playing because we were all friends and we found friends in this big rock 'n' roll scene. It  was an interesting  period because punk rock started to blend with heavy metal . Myself and my friends we were all from the underground, it was an organic musical movement and …for a number of reasons back then, if you wanted to be in a band, you had to commit, you had to put your friends in a car and convince them that you had to move to Los Angeles, because everything  here was gonna happen and a lot of people did that. I was already here and I came from the punk underground , that's what I was interested in. When I was a little kid watching television in Italy, before I came here,  we didn't have a lot of information about what was going on in America, we had more information about what was going on in England; so I was noticing bands like The Clash, The Damned,  U.K. Subs, The Stiff Little Fingers, The Sex Pistols and they were making some noise; people were confused, someone  were excited ,some one hated the punk movement but that was my first real glimpse at a musical change and got me very excited. So, after I moved here and still to these days , I love the bands from that initial British punk underground rock revolution… There were a lot of messages that were getting through to me… still really contemporary…
MELODY LANE: How did you get the job in BUCKCHERRY and why did you quit after 8 years?
JIMMY ASHHURST: I joined BUCKCHERRY after a long period of inactivity, after IZZY STRADLIN' & THE JU JU HOUNDS fell apart… BUCKCHERRY found me and approached me with the idea of  'helping  man'  to make a new album,and that help included to help them to write some songs and that sounded interesting to me.  So I did the album without knowing that it would've become the most commercially success for an album I had ever been involved with; we had GRAMMY nominations…and I earned all these money and things in the nine years I was in the band but then…you know…It was a bit strange for me because I was making a lot of money, and from an 'American point of view'  that means success, but there was a little bit of an internal struggle for me, the all time I was in that band, and that it was compounded by the fact that there  was a lot of greed involved  and  then  the planning…you know…you have the lucky to have an hit record so that's the time you need  to explore the rest of the world, the global markets; we already had the UNITED STATES… That was the time, in my opinion, based on my experience,  we should  have focused  on South America, Australia and Europe but we didn't…because it was  very difficult to convince the people in the band that instead of earning  hundreds thousands dollars at night we should have earned five thousands  dollars at night in Europe…but if we had done that , things would have been ok… because, nowadays, America has very 'short attention'  fans , after about two years you're finished if you have not an hit song, they forget you… and it's a struggle again! Whereas I find that in Europe and in other parts of the world, once the word gets around and they've become fans, they remain fans for a lifetime.  Here in America there is a continuous turn-over… that's no way to manage it. In my opinion, the time you have success it's the time you start working  harder, it's not the time to go back and play the same places over and over again and forget to record a new album…So we spent two years on the road, six shows  a week, for years at the time , not coming home…at  a certain point you don't have anything to write songs about because you don't have a life, you're on a bus with the same guys for two or three years …and so the following album will suffer because you run out of inspiration when all that you do is tour;  and that band, BUCKCHERRY, they really blew a golden opportunity, in the same way they had blown  the first opportunity that they had in 2000 with the first album, by doing exactly the same thing;  but you really can't convince anyone that they are making a mistake, but maybe I think they have realized it now, but it's a bit too late unfortunately. Greed is a serious problem: "d' you want a lot of money today or a little bit of money  for the rest of the year?  What you gonna choose?"...In my view, a smarter person, works for a less of money but for a long period of time…A greed person  will grab the money today without worrying about tomorrow… I was just disgusted in the way that it happened. Maybe there was something that could be discussed but if somebody is making too much noise, they just get rid of him, and get a new guy. But…now…they 've changed many drummers and bass players and guitarists and everybody else is gone… so when it's happening,  and you see that is happening over and over again…it's going to make you wonder if somebody is not doing things in the right way…but anyway…that was just my experience with those guys…
MELODY LANE: I think that one of the greatest experience you did with BUCKCHERRY was to play at the CRUEFEST in 2009…Even a live dvd was released…What can you tell me about the CRUE guys? 
JIMMY ASHHURST: Well…mixed feelings. All my friends played in HANOI ROCKS  so…SAMI and MICHAEL…so…anyway...Well…I'm from Los Angeles  so  I 'm quite familiar with MOTLEY. Hugely successful guys, but I've never been a fan of MOTLEY CRUE, I've never  owned a MOTLEY CRUE album… but on the tour, being  around  them everyday, I found that TOMMY LEE's a lot a fun, very funny guy; he had great parties; and… I actually found a new appreciation for MICK MARS, he was really interesting to speak with and  it was  surprising to me to hear about music he was really into like MICK RONSON and all his works and blues…That's  it…
MELODY LANE: After you quit BUCKCHERRY…I lost track of you. I just know that you played with GINGER WILDHEART on his single RIGHT IN THE FEELS and on GINGER WILDHEART'S  BIRTHDAY BASH LIVE…So what have you been doing in the last few years? 
JIMMY ASHHURST: I've been involved in different things. What happens is that I'm really fortunate that I have a lot of really great friends  around the world..someone I've grown up with, someone I've played with…so many dear friends and GINGER  WILDHEART is one of them…and when your friends ask you if you  wanna  play…you  play…and it's fun, it's friendship… and it's a sort of camaraderie. GINGER's one of the most important songwriters of recent memory and there are not a lot of these guys left anymore, there's not a lot of guys with that kind of talent. They are true rock 'n' roll warriors at his point; they are rebellious like many of the friends I still have, it's a sort of 'inner spirit' of rock. So GINGER is an incredible lyricist and musician…unfortunately he was coming here in America, we could have had band together, he was  trying to bring THE WILDHEARTS here, but there were problems with labels; For them, myself and my friends are artists that's too difficult  to work with; but when you have that attitude, you never gonna  get many interesting artists , you only get artists that are very 'safe' and that play the corporate game with you  or just want to get a sponsorship from a  potatoes company or whatever it is, but to me it clashes very much with the spirit of why I began my career …So right now I'm bored and I don't do things because I feel  I need to;   I just do little things like fly to London and play with GINGER or with some friends of mine;  one of them is RAMI, from Foo Fighters;  we went to Buenos Aires for a sort of cultural exchange organized by the State Department. Ten days in Buenos Aires, we went to the Universities and to all kind of schools, every age, just to play music and tell them some Rock 'n' Roll stories and it was a lot of fun for me and in the end we played a show for twenty thousand people. And this year, we were supposed to do it again, this time in HO-CHI MIN city, in Vietnam… but due to the pandemic we didn't  go. I also played with HUNT SALES…after being released from BUCKCHERRY in 2014, I realized that I'd really missed working with some people I admired who approached making music as musicians, instead of as lawyers or engineers building a wall. The first person to call me during that time was HUNT in Austin, Texas. He said "Hey do you still have that stupid car?" - "yes" - "Ok great. Grab a TUBE amp and a bass and stick them in the back of that car, and drive it to Austin ...and drive it to Austin. We're going to record." Now, HUNT SALES and his brother TONY played and sang during IGGY POP's DAVID BOWIE period, on LUST FOR LIFE, and later with BOWIE himself in the band TIN MACHINE. He was asking me to get in my car and go to Texas, so I did....twice ha ha. I was back on a rehearsal schedule once I made it to Austin. During those 2 trips I think we'd done enough for an album, but HUNT really wanted me to move to Austin, which I wasn't comfortable with. He has a new record out this last year though, called "GET YOUR SHIT TOGETHER" which I think is an appropriate name. I have no idea what became of the tracks I did with him and his absolutely stellar guitarist TJARKO JEEN. They were really good though. During this same period of adjustment for me, after BUCKCHERRY, I'd taken to hiking in the mornings in a local park with a few of my neighbors. STEVE JONES, BILLY DUFFY, AND SLIM JIM PHANTOM all live near me, and since I probably needed some exercise they invited me to join them. One day BILLY said they'd just fired their long time bassist and might need some help filling in on some upcoming shows. It wasn't an invitation to join, they needed help until they found someone they'd like to have more permanently. What was really cool for me is that some of the shows were a co-headlining tour with PUBLIC ENEMY, which I thought was fantastic. The shows were fun, I love BILLY and IAN and playing with JOHN TEMPESTA on drums was a dream. I forget how many we did, only a couple of weeks at the most, but it was enough for me to realize that jumping on another tour bus at that point wasn't really what I had in mind. I'm grateful for the having been offered the opportunity to play those songs live in such an iconic band, but If I'd wanted to be anyone's  employee, I'd have gotten a job in a bank. That's sort of the way it seems to be these days. Much love and respect to them.
MELODY LANE: Among our followers and readers there are a lot of fans of the legendary cult band CHEAP & NASTY. Time ago, on the net, surfaced a video of this band  playing in Los Angeles at the Whisky a GO GO, and in this video you're playing bass … 
JIMMY ASHHURST: It was just for one show, long time ago, I don't remember if their bass-player had some problem or maybe it was in the beginning of their band, maybe at the time they didn't have a bass player yet. I had known NASTY SUICIDE and TIMO in London, when NASTY played in THE CHERRY BOMBZ with ANDY MCCOY. Then they moved here and we became friends, also ANDY moved here. TIMO lived in an apartment  near here on Sunset Blvd. , and also SAMY IAFFA moved here for playing with JETBOY; we are all still friends after 35 years more or less… 
MELODY LANE: Let's focus now on the legendary band  and album 'IZZY STRADLIN & THE JU JU HOUNDS'…How did you connect with IZZY? 
JIMMY ASHHURST: Izzy was a friend of mine long before the  JU JU HOUNDS and we were friends through all his experience in  GUNS ' N' ROSES. So…he knew that I knew…I was familiar with many of the things he was going  through…Those guys, they were in a sort of whirlwind situation, it all happened really quickly for them;  IZZY basically went from living in his car to be in the biggest  band in the world in about six months and that's a problem for anyone;…  and also at that time we didn't have the internet but we had this gossip newspapers and tabloids and the guys were experiencing a lot of these gossips  and turmoils in the band and that caused a lot of pressures…
MELODY LANE: …For what's been said and written, he was also trying to quit 'bad habits'…
JIMMY ASHHURST: Izzy was aware I was not into heavy drugs at all and I was never really much of a drinker; so when  he quit, he came into my house, this house where I am now, and he knocked on my door and said "Hey d'you wanna  put up a band together?" …and I knew he'd been clean of heroin earlier in the year;
I knew musicians, friends  and the people and basically they were all clean so…you know…we gave IZZY the respect; he didn't ask us anything, he didn't say "you can't drink" or "you can't smoke a joint"… but of course we didn't do it around  him.
MELODY LANE: Truth or legend…a  second album was being recorded after the world tour…?
JIMMY ASHHURST: Yes, as a matter of fact we almost finished  the second album.  We'd been doing it in TRINIDAD. We started the album recording in London, because we wanted to go to the studio that THE CLASH  recorded in, we were big THE CLASH fans . And we were working with BILL PRICE,  the same engineer that worked with THE CLASH, in the WESSEX STUDIOS. Then we picked up and moved the operations to TRINIDAD, in the Caribbean, and we brought BILL PRICE with us and we lived in the studio for several months. At a certain point, most of the basic tracks were finished and CHARLIE, our drummer, had gone home and RICK RICHARDS had gone home too, while I'd remained in the studio with IZZY because I had to sing back-up  vocals on a few of the songs. So I went to the next Island, TOBAGO,to go scuba-diving for a week-end while IZZY was staying in the studio to record lead vocals. I called the next day just to know how it was going and BILL PRICE said "Man, he left!". So I went back there and basically IZZY completely disappeared. And the album disappeared too…That's all…
MELODY LANE: And what about the recordings…? 
JIMMY ASHHURST: I didn't hear anything about it ever again, I asked for some of the tracks to BILL PRICE a few years after that, if there was anything from that recordings, but he said:  "I can't send them  to you because they belong to the record company" and I said "Bill come on!...I wrote some of those songs!" but he said "No, sorry I can't  do it". But then two weeks later, I received the cassette in the mail-box. 
MELODY LANE: If I'm not wrong, two of those songs were included in IZZY's second solo album
JIMMY ASHHURST: Yes…There were 8 or 9 tracks…Two of those tracks came finally on his album "117°", that was released several years later. The other ones…are lost…ah ah ah. For years ,in the interviews, people's been asking the truth about the fact that there was more music from the band . Everyone around IZZY's world, the record company guys and everybody always said "No, there isn't!".Even the producer of the first album said: " No, there's nothing else". If you go and read the old interviews  I'm the only one who's always said "Yeah, there's almost a whole album and it's gone!"
MELODY LANE: So what about the rest of the tracks?
JIMMY ASHHURST: IZZY would own them, so I can't legally release them- nor would I do so anyway unless we'd all agreed to it. They weren't finished, they were rough mixes of basic tracks. Having said that, I don't know if IZZY knows that rough board mixes still exist. I hear there has very recently been some noise about a lost cassette having turned up on the internet, though. It didn't come from me, and I know it didn't come from him, but a third cassette was apparently sent from Trinidad to the record company. Happy hunting
MELODY LANE:  And then…
JIMMY ASHHURST: After that, I got a lot of pressure from the Record Company and from management they start saying "What's up with your guy?...You need to go and find him, bring him back"…and all these bullshits…And I did manage to track him down in Copenhagen at one point and I said to him "Hey what's going on with the band?" but he only said "I don't know man…I don't know". He didn't like being tracked down. I loved that band with all my heart and I put a lot of work into that record; I got the band together, I brought in all those great musicians: IAN McLAGAN, NIK HOPKINS, RONNIE WOOD, CRAIG ROSS and MARC FORD…so…a lot of my close friends … and IZZY was one of my best friends so…his disappearing without any reason was really difficult to accept…About 30 years have passed and I've not seen him or talked with him anymore.
MELODY LANE: Is it possible that one of the reasons that pushed IZZY away from the scene was the fact  that the press and fans didn't  give enough attention to his album, they just didn't appreciate it, but just keep on talking about GUNS'N'ROSES?  
JIMMY ASHHURST: We knew that was going to happen and so this is one of the reasons  why we didn't even play in America at least until the end of the tour. Izzy was a very globally aware person when it came to music…and that because he had been in a very globally exposed band and so… he started  to notice that the people who were in the crowds, that were really there because they loved the music and were reacting well to it…well… were mostly in Europe. So we played in Europe first, and then we went to Japan and then Australia…so we played mostly everywhere before playing here and even when we were asked to tour here in the States, we started in Tijuana, in Mexico, one of the craziest show in my life; then we toured America and in America, there were only two questions in every interview: "Why did you leave GUNS N' ROSES?" and "Why don't  you  play GUNS 'N' ROSES songs?"…we had the same kind of interview in Australia with an MTV guy…After 24hours on a plane, we arrived there and they wanted to talked about GUNS N' ROSES and not about our new album…We were fucking tired of hearing that shit…
MELODY LANE: ..But now I can…Did you ever play GUNS'N'ROSES songs?
JIMMY ASHHURST:  We used to play only one song from GUNS called GOODNIGHT TONIGHT; but I think it was a sort of jam that was not released on any album or single…a very old one…
MELODY LANE: Now, after all these years, what do think about that album, is there anything you would do in a different way?
JIMMY ASHHURST: No…Honestly I think that if IZZY hadn't been in GUNS N ROSES we would have never been able to make that album and it would have never been so popular; even to this days the people discover our album through GUNS'N' ROSES or finding the side members or the past members…their discography, what  they've made and all that…I think that the problem is…you know…it was a great album but it was 'out of time'…We released a Rhythm 'n' Blues album in 1992 when people listened  to Glam and Metal  and the Grunge was about to explode so…They just didn't want it…They didn't want our album. Sometime it happens that in the end they get to know you… but twenty years later… Same thing happened with TOM PETTY… in the record stores, if you went looking for his first album you would have found it in the NEW WAVE section and the same for the THE BLACK CROWES, they were put in HEAVY METAL section…In 1992 THE BLACK CROWES released their second album THE SOUTHERN HARMONY and we put out IZZY STRADLIN & THE JU JU HOUNDS and both were considered HEAVY METAL…so stupid!  In studio with THE BLACK CROWES I played and recorded "mandolin"…what the fuck mandolin's  gotta to do  with HEAVY METAL? And if you see the scene now, Grunge is gone, that kind of Glam Metal is gone…but Rock will always be around…The interesting thing is that the music that we made with the JU JU HOUNDS…that's what  IZZY really was from the beginning; he didn't change…But fans and people that were into GUNS 'N' ROSES didn't understand it when the album was released. We didn't decide to make a 'Rock'n'Roll' record, we didn't decide to make 'any kind of record', we just got the people involved that we wanted to play with. Once those people got in a room, that's what happened. And it wasn't a decision, and it wasn't  pre-determined, it was just a natural progression of rock 'n' roll musicians. 
MELODY LANE: Talking about the great  'guests'  that played on the album…How did you connect with THE FACES/THE ROLLING STONES  members IAN McLAGAN and  RON WOOD?
JIMMY ASHHURST: I met  IAN McLAGAN during the time I was in the THE BROKEN HOMES. We were at the same rehearsal  place, he just came in the room because we were playing a CHUCK BERRY song, and he loved it. And so we became friends and we invited him to play on our album. And I'm a huge fan of THE SMALL FACES and THE FACES and so his history is there…I was just amazed that he was playing with us, and so I asked him why he wasn't playing in town here in Los Angeles, and said he didn't have a band. And so me and CRAIG ROSS,CRAIG played with me in THE BROKEN HOMES and then he's played with LENNY KRAVITZ  for many years, we went to his house one day, we knocked on the door and said "we are your band!". And we started playing as THE IAN MCLAGAN BUMP BAND, and we did a residency at a club here in L.A. for several months and we played in different clubs and RONNIE WOOD would come when he was in the city and played with us. So I knew IAN and RONNIE from that experience. And so later GUNS'N' ROSES opened for the THE ROLLING STONES and then after that concert they invited AXL and IZZY as special guests for a show in ATLANTIC CITY. And IZZY  invited me to go with him. So I went with IZZY and AXL and their manager ALAN NIVEN…We flew on a plane to ATLANTIC CITY. In that occasion IZZY met  RONNIE and they became friends  and RONNIE remembered me from playing with IAN McLAGAN's band. And so in the end IAN and RONNIE played on the JU JU HOUNDS album. And on our album we covered 'TAKE A LOOK AT THE GUY'  from RONNIE WOOD's album 'I GOT MY OWN ALBUM TO DO'…and a really funny moment was when we read a review of our album and this journalist criticized the keyboards on the song, writing that whoever played the keyboards had made them all wrong, they weren't good as in the original version…but it was IAN… the same fucking guy playing on both versions…so… lots of laughs… 
MELODY LANE: In past interviews you said that after THE JU JU HOUNDS  it was quite a troubled period  for you…but  then you  had a couple of great collaborations: one with country/folk singer MIKE STINSON and the other with MARC  FORD lead guitarist from THE BLACK CROWES…can you tell us something about that?  
JIMMY ASHHURST: I think that MIKE STINSON  is a really great songwriter, but  you know…MIKE used  to be a drummer. I met him through a friend of mine when I was working  on what was  going to be or I wanted to be my solo album. I was working always with the same guys, my friends, CRAIG ROSS, MARC FORD, RICK RICHARDS and the producer was ANDY JOHNS, who was a really famous producer who worked with STONES, LED ZEPPELIN etc etc…and Paul, the singer we were working with, had seen MIKE  STINSON play as a drummer and he brought him down in the studio. And he came and he played  fucking great and we stayed friends, but unfortunately that record never came out…And then MIKE started saying that he wanted to write songs and became a great songwriter. He writes wonderful  country songs…Years later I was recovering from my bad situations with drugs and jail and all these wonderful things I was doing… he was the first one that asked me to join his band and we played in little bars and clubs around here and that's just before they asked me to join BUCKCHERRY…
MELODY LANE: Why has the album with ANDY JOHNS never come out?
JIMMY ASHHURST: Andy is the guy who gave me the confidence to try it. He'd produced the 3rd and final Broken Homes album and had become a huge part of my life afterwards, until we lost him in April, 2013. Andy booked Cherokee recording studios and didn't charge me any money, so I was able to get my buddies in to play and help finish writing some song ideas. MARC FORD, CRAIG ROSS, and RICK RICHARDS joined in with MIKE STINSON on drums and singer PAUL RAFFERTY and Andy's incredibly talented nephew Ethan Johns in there as well. It was a great atmosphere, everything worked, but I knew we'd probably never be able to play live because the first 3 guys were in bands with tour schedules and I knew I'd have a lot of trouble replacing them since nobody around here plays like that. Anyway, I still wanted to make a record, so we finished it and Andy helped take it around to record label guys he knew in town. This must've been...hmm...'95 or '96...so anyway, you know, 'grunge'.   We had one guy sort of interested, but he said to me "Well, I really love it. It's the kind of music I listen to in my car everyday. I just don't know who I'm going to SELL it to." I wondered if this guy thought he was the only person who listened to rock'n'roll roll in his car but, in any case, that was discouraging enough for me to toss the master tapes into the trunk of my old car, where they stayed for 20 years. I recently got them out, but they're 2-inch Ampex reels of magnetic tape. Someone told me I'd need to put them in the oven before they'll play, and then find a machine to play them on. This sounds a bit crazy to me, so right now they're on my bookshelf serving as bookends.
MELODY LANE: …and MARC FORD?....
JIMMY ASHHURST: I've been friend with Marc Ford since the High School, we werevery young. Marc's parents they had a house very near where my family was living just out L.A.and that's where we started practicing:  in his mom's garage. It was me and him and we put a band together and then I got asked to join THE BROKEN HOMES. And so we've stayed friends for our entire lives; so if I was around or I wasn't touring and if he was making a record maybe he would invite me and when I was here making IZZY's record I invited him…and I played a couple of live shows with him here at the WHISKY A GO GO, because his bass player was out of town and he needed a bass player so he called me… so…so that's how it works with Marc…
MELODY LANE: In your career  you've met a lot of legendary musicians, I'd like to ask you to tell us something about two legends  like STEVIE RAY VAUGHAN and STIV BATORS. 
JIMMY ASHHURST: I can say the same things about both of those people,  that 's when you meet someone that's  so rare as each one of those guys was.  Those are among the heroes of our culture. They may be difficult people but is because they offer so much, and that's why we remember  them even after they are gone: they are special people, so you have to support those people! They're a little bit crazy or a little bit difficult to work with, but they are like 'unicorns', happening less and less as years go by…we are finding fewer and fewer of these unicorns…and it's very sad:  if you  see one of that kind, take care! With THE BROKEN HOMES, we opened for STEVIE RAY VAUGHAN in 1986. It was the beginning of a tour, it was the beginning of what was going to be a very wonderful tour that we were very happy to be part of. We did shows on the EAST COAST, in Troy and Passaic…The shows  that we did play were spectacular and I've learnt very much from seeing him and his crew operate… 
With STIV BATORS we became friends and he was one of those guys that if  you are in town and there's a studio in it then at some point he's probably going to want you to record something; so he called me and we got in the studio and we recorded one song. We did it with my friends  BERNIE BERNSTEIN who played in a band called THE LITTLE KINGS and CHARLIE SEXTON was in there too, producing I think. That was one session, and we did "Have Love Will Travel", it's a big single and that was for a 12 inch on Bomp! Records. But STIV had some others songs that he also wanted to record so then we went to a studio in Venice Beach with my friends  SLIM JIM, drummer from THE STRAY CATS, who's also my neighbour, and CRAIG ROSS…the three of us with STIV went down and we wound up recording 2 or 3 songs. We did GudbuyT'Jayne and other stuff and the funny thing about those sessions is that we never thought they would be heard; but then they did include them on that Bomp! Records compilation "L.A. L.A", as for the credits they said "Well, we don't really know who played on these because there is no paper-work from the studio".  So we didn't get any credits, none of us…but I think the guys in Bomp! Records lost the paper work ah ah ah!
MELODY LANE: So…What your next move is? Plans for the future?
JIMMY ASHHURST: It's  helpful to know that I have been in very few band  and that's because I'm a band guy, I don't work as a bass-player and I don't work as a hired-sideman for someone who wants to hire band members. I got a different idea of being in a band. I have a love for the 'group guys'…a band like a gang…When I'm a in a band I'm really connected with the other guys, for  this reason I got long period of inactivity between a band and another, because it's not just a work, I'm not just a hired  sideman  or a session man.
I don't know…but…for what I see, rock 'n'roll or punk rock… that's the type of music that I like, that I write or help to write…well that kind of music is more appreciated overseas at the moment, UK  or Scandinavia. There are still quite open-minded music  fans over there and great rock bands are doing really well, I'm thinking about HELLACOPTERS, BACKYARD BABIES or MICHAEL MONROE…While here, you know…we have bands that are touring and they've been playing  the same ten songs for the last 30 years… People want those ten songs, they don't want to find and listen to new things… Here they are all into heavy metal or modern metal with this very big productions , fireworks, explosions…Or you have to be in these big bands like MOTLEY CRUE or KISS or you have to play this new 'modern metal'…or no one knows you. I remember my friend CHRIS ROBINSON, he's the singer in THE BLACK CROWES, he used to call this kind of music fans  " the Rock 'n' Roll tourists ", because they go to rock shows with the same spirit they go to a zoo and so…
I've been in Los Angeles for a very long time, many… many years.  It was great to be here in the past, that was wonderful…but the atmosphere 's changed. Here in Los Angeles, there are no more many artists or creative people around, the  only people that remain are finance guys or tech guys…so maybe it's time for me to go, I'm looking for a culture and a country that still has a little bit of humanity remaining because here 's a very cut-throat place to live right now. Few clubs left, most of the cool ones are gone along with the people I used to play in…Of course I could go in a recording-studio and play music for videogames or soundtracks, but for me it's not why I do it; I still like to write songs, getting on a plane and flying to Japan and play for them…and they already know the songs…that's the most amazing thing for me. So  now I'm trying to get to a position to spend more time in Italy and in Italy I have plans…Plan is to write my book, my biography,  and also record an album, and I'd like my friends around the world to play on it, you know… CRAIG ROSS, from the Lenny Kravitz band that played with me in THE BROKEN HOMES, RICK RICHARDS from  GEORGIA SATELLITES, MARC  FORD from THE BLACK CROWES and they are the same guys that I brought in the studio to play on the IZZY STRADLIN' & THE JU JU HOUNDS  album...but I'd rather do that in Italy than here.
I think we need new bands and fresh new music…In these days on the social media, you can constantly read posts about 'the most influential rock albums' or 'the most appreciated albums' and I read about albums that I listened to when I was a teenager…Definitively  we need new music!
MELODY LANE: Thank you JIMMY, thank for your time with us. In the end…a message for our followers and readers…
JIMMY ASHHURST: Thank you guys, stay safe e ci vediamo in Italia!