INTERVIEW
WITH
TROY
PATRICK
FARRELL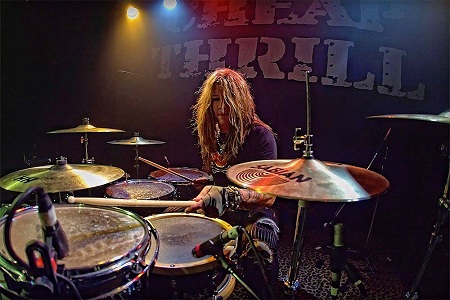 INTERVIEW  WITH 

TROY PATRICK FARRELL
 Interview by Mike Matty
MELODY LANE had a great interview with legendary drummer TROY PATRICK FARRELL! TROY told us about being a member of the GILBY CLARKE's band for years, gave us news about his all-star band LOST ANGELS (in which he shares the stage with top musicians like JOHN CORABI, ERIC DOVER and RYAN ROXIE) and shared with us interesting stories about his past, like playing with C.C.DeVille and being a member of WHITE LION.
Interview not to be missed!
MELODY  LANE: Hi TROY, just to start…Apart from GILBY CLARKE's BAND and LOST ANGELS…can you tell us if there's any other project you're involved in…and how did you get the job as GILBY CLARKE's drummer?
TROY PATRICK FARRELL: Oh yes, there 's another band I'm playing in, it's kind like LOST ANGELS but we work a little more in the United States, it's called CHEAP THRILL. We have BRANDON GIBBS on vocals and guitar, JOEL  KOSCHE on lead guitar and vocals…JOEL 's from the band COLLECTIVE SOUL and then  we got E.J. CURSE on bass;  E.J. 's been playing with the GILBY CLARKE's band for the last ten years and then  he joined  the LOST ANGELS in last fall …For what concerns how I got the job in the GILBY CLARKE band, back in the days I was working with a booking agency and GILBY was on our roster. In that period GILBY wasn't  booking  any show because he hadn't got a band. We talked about it and he was looking for a bass player and a drummer and so… you know…I played drums and then we both knew E.J.CURSE; I had known E.J. from a stint he did in WHITE LION. So I said " Why don't we get together and jam and see if it works?"… And we've been playing together ever since.
MELODY  LANE: I've always known that E.J.CURSE played in SILENT RAGE…Was he in WHITE LION too?
TROY PATRICK FARRELL: Correct,  E.J. CURSE played in SILENT RAGE, but he also did a tour with us, with WHITE LION, in 2007. CLAUS LANGESKOV, from Denmark, was our bass player in WHITE LION in the later years and he played on all the albums after 2005…Well CLAUS at the time had some health issues and could not travel by air and so I recruited E.J. that came and did some shows with us across Unites States and abroad.
MELODY  LANE: Due to the pandemic everything is suspended…Did you have any scheduled dates?
TROY PATRICK FARRELL:  Oh yes…we had three shows booked in April, one in Houston, one  in Oklahoma and the other in Texas and we also had shows booked in Mexico but, obviously, like everything else all around the world' s  been cancelled or postponed. Everybody's still waiting to see what's gonna happen with live music. For what I know the smaller venues are gonna be the ones  that'll start opening  up first, but nobody knows what the rules are yet. The club owners don't want to say 'we are gonna have something on this day' …and then not being able to sell tickets…You have to do things in the right way, it must be safe…so we are all waiting for direction and right now there's just no direction…Obviously GILBY wants to go and support the album with live dates…Go out and play is the most important thing. In these days it's really the only reason why you do a new album, is just to say: "Hey I'm still here, I'm still alive, I've written some new songs, I've brought a lot of my friends to play in my album and  we're gonna go out and play the old songs for you and a couple of new ones"…But right now we are all in a holding pattern …musicians and bands, we're all waiting to see what's gonna happen with live music.
MELODY  LANE: Talking about THE GOSPEL TRUTH, the new GILBY CALRKE's album…Can you tell us anything about it?...Date of release…guests…any  details?
TROY PATRICK FARRELL:  Well I demoed  probably about three or four songs in the early stages, this go back probably about three years ago… I think I'm on at least one track in the final record that I believe it's called WISE OLD TIMER…A bunch of people play on the album…NIKKI SIXX,  SEAN MCNABB, E.J.,  KENNY ARRONOFF…A lot of friends, a lot of different people play on it…So the album it's done, when they released the single "ROCK N' ROLL IS GETTING LOUDER" , the album was supposed to come out shortly thereafter but right now they are just kind of waiting…I think they are going to release the next single, the title track…"THE GOSPEL TRUTH", and I think we are going to film a video for that shortly, maybe in the next month or two; so for what I know the plan is to release a new song while we are waiting for something that happens with the album to come out, but it's all done and ready to go, so  just waiting for the right timing, because  GILBY doesn't  want to put it out there and then have it forgotten. So I think when  we can go out, tour and play some shows then he'll put the album out.
MELODY  LANE: Talking about "ROCK N' ROLL IS GETTING LOUDER", why this time are you not in the video…? I remember you always appeared in the last GILBY's video…
TROY PATRICK FARRELL:  Yes…yes…some year ago we released a couple of videos, one for 'Tijuana Jail' and the other for 'Wasn't yesterday great'…and there was also another one that we filmed but that wasn't released, but I don't remember which song…Anyway, as for "ROCK N' ROLL IS GETTING LOUDER"unfortunately I'm not on the video because it was filmed the day before I got married so I couldn't  be in two different places at the same time…Jimmy D'Anda played drums on it…
MELODY  LANE: You and E.J. CURSE are almost 'permanent members' in the GILBY CLARKE's  band…You've been playing together for many years…
TROY PATRICK FARRELL:  Well…GILBY CLARKE is very  much GILBY CLARKE…and maybe E.J. CURSE and me are a sort of A-TEAM, we are the first guys he calls. We've been loyal to him and he's been very loyal to us, so when something comes up he kind calls us…Surely if we are unavailable then he's got other guys he can call…He typically calls us first for anything and then if we can't do it then he's got some back-up guys, that are all great players, like SEAN MCNABB or MUDDY STARDUST who played with him before,  JIMMY D'ANDA, MATT STARR that played drums with ACE FREHLEY and in MR.BIG…so he's got a bunch of great people around him…Of course there are times when he goes to places like South America that it's just doesn't make sense financially to bring three guys and a crew member over there…So he flies out there and he has a band in South America waiting for him…So GILBY CLARKE is very  much GILBY CLARKE but when you talk about the GILBY CLARKE's BAND, me and E.J.CURSE are there where we can be, which I'd say is the ninety per cent of the times…
MELODY  LANE: Talking about the writing process and the songwriting of THE GOSPEL TRUTH…Did you and E.J. give any contributions…was it a sort of teamwork or was mainly GILBY CLARKE?
TROY PATRICK FARRELL:  No, it's all GILBY CLARKE…It happens that when I demoed some of the drums for  the tracks that other drummers recorded… I just laid the blueprint of what he was hearing in his head…GILBY said "Can you give me this beat?"... or  "Can you give me this drums fill?"…So you know… every drummer speaks his language, different drummers perform in different ways…you can get five drummers playing the same drums fill but they'll all be slightly different  because we all have our own personality, so in that aspect our influences are there in the album but certainly not to the extent of song-writing credits.  We just do our best when we play our instruments, we're always  trying to give it all, no matter who's for …but I can confirm that all the GILBY CLARKE songs are all GILBY CLARKE's…
MELODY  LANE: Do you think that for the next tour and for the future GILBY will add a second guitarist on stage, as he used to do in the past, or will you keep on performing as a trio?
TROY PATRICK FARRELL:  I know in the past  GILBY used to have a second guitarist, TRACII GUNS or RYAN ROXIE…but right now the GILBY CLARKE's BAND is a three piece band. In the last ten years, more or less, we've never had a second guitarist. The only times, that we've had somebody else on the stage with us, were with TEDDY ZIG ZAG, from ALICE COOPER and GUNS 'N' ROSES, who played with us keyboards and harmonica, maybe for a NAMM show performance… but usually the band it's a three piece band.
MELODY  LANE: Let's focus now on your other band: LOST ANGELS…Last year, you did shows in Mexico with John Corabi on guitar and vocals and then you came here in Europe and RYAN ROXIE took over for CORABI…So tell us something about the band…members…line-up changes…
TROY PATRICK FARRELL:  Well…we first gathered together in 2010, there was a promoter in India that reached out to me because I just played there with WHITE LION in 2008…and he said that he'd seen our concert and he asked me to put something together for him, to put  a band together to play there a couple of shows…So I asked myself "Who I want to play with?", and so I called JOHN CORABI, who had been my room-mate for a couple of years and then I called ERIC DOVER, who's just a natural talent, he can sing and play anything…and then I called MUDDY STARDUST because I had been in a band with him…so MUDDY was on bass on the original version of LOST ANGELS. Later that year 2010, we played also for about a week in the Midwest, we played in Wisconsin,  we played the MILWAKEE SUMMER FEST which's a very big festival , we played Ohio and  I think Chicago…and then years went by and we've played a lot…We also played in Australiain 2012 and that time we had ERIC BRITTINGHAMfrom Cinderella on bass, because MUDDY wasn't able to do it…and…a flash-forward…last fall we were asked to go overseas, for some shows in the UK, but John was busy doing his own touring and couldn't  do it; so I talked with ERIC DOVER and we talked about RYAN ROXIE: he could do it; he lives in Sweden and he has a history playing for Alice Cooper for many years, so we reached out to him and it made sense, because he was already there in Europe, one less flight from the USA… It obviously made sense logistically and financially. We had shows in October  in the UK but John was going to be coming shortly thereafter in the UK, I think maybe December or January, on his own acoustic  tour…so he couldn't be out there with LOST ANGELS, then come back in the States and then go out to Europe again…So, you know, sometimes things workout their way,but these are not 'permanent' line-ups or 'standard formula' for Europe and United States…We never know…We've been on the RYAN ROXIE  YouTube page recently for "IN THE TRENCHES", all the LOST ANGELS members minus MUDDY STARDUST because he wasn't able to come on, and we were talking about one day, that we will all show up and play…There will be myself, RYAN ROXIE, ERIC DOVER, JOHN CORABI and then three bass players ah ah ah…Maybe one day will all go out and do one big show together!
MELODY  LANE: And about the future of the band…So many talented musicians gathered together… Any chance to release 'new music'…original stuff?
TROY PATRICK FARRELL:  Oh yes, yes…We actually have five songs that have been demoed by the guys…I believe Eric Dover 's demoed two songs…RYAN ROXIE has a couple of songs too and JOHN CORABI has a song…We have demos from them, what I need to do is to record the drums and then I'm gonna give everything over  to the guys that we'll put guitars and vocals on the songs…The plan is to release an EP this year, probably later in the fall; an Ep of five or six songs, all original stuff…So to answer to your question ' Yes, that's happening!'…There will be original music, brand new songs from LOST ANGELS'.The stuff is very cool,in LOST ANGELS everybody has his personality but it all fits together, for example… on a song sung by JOHN CORABI there'll be guitars by ERIC DOVER and RYAN ROXIE, so it's not a JOHN CORABI's song that he's giving to LOST ANGELS…it's gonna sound like a band, it's all of us kind of contributing.The guys are bringing their main ideas, their riff or some vocal melodies … it won't sound like some leftovers from everybody's own project , it will sound like a brand new thing.
MELODY  LANE: A LOST ANGELS EP and a new album and shows with GILBY CLARKE, next months are going to be very interesting and you're going to be very busy! Great!...Now I'd like to ask you something about your past collaborations…I saw a couple of videos on the net of you playing with C.C.Deville, POISON guitarist…How did you connect with him? Did you play in his solo project?...Tell us something about it…
TROY PATRICK FARRELL:  Well, you know…There was a place in Los Angeles where all the guys used to hang out… JOHN CORABI, ERIC DOVER, MUDDY, GILBY, all of these guys …The place was the CAT CLUB, it was on the Sunset Strip, right next to the WHISKY A GO GO. THE CAT  CLUB  was co-owned by SLIM JIM PHANTOM, the drummer of  THE STRAY CATS, and all these guys used to do a jam there on Thursday night, with the name STARFUCKERS… and those were nights you had to go there…some time Billy Idols showed up, Axl Rose showed up...all these guys jammed there. There was a different jam on Sunday night, a different crew of characters, and that was kind of my night because the Thursday night jam was  a little bit before my time but I would always go there but I had more participation on Sunday nights.  C.C. Deville was friend with the promoter of Sunday nights and through this promoter I played with C.C. One night he said "Hey learn these seven songs"  and we did a bunch of Samantha7 songs, some of them were recorded and I've put what I have on YouTube, and it was the only time I 've ever played with him, on that event,that one show. It was just for fun… a kind of a jam. One time thing for fun, we had no rehearsal, we all just learnt our parts  and we got in there and played those Samantha7 songs, it was the first time in a long time that he had played them, it was fun for me, it was great.
MELODY  LANE: And let's talk now about WHITE LION…I'm quite curious, how did you get in contact with MIKE TRAMP? 
TROY PATRICK FARRELL:  Back in 2001, MIKE TRAMP was coming to the United States to do a solo tour, and he had  with him guitarist KENNY KORADE and bass player JERRY BEST both from FREAK OF NATURE days. Their drummer was unable to it, so  this drummer talked with a mutual friend of ours, this friend is John Stack of the band CHOKING GHOST, and John told me that MIKE TRAMP was looking for a drummer. So I reached out and connected with JERRY BEST and  JERRY gave me a cd and I'd learnt the songs and then I came back in rehearsals with JERRY and KENNY and they made the decision and said "let's use this guy!". Then...fast forward... MIKE TRAMP was offered to put together some sort of WHITE LION. He reached out to VITO BRATTA but VITO was not interested in, so what he did was to pick up guys from the different incarnations of his solo band. So he picked me on drums from the 2001 tour, and then MIKE used to live in Australia and there he played with Jamie Law, I don't know how they connected…and on the bass he picked  CLAUS LANGESKOV, who's Danish like MIKE and early big in the Copenhagen music scene out there, they already had a friendship so it was quite natural to have him in the band and then HENNING WANNER, the keyboard player…Henning reached out to MIKE TRAMP in numerous occasions always saying "if you ever go out on tour, if you ever need a keyboard player, if you'll ever do WHITE LION or anything, I can sing and I can add keyboards"…So for Henning it was the right moment because MIKE was early putting the band together and he thought that having a keyboard player that could help with vocals was a good thing…So that's was how the band got together for the 2005 tour.
MELODY  LANE: I'm a great fan of WHITE LION and I think that RETURN OF THE PRIDE is really a great album, regardless of what's been said about that album and that line-up…Apart from the troubles and all the talking about the use of the name WHITE LION etc etc…? Do you think that MIKE TRAMP 'believed in' that music…in those songs?TROY PATRICK FARRELL:  Well I really don't think MIKE TRAMP will ever put out something he doesn't believe in, he doesn't do that. He's one of the few guys that I know, in the music business, that actually has integrity and that stands behind of what he puts out there. He believed in the album, we all believed in it…We toured for an entire year for that album, and we played live three or four songs from RETURN OF THE PRIDE as I recall…Usually when bands put out a new album maybe play one or two songs from that album. We had in the set-list three or four songs from RETURN OF THE PRIDE, we very much stood behind it.  And…it was written for WHITE LION, it wasn't just MIKE TRAMP solo material…so it wasn't like he was working on MIKE TRAMP solo and then 'Ok, I'm gonna put WHITE LION on it', he didn't work in that way. He and CLAUS LANGESKOV did all the writing and arranging of everything and all the others just gave their contributions to it, in part it was a sort of band effort, but the songs and the direction are… MIKE TRAMP's and CLAUS LANGESKOV's… I mean the arrangements of the songs, the organizing of the studio and the recording process…all those things were mainly from those two guys…When MIKE said he should have never gone out and done another WHITE LION or should have never called the band WHITE LION… I got a little bothered by that comment, because it takes that experience away from me, because we put the album out there and we were out there touring and I felt like we did a service to the songs that were written by the guys before us; we didn't go there with an attitude, we certainly did our best to make sure that those songs were delivered the best way possible. People that were fans of the music were never disappointed by our performance of the songs…
MELODY  LANE: …And a live dvd was released…Both the album and the live dvd were released by the Italian label FRONTIERS RECORDS…In my opinion a very good label, they still really believe in Hard Rock…
TROY PATRICK FARRELL:  Oh yes in Germany…from the BANG YOUR HEAD FESTIVAL. We did the BANG YOUR HEAD FESTIVAL  twice and they released the dvd performance from the 2005 appearance. ..As for FRONTIERS label, they are still putting out great new material, great new bands…I do a radio show here in Las Vegas, live every Wednesday, and I do play a lot of new stuff that comes off the FRONTIERS RECORDS label. It was great that we were able to put out an album with them, they were the first that gave us a home and the album was released with had a worldwide distribution…You know…today…I don't know if MIKE TRAMP should write down a list of WHITE LION albums…if it would include that one, but I think it's got a place there; of course it wasn't with VITO BRATTA so certainly there's an asterisk by RETURN OF THE PRIDE… but I think it's a little unfair to say it should not have happened; I'm very proud of the association with that band, with MIKE and all the other guys. It's a big part of my life and I don't have any regret and I don't think he should either.
MELODY  LANE: Out time is running out…another question about a band you played in: TANTRIC. You're no more in that band, right?
TROY PATRICK FARRELL: I left the band in 2018, I quit the band after the album came out in the middle of the tour; I don't quit a lot of things but the working conditions with that singer was terrible, you know…bad business…you know when you are a young kid you're cool with stuff like that but…Everybody's got their own habits, their own ways of life. We recorded that album and put it out and it did pretty well but you know…I was there trying to help the guy and trying to help the band to do better business and move forward; HUGO's a great singer, he's so talented, he's a great songwriter and I think that deep inside there's a good guy but I can't be in bands with guys like that anymore, is too much. I can't be a babysitter of a grown man…It's sad but I don't have any regret leaving the band. It's sad because I put a lot into that and I really felt I was part of something and, in the end, I realized I was just another victim of his, so…but I got also good memories: the fact that we got an album done and the fact that we did an entire tour, and we only missed one show, when before that he'd missed one show every week, so I did some good when I was in that band…but like just said… no more babysitting.
MELODY  LANE: So here is our last question: even if is a bit expected… I have to ask you who are your main influences as a drummer?
TROY PATRICK FARRELL: It's very easy, it hasn't changed much over the years. I grew up in Chicago playing music so the first one in the list is absolutely VIKKI FOXX, from the band ENUFF Z'NUFF. He's a friend of mine, I've grown up watching him from 1985 and still he does what it does better than anybody else, even better than TOMMY LEE.He has his own style, he's a great drummer. When VIKKI played in ENUFF Z'NUFF, he used a bit more simple style of drumming, that was what the music called for, and then he went with VINCE NEIL, when VINCE NEIL went solo for the album EXPOSED, and he used an heavier and more complex style so… yes… VIKKI FOXX! Then I'd say Bun E. Carlos from CHEAP TRICK,  another  drummer from Chicago. He's very different; he can play lefty, he can play righty, he's  a jazz drummer…I'm not a jazz drummer, there's not  really anything that I do that I can say is in the style of Bun E. Carlos…I'm a little bit more a rock drummer…but his fills are so tasteful and he does stuff in the middle of things, in the middle of a verse, that's just beyond anybody…I love  Bun E. Carlos! And then another  drummer that I love is JIMMY D'ANDA. I grew up watching BULLETBOYS…so these guys JIMMY D'ANDA and VIKKI FOXX that's the kind of school I come from…
MELODY  LANE:  Ok TROY, thank you for your time with us. A message to all MELODY LANE readers and followers…
TROY PATRICK FARRELL: Thank you guys, hope to see you out there very soon, keep safe!